It seems like a daunting task for some people to keep their drains clean and functioning. However, you might not know that drain clogs and wastewater backups can easily lead to a plumbing disaster. Slow water flow, unpleasant smells, and blocked pipes are all telltale signs that your drains are about to clog.
The best way to keep your drains clean and free of any debris is by hiring professional drain cleaning services in Port St. Lucie. Joe Hillman Plumbers has heavy-duty machines to get rid of even the toughest blockages, keeping your drains as clean as possible. With more than 30 years of experience under our belts, we are confident we can help you and ensure that the plumbing job is done right.
Call our residential plumbers in Port St. Lucie today at (954) 283-5468.
Why Choose Our Professional Drain Cleaning Services in Port St. Lucie?
Clogged drains can easily affect various areas of your home, including the kitchen and bathrooms. As a homeowner, you need to understand that the longer you ignore your clogged drains, the worse they'll get over time.
You can remedy a clogged drain using hot water or a plunger in some cases. However, this will certainly not be enough for more serious blocked drains. Such cases require specialized methods and equipment, which is why you should leave the job to the experts.
The following are some reasons why you should consider hiring professional drain cleaning services in Port St. Lucie:
Right Tools and Products
Besides a plunger and a wrench, most homeowners do not have the right tools to clear their drains. On the other hand, our professional drain cleaning technicians in Port St. Lucie have a wide range of appropriate tools and products they can use to clear even the most significant blockages.
These tools include plungers, snake tools, sink augers, endoscopic snake cameras, water jets, and flood prevention systems. Such equipment will ensure that your drainage functions in the best way possible at the end of the job.
Safe Cleaning
If you visit your local store today, you're going to find many drain cleaners available. However, most people don't understand that some of the drain cleaning products sold at our local stores can lead to major plumbing issues in the long run.
These drain cleaning products are usually full of harmful chemicals that only add to the debris instead of cleaning your drains. Some of them can even erode the pipes and leave a significant plumbing issue on your hands. This is why you may want to consider hiring professional drain cleaning services that will use the right products and methods to clear your drains instead of adding to the problem.
System Longevity
When you use professional drain cleaning services to clean your drains regularly, there's a chance they are going to last longer compared to if you decided to clean them by yourself using store-bought products. This will also minimize the occurrences of plumbing emergencies in your home, thus saving you money and time down the line.
Effectiveness
Professional drain cleaning services always use the right equipment and products to fully unclog your drains without any leakages. As a result, hiring these services can yield unparalleled results.
Additionally, a clogged drain might be a result of other underlying problems. When the technicians arrive at your home, they will identify the leading causes of the clogged drains and fix them.
The Main Causes of Clogged Drains
There are various reasons why you may have clogged drains in your home, including:
Fault-in-pipe installation
Water flow issues
Disposing of foreign objects through the drainage
Soap and toilet paper buildup
Tree roots and foliage
Mineral buildup
Fat and grease
Hair and animal fur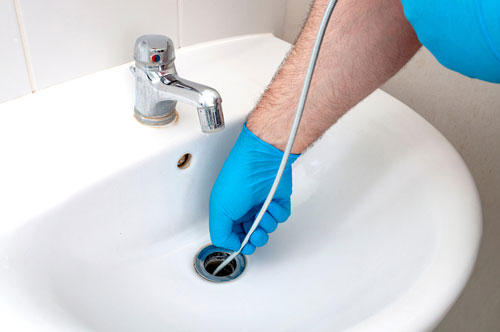 Methods Our Drain Cleaning Services Employ
Depending on the kind of problem you have, our technicians will use one of the following methods to unclog and clean your drains:
Hydro Jetting
If we find out that water or mineral buildup has increased the risk of clogs developing inside your drains, we may suggest hydro jetting to clean them. Hydro jetting is a drain-cleaning method done by a machine that uses high pressure at 4,000 PSI (pounds per square inch) to blast through the drains and clean out stubborn clogs.
This is one of the best methods to clean drains as it doesn't use any chemical solutions; hence, it cannot harm your plumbing system.
Drain and Sewer Camera Inspection
Professional drain cleaning services usually use a state-of-the-art optic camera to look deep inside drains and sewers to determine where the clog is located without digging. Our technicians can also use this camera to detect leaks or areas with corrosion. If we learn that the clog has damaged your plumbing system, we may recommend a professional pipe repair to fix the leak and restore the pipe.
Drain Snaking
Professional drain cleaners may recommend drain snaking if your drains are filled with stubborn clogs that cannot be removed using a plunger. This method uses a long and thin cable extended to your drain to break or hook the clog.
Some of the "snakes" used for drain cleaning may be motor-operated or hand-cranked. It all depends on the length and diameter of your drain and the kind of clog you have.
Tree Root Removal
A clogged drain may be fixed by removing tree roots in an outdoor setting. This is the case if the tree roots have already infiltrated the drains and are causing extensive damage to your home's plumbing system. This means that you'll need to get a professional pipe replacement after removing the roots.
Preparing Your Port St. Lucie Home for Drain Cleaning
Before a plumbing company arrives at your home to clean your drains, you need to prepare so that the process can be completed successfully. Preparations include:
Ensure there is a clear path from your front door to the access point to allow room for the drain cleaning equipment.
Remove any items that may be close to the affected areas and the access point.
Remove sewage waste around the work area.
Schedule Your Professional Drain Cleaning Services in Port St. Lucie Today
A clean and functioning drain will help keep your home comfortable and healthy. If you need help cleaning your drains in Port St. Lucie, you can always count on Joe Hillman Plumbers to provide fast and reliable professional drain cleaning services.
Call us at (954) 283-5468 to schedule an appointment today. We offer a 100 percent guarantee on all work that we complete for you. If you are not satisfied with our work, we will refund you all your money.