Most people know next to nothing about plumbing materials. They go to the hardware store and just buy things because the salesperson recommends them. When professionals are looking to buy Port St. Lucie bathroom plumbing supplies, they know what to look for. Just because something has a fancy brand name on it doesn't mean it's the best. Plus, a lot of bathroom plumbing materials don't come with a label. For example, one piece of PVC may look exactly like another. Only a skilled plumber understands that there are different types of this piping.
Here, we'll talk about the more common materials used for both installing and repairing plumbing systems. Ideally, you won't have to worry about this anytime soon. Even if you have a plumbing issue, you're much better off calling Joe Hillman Plumbers and letting us fix it for you. However, if you ever need to know the difference between cast iron pips and galvanized steel fixtures, this short article will help.
If you still have questions after reading this article, don't worry. All you have to do is call and talk to one of our skilled plumbers. Not only can they answer your questions, but they can also provide you with a free estimate for whatever job you need done in your home or business.
What Exactly Is PVC?
People throw around the term "PVC" all the time but most of them have no idea what PVC really is. All plumbers know that PVC is one of the best Port St. Lucie bathroom plumbing materials you can buy. It's versatile and very inexpensive. It is a hard plastic material that can be used in drainage systems, spas, and even pools. It comes in two main sizes – 40 schedule and 80 schedule PVC.
If you're looking for a pipe system that can withstand high-pressure water, you'll want to buy 80 schedule PVC. If, on the other hand, you not looking for plastic for a high-pressure system, then you'll want to go with the 40 schedule PVC. If you have to buy this on your own and your plumber isn't with you, don't worry. You can always talk to the clerk at the local hardware store and let them know what project you're working on. They'll recommend the right schedule PVC for your plumbing system.
ABS Piping Is Very Similar to PVC
Some people get confused trying to tell the difference between PVC and ABS pipe. PVC is a hard, white piece of plastic. ABS, on the other hand, is black. It can handle degradation a lot better than PVC. It's also a lot more flexible. Therefore, it's ideal for plumbing systems that involve curves. It isn't damaged by the sun so it's great to use outdoors. It's also a material that many plumbers use for underground pipe systems.
Cast Iron Is One of the Most Durable Plumbing Materials Available
When plumbers are looking for pipes that are resistant to heat, they often turn to cast iron materials. One other interesting feature of cast iron is that it reduces sound. If you need to put a plumbing system in an area that requires quiet, cast iron is a good choice.
One thing to know about cast iron, however, is that it rusts rather quickly. Within a few years, you'll notice it starting to rust. At that point, you need to consult one of the experts from Joe Hillman Plumbers to find an alternate solution.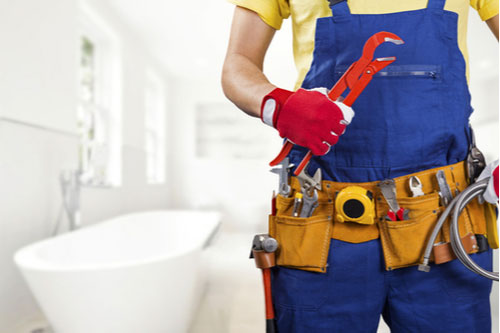 Is PEX a Good Port St. Lucie Bathroom Plumbing Material?
Another plumbing material that a lot of plumbers in Florida use is PEX. This stands for "cross-linked polyethylene." This material is great for pipes that are going to transfer cold or warm water.
This material is very flexible so it can also be used for curves. For example, PEX is often used at construction sites. It can withstand high external temperatures and it really useful when connecting to hot water heaters.
Galvanized Steel Is Another Option for Plumbers
One of the reasons a lot of plumbers rely on galvanized steel is that it's coated with zinc. This helps it from corroding. Most people know that corrosion is what causes pipes to crack and break. The last thing you want is for your pipes to bust simply because the wrong material was used.
Keep in mind – like cast iron, galvanized steel is also quick to rust. It's not something you would use for a long-term plumbing system. However, it's great for short-term projects.
Copper Piping Is Very Commonly Used by Plumbers in Port St. Lucie
One of the reasons a lot of Florida plumbers use copper pipes is because it's cheaper than most other materials. It's also really easy to install. Another reason why plumbers like to work with copper piping is that it's durable. It doesn't matter whether you're working on an inside plumbing system or an outside job, it'll stand the test of time.
One concern with using copper pipes is that, in recent years, people have started stealing copper pipes so they can sell them for cash. Check with your plumber to see if it's a good idea to use copper pipe in your plumbing system.
Contact One of Our Professionals for All Your Port St. Lucie Bathroom Plumbing Needs
If you find yourself trying to figure out which Port St. Lucie bathroom plumbing materials to buy, call an expert. The professional and licensed plumbers at Joe Hillman Plumbers have decades of combined experience handling all sorts of plumbing problems. They are familiar with all the different plumbing materials and know exactly when to use one over another.
The last thing you want to do is spend a ton of money on plumbing supplies only to learn you bought the wrong thing. It's not as if you can take used pipes to the hardware store and ask for a refund. Nobody's going to want to buy used PVC or copper pipe.
Rather than risk this happening, just give our office a call and speak with one of our expert plumbing professionals. They can answer any question you may have and address all your plumbing needs. Your plumber knows their way around all of the materials discussed here. They also know how much they cost. If you're on a budget, make sure to let your plumber know. This way, they can design your plumbing system to your specifications.