No one wants to deal with a slab leak in their home or business. However, the earlier you detect it, the faster you can repair it repaired. You will save yourself a lot of time and money if you fix the slab leak early. Joe Hillman Plumbers has helped homeowners with slab leaks in Davie, FL, for more than 30 years, and we would like to help you. We know the warning signs of these leaks and can give you an accurate estimate of what you'll need to do to protect your building and repair the damage.
We have the experience, knowledge, and expertise to get your plumbing job done right. We offer a 100% guarantee on our work, so you can rest easy knowing your job will be done right the first time. But don't take our word for it. Read what our customers say. You'll see we give our customers the results they want and need.
What Causes Slab Leaks in Davie Homes and Businesses?
Slab leaks have many causes. Some of the most common are listed below:
Unstable Soil
Buildings constructed in areas with unstable soil are more prone to slab leaks. Slabs are faster and less expensive than other forms of foundation. The shifting soil underneath concrete or pier and beam construction can cause walls to break or crack.
Leaky Plumbing Joints
If your plumbing lines are underneath your slab, they are hard to reach and time-consuming to repair. If the pipes under your slab crack, your slab is leaking. It's a serious problem that can lead to more damage to your building if not corrected quickly.
Soil Erosion
Water may run under your home. As it does, your soil is eroded. The result? Less support for your slab. Your slab is under more pressure from the weight of your building. Eventually, it can crack under the added pressure.
That crack may start as a hairline. As the water and pressure increase, that crack can widen to an inch or more. From that point, water can enter your home and cause even more damage. Your floors, walls, furniture, and appliances may all suffer water damage, costing you thousands of dollars in repairs and replacements.
Signs You May Have a Slab Leak in Your Building
It's far too easy to miss a slab leak. Familiarize yourself with these warning signs. Once you know what to look for, you may be able to catch a leak before it gets worse.
Higher Water Bills
Has your water bill suddenly gotten way too high? Look at your water usage. If you haven't altered your habits, a higher water bill probably means you have a leak somewhere. If you don't see any visible signs of leaking in your home, you might have a slab leak.
Lower Water Pressure
Have you noticed low water pressure when using your kitchen or bathroom faucets? If you are experiencing water pressure changes even when only running one faucet, you should get your plumbing checked for leaks. The lowered water pressure might be a sign that water is leaking from a cracked pipe.
If you suspect your lowered water pressure is from a leak, look at your water meter. Does it still run, even when all your water is turned off? If it still runs, it's a big clue you have a leak somewhere.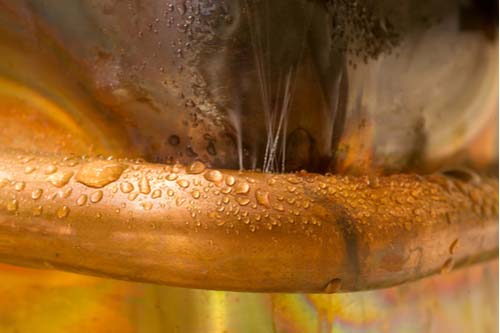 Warmer Sections on Your Floor
If your slab leak is severe enough, hot water may make its way to just underneath your flooring. That hot water can rapidly heat your floor. One challenge to this is tiled floors. They may prevent you from noticing the heat unless the water seeps into the spaces between the building's floors. Check your floor's tiles. Are they loose? That may be caused by a severe leak under your floors.
Foundation Cracks or Raised Floors
A severe slab leak can cause major damage to your home's foundation. Water penetrating the soil can alter it, leading to your floor heaving. Severe cases can cause your floors to crack by lifting large sections of your flooring.
Do you see any raised flooring? Any cracks in your flooring? Either of these could indicate a growing problem.
Mold Growth
When your slab leaks, you wind up with a lot of moisture under your home. Your floor will soak in some of that moisture, leading to mold growing in your floor. You'll likely notice the telltale smell first. If left unchecked, the mold will grow under your carpets.
Eventually, you may see darkened or warped sections in your flooring. Mold and mildew can also spread from your floors to your walls and furniture, leading to untold damages. If the mold spreads to your walls, you may need to replace your drywall. Mold spores can lead to severe health issues for you and your family.
If you smell mold in your home, contact our professional plumber in Davie right away.
How to Repair a Slab Leak
You have a couple of options most commonly used to repair a slab leak. The first path is to dig down to the old pipe. You may be able to replace the damaged section with a new section. This process usually involves breaking through your slab to reach the damaged section of the pipe. After the leak is repaired, you would then need to have your slab and flooring replaced and repaired.
The second option is to avoid breaking through the slab to fix the damaged section of the pipe. Instead, new pipes are installed and routed around the damaged section. This is the best option if your pipes are corroded. Older galvanized pipes installed many years ago will eventually rot and fail. Completely replacing them will last longer and give you better peace of mind.
Contact Joe Hillman Plumbers for Slab Leaks in Davie
Joe Hill Plumbers is a family-owned business that has helped homeowners and business owners with plumbing problems since 1987. We are committed to helping customers like you get your slab leak repaired as quickly as possible. Our professional team will visit your home and conduct a thorough inspection. We'll find out where your leak is and let you know what we need to do to repair it.
We have a proven track record of outstanding customer service. It doesn't matter if your plumbing issue is just a faucet leak or a major slab leak repair. We will guarantee your satisfaction and give you the peace of mind you deserve. Call us at (954) 601-3286 today to place a service call.