In a retail setting, customers get an image of your business based on the condition of the building in addition to all the unique services you provide. Many business owners know this—and understand the importance of keeping their plumbing equipment in good working order.
Regular maintenance of your retail plumbing is very important. However, if you're experiencing leaks, flooding, issues with your toilet facilities, and other plumbing concerns, our commercial plumbing experts can help. At Joe Hillman Plumbers, we have the experience necessary to ensure prompt, quality service of your retail plumbing in Davie.
The Most Common Retail Plumbing Problems
Because retail stores are often heavily used by staff and customers, there can be regular wear and tear on a store's plumbing equipment. Some of the most common retail plumbing problems include:
Sewage odors
Silent toilet leaks.
What Causes Sewage Odors in Retail Stores?
Sewage odors can quickly turn a carefully appointed retail setting into an unpleasant atmosphere. Bad odors can affect customer traffic through your business, which in turn can have an impact on sales. Business owners know the importance of quickly addressing these problems, but they may not be able to pinpoint their source.
There are a few reasons why sewage orders happen.
Clogged Vents
Clogged vents can cause sewer odors. If the plumbing vents get clogged and the sewer gasses have nowhere to go, they can't escape through the plumbing vents as normal—they'll seep into your store instead. This causes a bad-smelling aroma.
One of the ways to clear your clogged vents is to use a plumber's snake. Plumbing vents can usually be accessed on the roof. While this is a job you could try to do yourself, it can be dangerous if you don't have experience with the process and the right equipment. Our plumbers can handle this for you.
Dry Plumbing Traps
Plumbing traps are designed to keep drains from clogging, as they collect dirt and debris. This allows the water to flow like it's supposed to.
Plumbing traps can even prevent sewage odors. When plumbing traps store excess water, this keeps the odor from going inside the building. However, when the plumbing trap is dry, then it's easy for the sewer gasses to get inside. To prevent this, run water through the floor drain once a month.
What Causes Leaks in Retail Buildings?
Leaks can originate from many sources in a building. You can experience leaks through the roof, windows, floors, walls, and so on—and this makes it hard to figure out the root cause.
Leaks aren't the easiest to detect. However, consider some of the following common causes of leaks.
Poor Repairs
One of the causes of leaks is poor repairs. If a pipe wasn't repaired properly, the leak will come back. Defective parts can also cause leaks. If you still aren't sure if a faulty repair is causing a leak, our professionals can detect it for you.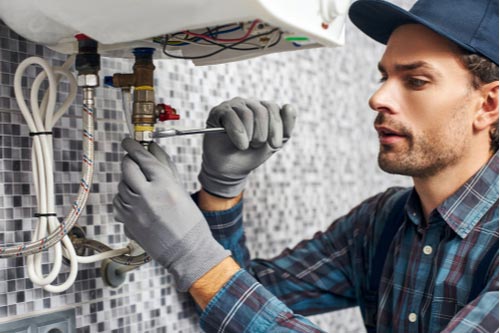 Water Sprinklers
It is required that commercial buildings like retail stores have sprinkler systems. Water sprinklers can certainly save lives and reduce the spread of a fire. However, the drawback is that leaks in water sprinklers can cause water damage. This damage includes wet drywall, mold and mildew, wet stains on the carpet, and so on.
Foundation Damage
A damaged foundation can be a source of water damage and leaking. Foundation damage can be caused by severe weather like tornadoes, hurricanes, tree root growth, and other causes.
There may be other signs of foundation damage in your structure, such as cracking in brick walls, cracks in doors and window frames, and concrete floor slab cracks.
What to Do Once You Find a Leak in Your Building
There are typically four main areas that you should check for leaks:
Pipes
Roofs
The basement (if your building has one)
Plumbing fixtures.
The most common type of roof that gets leaks is a flat roof. Having a drainage system installed is very important for a flat roof. When this drainage system isn't functioning, you'll likely get leaks. Get your roof inspected on a regular basis to avoid leakage.
If you notice your flooring is unstable, that's a sign that the pipes underground are damaged and could be leaking. Pipes aren't just inside the walls—they can be underground, too. To help you spot these and other types of leaks, you can get water leak sensors or have a plumber come for an inspection.
Risks of Water Damage in a Retail Setting
Water damage to commercial property like retail stores is different than residential homes. The damage is on a larger scale—which means it's often more costly. Water damage can be a major challenge for retail businesses. After all, water damage can leave your retail store inoperable at the same time that you're left facing significant plumbing repairs. There may be a hefty price tag involved as you repair damaged floors, walls, windows, and more.
Water damage can also be a health and safety hazard to employees. First, they can slip and fall on wet areas, which means they could sue or be out of work for a while. If mold starts forming, this can cause respiratory illness. Blackwater from the sewers can be extremely hazardous.
However, if water damage is caught early, you can minimize the impact. This is another reason to contact a professional plumbing service like Joe Hillman Plumbers as soon as possible when you suspect that water is damaging your property.
Call Joe Hillman Plumbers for Help With Your Retail Plumbing in Davie
Is your commercial retail building in Davie in need of repairs? Are you worried that you might have to close down for a while? Contact Joe Hillman Plumbers for your commercial plumbing needs. Our team of skilled technicians can handle the problem big or small, working efficiently to get you back in business as soon as possible. We are available for emergency plumbing services 24 hours a day.
Call us today at (954) 601-3286. We are happy to answer any questions you may have about retail plumbing in Davie.