Your water pipes are an important part of your home or business. Your pipes deliver water to you for drinking, cooking, waste removal, and other important uses. Sometimes, a building's entire piping system needs to be replaced. While it's often a pretty big job, a whole home repipe in Davie will eventually save time, money, and the frustration of dealing with an older system of pipes.
The residential plumbing experts at Joe Hillman Plumbers have been doing whole home repipes in Davie for more than 30 years. Starting in 1987, we have satisfied thousands of clients with the professionalism and quality of our work. But don't take our word for it—you can read what our clients have to say. We are experienced, knowledgeable, and will complete your job on time and correctly the first time.
Does My Entire Home in Davie Need Repiping?
Every home or business is different. You don't have to decide whether to replace certain pipes in your home or commit to a whole home repipe until we inspect your system.
In some situations, we can simply bypass a section of piping or multiple pipes. In a bypass, more piping is added to the system, making the broken or damaged section obsolete. A bypass could be a good solution if you have a modern building and your plumbing issue is isolated in one specific area.
However, for systems that are breaking down in multiple areas, it may serve you better to repipe the entire system. You'll then have peace of mind that your entire plumbing system will continue functioning properly for years to come.
How Do I Know if My Pipes Need to Be Replaced?
Many times, a homeowner or business owner cannot easily tell if they need their building repiped. Some of the warning signs of failed pipes can be subtle or easy to miss. Here are some questions you can ask:
Is Your Water Bill Getting Higher?
Keep an eye on your water bill. If you see a noticeable spike in your bill, you may have a leaking pipe somewhere. Bear in mind water usage might vary depending on your habits and the time of year. You likely use more water in the summer months as a Florida resident.
Do You See or Smell Mildew or Mold?
When pipes leak, water escapes—but you may not always see puddles or evidence of leaking pipes. Sometimes, water leaks from a pipe inside your walls or under your floor. As this water leaks, it may pool or collect in one area. As this water stagnates, you may notice a mildew smell without seeing the cause.
A little mold or mildew is expected in the bathroom, especially if you or your loved ones take a lot of hot showers. However, this kind of mildew or mold is typically minor and should be contained in the bathtub area.
If you see mold on your walls, ceilings, or floors, you likely have a water leak somewhere in your piping. Neglecting the leak can lead to serious health consequences for anyone in your home. Breathing in mold spores can cause respiratory health problems.
Do You See Watermarks on Your Ceiling?
Watermarks on your ceiling are often a sign that you have a leak somewhere inside your home's structure. Similar stains in your walls or floors are another sign your home's structure is soaking up water. This can cause serious long-term damage to your home, leading to thousands of dollars in extra expenses.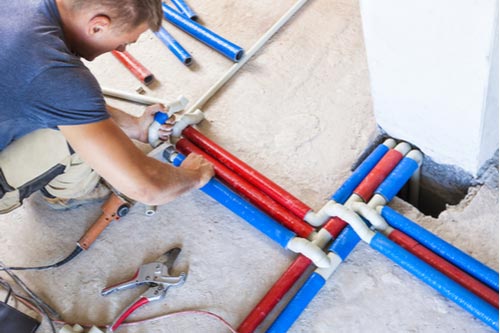 When You Should Repipe Your Whole Home in Davie
While no one is excited about repiping their entire home, sometimes it's unavoidable and will protect your long-term investment in your home. If you're on the fence over getting a whole home repipe, here are some questions to ask yourself:
Are You Remodeling Your Home?
Doing a whole home repipe during a major renovation makes a lot of sense. Replacing your pipes guarantees your plumbing system is in the best condition possible to protect the lovely work you put into your home during the renovation.
Are You on an Endless Cycle of Repairs?
If you are repeatedly hiring a plumber to repair your water lines, repiping the entire system will likely save you a lot of money over a long period. You will have less stress and fewer unnecessary, unpleasant surprises to deal with.
What Kind of Pipes Are in Your Home?
In most cases, only old houses have lead pipes. If your house does have lead plumbing, consider replacing it soon to avoid health consequences.
Does your house have pipes made from galvanized steel? Over time, these pipes can corrode. This corrosion will restrict the pipe's water flow. You may also find sediment in your water, again leading to potential health issues. If your plumbing has galvanized pipes, they will fail at some point, causing you major headaches.
How Long Will My Whole Home Repipe Take?
Your repiping depends on your home. Smaller homes with less complicated systems may take less than a week. How many bathrooms are in your home? Multiple bathrooms add quite a bit of time to a complete home repiping.
The good news is a complete home repipe does not mean your entire plumbing system is out of commission for the entire time the work is done. Many repiping projects in Davie involve installing new pipes alongside the old ones. As new parts are installed, older pipes are taken away. While there will be times that you cannot use certain faucets, drains, or toilets, you will still have access to your plumbing for most of the work period.
Contact Joe Hillman Plumbers for a Whole Home Repipe in Davie
Not sure if you need an entire home repipe or just repairs? Let the experts with over three decades help you. Joe Hillman Plumbers has been helping clients like you make important plumbing decisions since 1987. Our experts will evaluate your home's existing plumbing system and give you your options.
We are committed to helping you get past your plumbing issues as smoothly as possible to get on with your life. Contact us right away to schedule a home inspection before your problem gets worse. You'll feel better knowing you are taking precautions to protect your investment in your home. Call us today at (954) 601-3286.