Gas line systems are generally underground to avoid as many problems as possible, but they can malfunction or get damaged if they get exposed to water, such as in a flood. In other cases, pipes distributing the gas can decay over time and form leaks, which can put building occupants at risk for carbon monoxide poisoning or sudden explosion.
If you notice signs of damage in your gas line system or suspect a gas leak might exist in your building, take steps to respond to this emergency. At Joe Hillman Plumbers, our plumbing technicians are qualified to handle gas line repairs in Davie and other cities in Florida. We can report to your building to shut off the gas and restore the gas line back into proper working order.
Gas Leaks Can Be Dangerous and Put People's Lives at Risk
If there is a gas leak in your home, office, or commercial business, you should take steps to report the leak to the appropriate parties, such as:
Emergency response parties, such as the fire department
Your gas company, so that they can shut off the gas to your building
A propane retailer if the leak is coming from a propane tank
A technician who works with gas-powered appliances so that they can inspect those devices
At Joe Hillman Plumbers, our plumbing technicians are licensed and trained to handle gas line repairs in Davie and can inspect your building for leaks or other safety risks. Do not postpone calling for service repair, as gas leaks can put your health and even your life at risk.
Signs That There May Be a Gas Leak in Your Building
The Office of Cybersecurity, Energy Security, and Emergency Response lists the following signs to look out for if you suspect a gas leak may be present in your home or commercial building:
Is There an Odd Smell?
Natural gas does not have a smell, so as a safety precaution, gas companies add an odorant to the gas so that it can be detected should a leak occur. This odorant gives off a sulfuric aroma, which is similar to "rotten eggs."
Do Your Houseplants Look Like They're Dying?
Do your houseplants look like they're dying? Natural plants may become discolored or start to droop when they absorb too much gas. You can also check the grass around the gas pipeline to see if there are any discoloration spots or dead grass.
Are There Weird Sounds Coming from the Gas Line?
Check for whistling and hissing sounds in case there is gas escaping a pipe. In some areas, such as the basement, the sound may be louder or even roaring.
Are There Any Other Unexplained Visual Cues?
If you spot bubbles in still water or notice dirt floating in the air, this may indicate that gas is disturbing the environment.
Are You Feeling Lightheaded or Sleepy?
If you are suddenly feeling fatigued during an hour when you usually have energy, this might indicate that the carbon monoxide levels are too high in your building. All individuals inside must evacuate the premises immediately and seek medical help.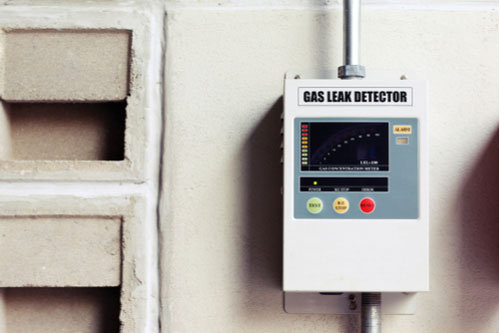 Our Technicians Are Available to Respond to Emergency Plumbing Cases
At Joe Hillman Plumbers, you can call our Davie location on SW 70th Avenue to report to your building and inspect the gas line. We take gas leaks and other gas line malfunctions seriously, which is why we offer 24/7 emergency repair services to customers.
When you call for one of our technicians to service your building, we guarantee to:
Report to your location as soon as possible to fix the gas leak and/or perform any other repairs on your gas line that are necessary.
Provide you with professional service, meaning we treat you with kindness and no aggression so that you feel safe in your home or workspace.
Send out a licensed technician to work at your location no matter what day of the week or time of day it is.
Provide satisfactory service that gives you no problems within 30 days or your money back.
Our team serves several cities throughout South Florida, from Port St. Lucie to Miami. From new homeowners to veteran business owners, we have helped people in our Floridian community maintain safe plumbing and gas systems in their buildings, and we aim to continue providing high-quality services to customers like you.
Our Plumbers Can Inspect Your Gas Line System for Other Issues
While gas leaks may be one of the more dangerous gas line problems, other malfunctions can occur that may disrupt your lifestyle or business. These problems may include:
Gas line blockages
Clogs in copper gas pipes, which may need replacing to meet local building codes
Gas line valve issues
Energy waste caused by gas line
Pipe erosion or corrosion in gas line
Boiler or water heater problems
Malfunctions in other gas-powered appliances, such as stoves.
If you are unsure about the specific issue your building is experiencing, don't worry. Our plumbing experts can inspect your property and identify the cause of the problem, then apply appropriate repairs to restore your gas line back to normal.
Joe Hillman Plumbers Offers Various Repair Services to People in Davie, FL
Are you also experiencing other plumbing issues or require a technician who knows how to work on commercial- or industrial-grade systems? Our technicians at Joe Hillman Plumbers practice various repair services, including:
Not sure if you can afford our services? Our company is partnered with GreenSky Loan Programs so that we can offer financing options to our customers. Whether you want to stay budget-friendly or afford services despite experiencing financial strain, we can work out a payment plan that allows you to get the repairs you need.
Call Joe Hillman Plumbers for Gas Line Repairs in Davie, FL
If you suspect you have a gas leak inside your home, office, or commercial building, you should call for emergency services immediately and evacuate the building until the space is deemed safe again. At Joe Hillman Plumbers, we can resolve gas leaks and perform other repairs on your building's gas line to make sure all gas-powered appliances are working properly.
Call (954) 601-3286 today to receive emergency repair services or to schedule a service appointment at your Davie home or business.