If you are a homeowner, you know how important your water heater is for your family. Water heaters warm your water for cooking, cleaning, and bathing. Your water heater provides hot water for your dishwasher and other appliances. When water heaters break in Davie, Joe Hillman Plumbers are here to help. Our technicians have been helping homeowners and businesses replace or repair their water heaters in Davie for 30-plus years.
Since 1987, we have helped thousands of satisfied customers solve their water heater problems. But don't take our word for it. Read what our customers say about our services. We guarantee our work to give you peace of mind your job will be done right the first time. You can call us, and we'll send one of our repair technicians to your home to take a look at your water heater.
When Should I Replace My Water Heater?
Water heaters don't last forever. They are used daily in most houses and will wear out. Many water heaters have an estimated life span from the manufacturer, but that is not a guarantee. Heavily used water heaters can have a much shorter life span.
Regular maintenance and care can give your water heater extended life in some cases. But knowing how old your heater is playing it safe. If you are buying a new hose, find out how old the water heater is so that you can estimate how long you have before you need to replace it.
Once you have a new water heater installed, take note of the date and have it inspected regularly. Familiarize yourself with your unit's estimated life span. You can also learn what the warning signs of water heater failure are so that you are ready to replace it when the time comes.
How Long Does a Water Heater Last?
Water heaters installed in Davie have different life spans. Some estimates say electric water heaters can last between 10 to 15 years, while gas water heaters have a shorter life span. They can last anywhere from eight to 12 years. Keep in mind that how much you use a water heater and how well you maintain it will affect how long it lasts.
What Are the Signs You Should Replace Your Water Heater?
If your water heater falls into any of the following categories, it's a good idea to have a professional plumber in Davie examine it for possible repairs or replacement.
Your Water Heat Is Old
If you know how old your water heater is, you can make plans to replace it as it nears its expiration date. But if you inherited your water heater when you moved into a new home, you might not know how old it is. You'll need to check for other warning signs.
Rust
Steel is incredibly strong, but like all metals, it will rust over time. Once rust starts, it can't be stopped; you can only slow it down. Corrosion will spread along your water heater's steel surface. In time, this corrosion will eat through the steel of your water heater and pipes.
Rust can also cause severe health problems for you and your family if it gets into your water. If you see rust on your water heater's surface, pipes, or in your water, call our plumber from Davie, who will inspect your unit and let you know what the issue is.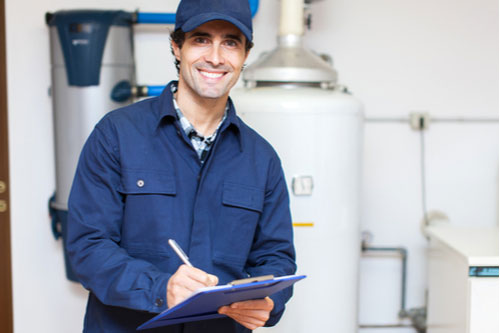 Noise
Are you starting to notice strange or unusual noises coming from your water heater's tank? Your tank might start giving off rumbling sounds when it heats your water. This rumbling is a sure sign your water heater is at the end or near the end of its life.
Should I Replace My Water Heater Before It Goes Bad?
Do you want to avoid the chaos and stress that comes with replacing a water heater when it fails? You can have a new one installed before the old unit breaks down completely. While it might seem wasteful on the surface to replace a functioning water heater, being proactive has many advantages.
You Won't Have to Make a Quick Decision
When water heaters go bad, it's stressful. So much depends on having heated water. In cold weather climates, it could be catastrophic. When a water heater needs to be replaced, we often don't have time to research our best options. Or we may run into supply issues right at the moment we need a new unit. You'll save yourself a lot of stress by replacing your water heater before it goes bad.
Avoid the Danger of Flooding
Your water heater includes a sacrificial anode rod. This rod's job is to attract corrosive compounds in your tank. Surrounded by zinc, magnesium, or other material, this rod helps protect your tank from rust. At least, it slows the inevitable progress of rust.
This rod needs to be replaced about every three years. Without this replacement, your water heater could fail and flood your home, causing massive damage and costing you thousands of dollars of additional damage.
You'll Probably Save Money on Your Water Bill
Older water heaters become less efficient over time. Once you install a new unit, you will likely see significant savings in your water bill. A brand-new model will be more efficient.
You also don't have to get the same kind of water heater when you replace your old one. While some homeowners replace their failed water heaters with a new one of the same type, there are better options. If you invest in a tankless on-demand system, you could save even more money. The trade-off? A tankless system may require you to change your piping and other parts of your system.
Contact Joe Hillman Plumbers for New Water Heaters in Davie
Is your water heater making rumbling sounds? Is your unit starting to rust? Save yourself the headache of scrambling to replace a failed water heater at the worst time. Contact Joe Hillman Plumbers today to have your Davie water heater inspected. We can let you know how old it is and estimate how much life it has left.
If you are in the middle of a water heater emergency, we can help you select a new water heater before we install it in your Davie home. We will give you all your options and help you decide what the choice is for your home, location, and budget. Call us today at (954) 601-3286 to get started.