While faucets are meant to last between 10 and 20 years by industry standards, there are several reasons why someone might want to consider installing a new faucet in their home, such as:
Your faucet is damaged (e.g., has cracks or broken handles) and needs to be replaced.
You're renovating your bathroom and would like a new faucet to match your design aesthetic.
The faucet was installed incorrectly by a previous owner or plumber.
You want to replace an old faucet with a more efficient faucet to save money on water utilities.
Whatever your reason is, our plumbing technicians at Joe Hillman Plumbers can get the job done to your satisfaction or your money back. We perform faucet installation in Davie and surrounding cities in Florida, among other plumbing services. We have proudly served our community for over 30 years, so you can trust us to improve the plumbing conditions of your home or business.
Signs to Know When it's Time to Replace Your Faucet
Many people replace their faucets once they begin deteriorating from old age. However, since the lifespan of faucets can vary, it can be difficult for some homeowners to discern when it's time to consider getting a new faucet for their sinks.
Here are some signs that indicate you should begin thinking about installing a new faucet for your home.
Your Faucet Is at Least 15 Years Old.
Many faucets are built to last up to 20 years, but models may vary in quality and durability. Once your faucet reaches the five-year range for its maximum lifespan, you should consider getting a new faucet, especially if it shows signs of erosion from long-term moisture and use.
There Are Cracks in the Faucet or Other Physical Damage.
Cracks in the water line can extend deeper into the plumbing system if ignored. Other cracks may be aesthetically displeasing, such as cracks in porcelain faucets. If the faucet has rust buildup, the rust can weaken the faucet and lead to other deterioration, such as a handle chipping off paint or detaching altogether.
Your Faucet Requires Constant Repairs.
Whether you have a faulty faucet or an old one, having to constantly repair your faucet can add up. Once your repair costs exceed the total value of purchasing a new faucet, you should recognize that it might be the end of your current faucet's lifetime.
You Want to Use a More Energy-Efficient Faucet.
Older faucet models are prone to wasting water, which can increase the monthly costs of a household family's utilities bill. According to the U.S. Environmental Protection Agency (EPA), WaterSense faucets help people save up to 700 gallons of water per year. You can also check newer faucet models for their energy costs through Energy.gov.
Different Types of Faucet Problems Homeowners See
At Joe Hillman Plumbers, we handle various types of plumbing problems related to faucets, such as:
Water damage caused by leaks
Mineral deposit buildup, such as rust forming around the faucet drain
Clogged aerators, which can cause faucets to spit water in multiple streams or in angled directions
Mold coming from the aerator or the faucet drain
Constant drip
Low water pressure
No water coming out from the faucet
Odd noises coming from the faucet, such as squeaking, whistling, or sudden bursts of noise
Errors caused by improper faucet installation.
If you are experiencing any of the above problems or a separate issue with your faucet, our plumbing technicians are available to service your home and restore the conditions of your faucet. If you would like to purchase a new faucet for your Davie home, our team can show you models we sell and install.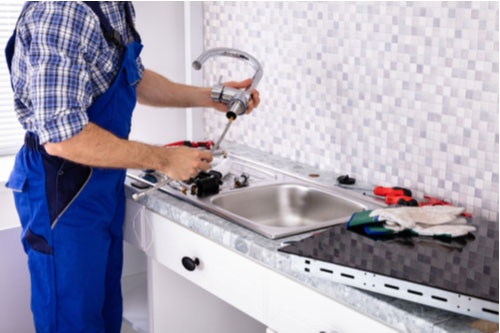 We Also Respond to Emergency Plumbing Calls in Davie, Florida
If you are considering replacing your faucet because you are going through a plumbing emergency, our team at Joe Hillman Plumbers offers 24/7 emergency plumbing services to people in South Florida. We have a facility in Davie on SW 70th Avenue, so we can arrive at your home or business in the area to provide quick repair services.
Our policy guarantees professional conduct when we come to your property for repairs, which means:
Our Plumbers Will Arrive at Your Location as Quickly as Possible.
We have plumbing technicians on-call throughout South Florida to respond to emergency calls. We can report to your home or business to fix immediate concerns and schedule additional maintenance appointments.
Our Plumbers Will Provide Professional and Accurate Maintenance Service.
We train our technicians to be courteous to our customers, which means no swearing, smoking, or drinking while providing maintenance service. Our plumbers behave professionally to clients on their property.
Our Plumbers Carry the Equipment They Need to Perform Emergency Repairs.
We make sure our plumbing technicians are stocked with the necessary equipment to fulfill client calls. This ensures our team handles emergency situations in a timely manner, as they won't have to waste time retrieving equipment from our main office.
Our team at Joe Hillman Plumbers also abide by a 100% satisfaction policy, meaning we guarantee no clogs in your plumbing system within the next 30 days after receiving service or your money back. Should your plumbing emergency involve replacing your faucet, we can provide guidance on which models to purchase, then schedule your installation appointment.
Call Joe Hillman Plumbers for Faucet Installation in Davie, FL!
Whether you're looking to replace a leaky faucet or install a new faucet while renovating your bathroom, our plumbing experts at Joe Hillman Plumbers can provide the maintenance and installation services you need. Our sales agents can show you which faucet models we work with and sell, then schedule an installation date at your home or business.
Call (954) 601-3286 to speak with one of our customer service representatives about what services we can provide to upgrade your faucet. We can also discuss financing options if you have a larger project in mind but want to stay budget-friendly.