The plumbing in your company's building does not just bring you water—it provides waste removal services for your employees and your customers. As a business owner, you know how important it is for everything in your building to run smoothly. When something goes wrong, you can hire a company with a great reputation experienced in commercial plumbing.
At Joe Hillman Plumbers in Davie, we have been serving businesses like yours since 1982. Our experienced staff can help you with all of your commercial needs. We have thousands of satisfied clients who have been thrilled with our work. We are family-owned and operated and are committed to solving your Davie commercial plumbing needs.
Types of Commercial Plumbing Clients We Serve
Compared to residential plumbing jobs, commercial plumbing may require larger equipment, a longer timeframe to complete the job, and more workforce. Joe Hillman Plumbers not only serves residential clients, but we are prepared to take on the unique service needs of commercial businesses.
The following include some of the commercial clients we serve:
We can tell you more about how we can serve you if you are in a different type of commercial plumbing setting.
Kinds of Commercial Plumbing Equipment We Service in Davie, FL
Because plumbing needs for businesses can vary substantially, we at Joe Hillman Plumbing are experts in servicing a wide variety of commercial equipment. A partial list of equipment we can repair, inspect, install, or replace includes:
Plumbing fixtures
Appliances
Garbage disposal units
Dishwashers
Sinks
Bathtubs
Laundry machines
Showers
Sump pumps
Instant hot water systems
If you don't see your equipment listed here, contact our courteous staff to find out how we can help you.
Commercial Plumbing Services We Offer
Joe Hillman Plumbers has encountered every commercial plumbing repair or replacement your business may require. While the list below is not complete, it indicates the wide range of commercial plumbing services we offer.
Commercial Leak Detection Services in Davie
Are you experiencing leaks in your building's plumbing? Because many commercial buildings are so large it can sometimes be difficult to pinpoint where the leak is coming from. When leaks are hidden and pipes are leaking water into your building's walls, floor, or foundation, the source can be especially tricky to find.
Our expert plumbers can inspect your building and determine whether you have a leak and where it's coming from. If you are not sure you have a leak, look for these signs:
Is your water bill going up?
Do you hear running water when nothing is turned on?
Is there mold growing on your walls, floors, or ceilings?
Do you see cracks in your foundation, ceiling, walls, or floors?
Do you see impressions when you or an object leans against a wall?
As the business owner, you'll need to find out quickly if you have hidden leaks. Without catching the problem soon, your building could suffer long-term damage from ongoing leaks.
Commercial Backflow Testing and Certification
Backflow is when your building's water begins reversing and flowing in the opposite direction as intended. To prevent backflow, your building should have backflow preventers installed. Backflow is dangerous because your building's drinkable water supply can become contaminated.
Backflow happens for two reasons:
1. When the water pressure entering the building is greater than that of the building's system, the water can reverse. In layperson's terms, too much pressure causes the water to reverse. This phenomenon happens often in:
Recirculating systems
Chemical feed pumps
Elevated tanks
Boilers.
2. When a water distribution system has low pressure, water may be drawn from the private water system. The result? Leaks in the water main.
If your backflow preventer is out of date or malfunctioning, we can fix or repair the unit. Once complete, we can also keep your business compliant with local and state guidelines by certifying your backflow preventer.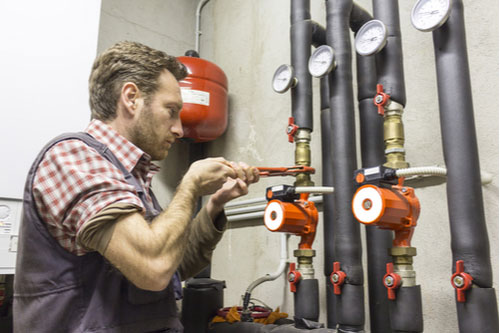 Commercial Building Repiping
With some plumbing systems, the damage, age, or corrosion is so great that replacing the entire system is the easier, faster way to eliminate future plumbing issues.
In some cases, older or hazardous materials are removed and replaced. During the repiping install, the exact layout of the system may be altered to be more effective and efficient.
While a complete repiping project sounds like a huge undertaking, an experienced plumbing team can minimize the disruption to your business.
When Do Commercial Buildings Need Repiping?
Older buildings built before 1970 are prime candidates for repiping. The system is likely corroding and will eventually break down. If your building is old, contact us today to schedule an inspection of your system.
While plumbing system failures warrant emergency repair, scheduling a repiping of your old system before it fails will be less stressful on you and everyone who has to be in the building. Planning for an installation allows you to shuffle your workflow rather than scramble during an unexpected pipe break.
Commercial Sewer and Drain Cleaning
When your building's drains clog, there is an underlying cause. Is your system draining more slowly than normal? Do you experience backups often?
If you find yourself having to fix slow or backed-up drains regularly, your system needs a good cleaning. Schedule regular preventative cleanings that can keep your system working smoothly and prevent any unwanted surprises.
To clean your drains (or unclog blocked systems), we use several techniques:
Drain Snaking
Drain snaking using a drain auger is often the first method we try to unclog a drain. Made of a long length of cable, the auger is fished into the pipe. Because we have snakes and augers of varying lengths, we can use one that is a perfect match for your pipe's length. If the auger doesn't fix the clog, we can move on to other methods.
High-Pressure Commercial Water Jetting
Our hydro jet services use high-pressure water to break apart and remove clogs from your building's plumbing system. The water in our hydro jet system is highly focused and is capable of cutting through thick materials.
Joe Hillman Plumbers uses hydro jetting to clean commercial business drains. Businesses that have heavy-use draining may especially benefit from this service. Some of the settings where we use hydro jetting include:
Factories
Restaurants
Hospitals
Video Inspection
Video inspections use a fiber optic camera with fitted lights that are fed down the pipe, similar to a drain snake. The camera sends real-time images back to the operator. After analyzing the pipe, we can then plan our approach for aggressively removing the clog.
Commercial Slab Leak Repair
Have you noticed cracks in your foundation? Some buildings in Florida are built on unstable soil. This soil can shift, causing the building's slab to become unevenly distributed. This added stress can cause the foundation to crack.
Also, the pipe may crack or break, leading to water leaks at your building's foundation. Your pipes may corrode, crack, or break, releasing water. That water may gather under your slab and eventually cause it to crack.
Warning Signs You May Have a Slab Leak
The problem with slab leaks is they can be easy to miss. Small cracks can go unnoticed. Some of the other signs can be subtle and easy to brush off as a minor inconvenience.
Here's what to look for:
Wet spots or stains on your walls
Warped hardwood floors
Moldy carpets
Warm spots on your floors
Leaking water through your building's foundation
Hearing running water while the building's water is turned off
Low or fluctuating water pressure
A rapid spike in your water bill
If left ignored, a crack in your foundation can destroy your whole building as the foundation continues to crack, break, and shift. The pressure can also damage your windows, walls, and floors. If you see cracks in your building's slab, call us immediately.
Commercial Water Heater Repair or Replacement
A water heater that suddenly fails can cause widespread, immediate problems in your building. It's best to become familiar with your current water heater's age. If your heater is 10 years old or older, it's a good idea to be proactive and replace it.
When you have a new unit installed, schedule regular maintenance for it. There are specific parts in a water heater that will wear out over time. Water causes rust in all metals, and parts of your water heater will be coming in constant contact with water.
Contact Joe Hillman Plumbers for Davie Commercial Plumbing
Joe Hillman Plumbers is confident you'll be thrilled with our service. We can handle all of your commercial plumbing needs for your building. Our staff has the experience, workforce, and equipment to guarantee you a smooth and stress-free repair for your building's plumbing.
When you view our Google Reviews, you can find out more about our strong track record of helping business owners just like you resolve their plumbing issues quickly and professionally.
Contact us today by calling our office at (954) 601-3286.