At Joe Hillman Plumbers, we're family-owned and passionate about fixing your home's every plumbing need. Whether it be remodeling your kitchen or bathroom, fixing leaky pipes, or installing new fixtures, we're on it.
Our wide variety of specializations allows you to choose the service that fits you. Need your house repiped or just a new gas line installed? Joe Hillman Plumbers will be happy to help you! Our plumbers have been helping homeowners since 1987. With Joe Hillman Plumbers' Davie residential plumbing services, we'll work with you to decide what job is right for you and we'll get it done right.
We Repair and Install Fixtures So You Don't Have To
Our versatile team can help you with a variety of repairs and installations. Our plumbers specialize in repairing and installing water heaters, gas lines, and water lines. Installing a new water heater can be intimidating. To reduce your stress, we'll install it for you. If you require assistance in the process, we'll help you every step of the way from deciding what model or style to installing it.
Gas lines are one of the many essential parts of a safe and furnished home. It's what keeps the water hot and the gas stove running so you can cook your favorite meals. Looking for the right plumber to repair or install your gas line? Our plumbers at Joe Hillman Plumbers are the ones to call for all your Davie residential plumbing needs.
At Joe Hillman Plumbers, we believe that everyone should have good water pressure everywhere in their home. When you schedule an appointment with us for a water line repair or installation, we send our qualified plumbers who listen to your needs. Good water pressure makes everyday things like doing the dishes and showering so much easier, so you'll be glad you called us to help!
No More Worries About Fixing Leaks or Repiping On Your Own!
A leaky faucet should have no place in your home. That slow dripping noise is enough to keep anyone up at night! Our plumbers can help you get a better night's sleep when you contact us to fix any leaks. Unfixed leaks can lead to mold growth, rust, and unpleasant smells. Faucets are an easy fix for our experts, so don't accept these leak-related hazards in your home.
We Use Cutting Edge Technology to Help You
To diagnose your plumbing problem we use superior leak detection technology: our sewer camera. It sets us apart from other plumbing companies that use traditional methods. When we put the camera into the pipes, you'll be able to see whether there are any obstructions, incorrectly aligned pipes, or any leaks that may be causing your plumbing issue.
Repiping your whole house can be a downright hassle! This can be especially stressful if you just bought your dream home and you found out that it has rusty or leaky pipes. Attempting this on your own is difficult, so why not call our licensed and passionate plumbers? We'll repipe your home so that you can enjoy it without the stress and worry about other problems it may cause.
No More Worrying About Slab Leaks
Slab leaks are a common occurrence for Florida residents because of heavy and frequent rain. Also, many Florida homes rest on concrete slabs. When heavy rain pours onto the slabs, it weathers them, slowly breaking them down which can lead to leaks that damage the foundation of your home as well as valuable items you have inside.
Living in Florida, it can be difficult to avoid heavy rain and storms but with Joe Hillman Plumbers, you can dodge slab leaks. Our plumbers are available day and night so that you can take care of slab leaks whenever it's convenient for you! We repair damage in your home quickly and securely so you won't have to worry about further water damage.
Our plumbers can quickly detect when there is a slab leak or if your home is at risk for one or multiple. This type of leak can hide and happen seemingly out of nowhere, but with our plumbers, your home will be repaired and free of slab leaks.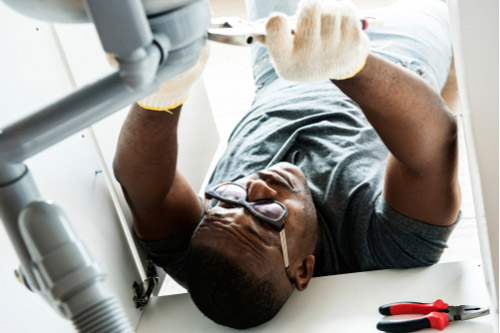 Our Experts Can Remodel Your Home and Maintain Your Plumbing
If you've been meaning to upgrade your bathroom or kitchen, we can help. We specialize in toilet and faucet installation.
Upgrading your bathroom can feel like a hassle from choosing what fixtures fit best with your bathroom's theme to installing them. But there's no need to worry because our team is trained with an eye for design. If needed, we'll help you decide which toilet or faucet looks best with your existing bathroom aesthetic.
A common reason toilets leak is a broken toilet flapper. The toilet flapper is a rubber seal that keeps the flush valve closed so the water in the toilet tank doesn't overflow. If your toilet is leaking, a broken toilet flapper could be the culprit. Joe Hillman Plumbers knows how to quickly spot and fix a broken flapper, so you don't have to worry about any consequences.
Ignoring toilet or faucet leaks could lead to:
We're also experts in sewers and drains! Keeping your sewer clog-free is essential to keeping your home in the best shape possible. But if you have a problem like a blockage, it can cause damage to your property. Give us a call and we'll send out one of our certified and licensed plumbers to fix it today. With our high-pressure and high-quality equipment, we'll make sure there are no clogged lines.
Our High-Quality Technology Helps Us Excel, But Our Passion Drives Us
We'd like to tell you a bit more about the significant impact our advanced technology has on us as a plumbing company. By combining our years of experience and expertise with this new technology, we can more accurately diagnose any plumbing problems our customers might have.
We use our sewer camera and jetting machines to help us get the job done. The sewer camera is a great asset to have; we can see inside the pipes remotely and clearly, which we can't do with our eyes. Our jetting machines remove clogged hair, sludge, and other things from pipes. This technology allows you to get your home back to normal quicker.
But at the end of the day for Joe Hillman Plumbers, it isn't all about technology because our passion is what keeps us going. Every one of our plumbers began their journey in the plumbing industry because they love what they do. Plumbers get to help people every day no matter how large or small the job is. When you call us for a job, we take notes on your home's needs and our service excels your expectations.
Our Customers' Satisfaction Shows Our Expertise
If you need any of the services mentioned above, don't hesitate to call us and we'll send one of our plumbers to fix your home's every need. We take pride in our competitive pricing, 24/7 support, and advanced technology. We aren't just saying we're the best, our customers think so too! In 2018, we won the Super Service Award on Angie's List, thanks to our loyal customers.
Looking for more reasons why you should contact us for all your plumbing needs? We'll name off a few more. Our plumbers are licensed and qualified to handle every service that we offer on our site and more. With over 31 years of experience, our plumbers know what to look for the moment they step into your home. Leaky faucet? Our plumbers already have a fast and efficient way to fix it before you even ask.
Our customer reviews show that we're good at what we do and we enjoy it. You'll find hundreds of reviews about our team across review sites like Angie's List, Yelp, Google, Facebook, and so many more. We're proud to serve the Davie, Florida area and do what we do best: cater to your every plumbing need, so you can enjoy life a little more without the stress.
Contact Us Today for Your Davie Plumbing Needs!
We're here to answer any questions you have! If you need any of the above-mentioned services, give us a call at (954) 601-3286 and we'll send our licensed plumbers to your home. Joe Hillman Plumbers can install, repair, remodel, and even give advice on what fixture(s) to add to your kitchen or bathroom.
We have a passion for what we do because we care about our Davie residents. So contact us today if you're ready to say goodbye to your home's plumbing issues!