When your home has a plumbing issue, you want an immediate solution. Plumbing issues are bound to happen, unfortunately, and if you own a home or business, at some point you're going to need a plumber. Luckily, our Davie plumbing services for the South Florida area can provide that.
Trusted, efficient work is important when it comes to fixing your plumbing. Joe Hillman Plumbers knows urgency is key, which is why we offer a range of services to help you solve your issue fast.
What Davie Plumbing Services Do We Offer?
We cover all plumbing-related issues in the South Florida area including gas, sewage, and waterline repairs and installation. Our services come with guaranteed satisfaction because we are confident in what we do. Joe Hillman Plumbers has over 31 years of experience handling a range of common plumbing issues like:
Leak repairs
Fixture installation
Gas and sewage line issues
Re-piping
Commercial Plumbing Services for Hotels, Restaurants, And More
We handle commercial plumbing needs for businesses ranging from larger retail chains and businesses to smaller, independent facilities. All commercial plumbing services are also under our satisfaction guarantee! Whether you need a repair or need to get started on a big project, our plumbers are here to help.
Common Commercial Plumbing Problems
When you're running a business, it's important that everything operates smoothly, but that's not always the case. Plumbing issues can spell disaster, especially because they can cost your business more in the long run if you don't take care of them quickly. Early signs you're on your way to having a bigger issue aren't always apparent and can sometimes be almost unnoticeable. These can include:
Clogged toilets
Slow-draining sinks
Leaky faucets
Leaky pipes
Sewer odors
Broken bathroom fixtures
Water temperature issues
Running toilets
Low water pressure
Flooding
If you notice any of these issues, or other related issues, it's likely you have a plumbing issue. Waiting to see if you can repair things is never a good idea. Don't hesitate to call so you can protect your business from a major plumbing issue.
Home Plumbing Services
Around-the-house plumbing jobs can be complicated. Having a plumber at your disposal can take the stress out of the equation. Major home repairs and smaller projects are some of our specialties, and we guarantee fast and professional work. Call us if you need help with any of these issues and more: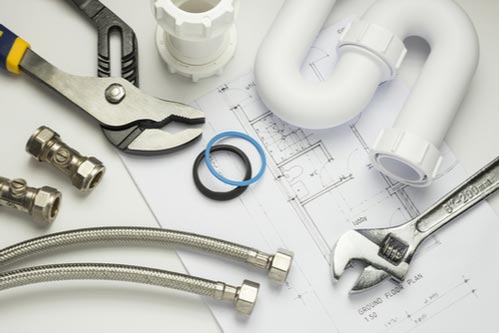 Home Plumbing Issues You Can't DIY
No matter how confident you are as a home repairer, some jobs need professional help. Major renovations need careful attention to local regulations and state plumbing codes. If the right codes aren't met, they can create unsafe conditions and you can get fined.
Florida follows both state and national coding regulations for plumbing to keep you healthy and your home safe. These codes specify that pipes fit in a specific way to prevent water damage and outline what materials to avoid when installing pipes to prevent corrosions that cause major illness.
Consulting a professional for your home plumbing needs is the best thing you can do to ensure that all codes are followed and state guidelines are met. These coding requirements should never be overlooked, and in fact, ignoring them is both unsafe and illegal!
Quality Work and Satisfaction or Your Money Back
Fast, efficient plumbing work is hard to come by, but it can be easy when you know you can trust your plumber. Joe Hillman Plumbers has highly knowledgeable plumbers ready to help you out 24/7. In fact, we have an A+ rating with the Better Business Bureau and customers on Yelp, Facebook, and Google have rated us the best plumbing service in the South Florida area!
Why Joe Hillman Plumbers Is Your #1 Choice
We have confidence in our work, which is why we offer a 100% money-back guarantee. Other plumbing services can only promise some of what we do. With every service call we take, we guarantee:
30-day clog-free waterflow
No clog guarantee for the next three years, three months, and three days
Clean, friendly, and professional plumbers
Quality equipment and fixture function for one year
Quality water heater performance
For details and a full list of our customer guarantees, visit here for more information.
Do You Have a Plumbing Emergency That Can't Wait?
Plumbing emergencies don't fit into your schedule and always seem to spring up at the worst time. We understand that some things can't wait, which is why we have 24/7 plumbing services available for all those late-night, weekend, or holiday emergencies.
If you have an urgent plumbing issue, don't wait.
Finance Today and Pay Later With GreenSky Financial
Sometimes you need a little help covering the cost of your new water heater, pipe installation, or gas line repair. We partnered with GreenSky Financial to help our customers navigate affordable and stress-free plumbing service financing. With fast approval and up to $65,000 credit limits, funding your home or business improvement project is a breeze.
With the help of GreenSky Financial you can expect:
Fast approval
Seven-days-a-week customer service
Multiple payment options
A range of plans to suit your needs
No interest with full payment within 12 months
Reduced interest rates for 96 months
Get an Estimate for Your Plumbing Issue Today!
If you have a need for a fast and efficient plumber in the South Florida area, call (954) 601-3286 anytime to schedule an appointment with one of our skilled plumbers.
You can also conveniently schedule an appointment online with our Service Scheduling Form. Afterward, one of our representatives will call you to help arrange an appointment.