A clogged drain can be more than an inconvenience—it can be a health hazard. Grime buildups create breeding grounds for bacteria and mold. Frequent drain clogs may indicate issues with the water line or sewer line. In many cases, drain clogs can prevent people from using the affected appliance, be it the sink or shower.
If you have a blocked drain in your Davie home or commercial property, our plumbing technicians at Joe Hillman Plumbers can provide drain cleaning services in Davie, Florida. We are prepared to report to any plumbing emergency or schedule a service appointment to inspect your plumbing system.
Our Plumbers Can Fix Your Clogged Drains in an Emergency
Drain clog emergencies can occur if your property was flooded. In South Florida, flooding continues to be an increasing problem for residents, who have taken out over 450,000 flood insurance policies to cover potential damage caused by rainfall flooding, reports NBC South Florida.
However, whether you require drain cleaning services because of flooding or another type of emergency, you can count on Joe Hillman Plumbers to report to the situation. Our team offers 24/7 emergency plumbing repair services, which include drain cleaning. We also agree to:
Have a plumbing technician available on call to report to Davie house calls like yours as soon as possible.
Provide emergency plumbing services any day of the week and any time of the day if necessary.
Take proper health precautions if your plumbing issues stem from floodwater and, therefore, may contain harmful pathogens, such as from the sewer line.
We Also Provide Emergency Repair Services for Clients
If you operate a commercial business and suddenly have a drain clog in the kitchen, bathroom, or floor drain in the property, we can send a plumber to clean the drain so that your business can run smoothly again.
These services are also available 24/7 and may be worthwhile for commercial businesses that require functioning plumbing to provide their services, such as restaurants and hotels. We can also inspect further plumbing issues through a sewer line camera video inspection to detect any problems that the naked eye cannot see.
Types of Drain Cleaning Services We Offer in Davie, FL
At Joe Hillman Plumbers, we offer the following drain cleaning services in Davie:
Standard Drain Cleaning
We clean all the gunk out of your drain so that you can resume regular activities in your home again. This often applies to clogs inside toilets, sinks, and showers.
Slow Drain Issue Assessment
In some cases, drains still drain water down the pipe but at a slow rate. This often indicates that there is slime or grime at the top of the drain.
Leak Repair
If you notice water damage stemming from a drain, you can have one of our plumbers come to spot the cause of the leak and repair it so no further structural damage occurs.
Root Removal
Trees can sneak into plumbing systems, which can cause foundational problems if undetected. If the drain clog stems from tree roots, our technicians can trim these roots to reduce the blockage. Depending on the severity of the issue, further steps to replace the pipe or cut off further root growth may be necessary.
Cast Iron Cleaning
If you have not organized a routine cleaning for your cast iron pipes, our team offers hydro jetting or descaling services to clean out these types of pipes. This allows dirty water and slime to stop blocking the drain, ultimately reducing any sewage aroma you might smell.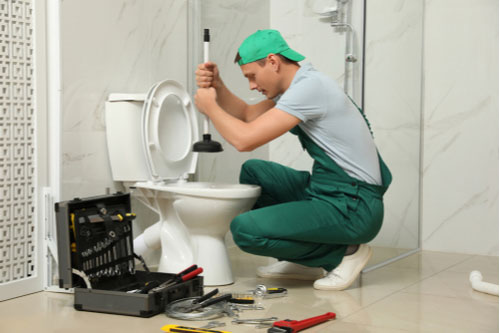 Common Places in the Home That Might Require Drain Cleaning Services
Our plumbing technicians are licensed, trained, and insured to perform drain cleaning services in various areas of the home, such as:
Bathrooms
Shower and bathtub drains often get clogged with hair, soap buildup, and grime. Sinks may also get clogged by toothpaste, skincare products, and other types of debris.
Kitchens
Different types of fats, grease, or food waste can cause buildup in kitchen sink drains.
Laundry or Utility Rooms
Harsh detergents, debris (e.g., lint), and other grime can build up in the floor drain of a laundry or utility room. These clogs may be hard for homeowners to spot immediately, but if you notice water overflow coming from the floor drain of the room, this may indicate a clog.
Basements
Basements are generally rare in South Florida. However, basement floor drains may become clogged for various reasons, depending on how it is used inside the home. If you installed a bathroom in your basement, standard drain clog causes may apply, such as hair and soap buildup. If your basement is undeveloped, dirt, dust, and other debris can cause buildup, including leftover grime from rainfall flooding.
Outside Gutters
Over time, grime can build up in outside gutter drains, which can lead to clogs. Our technicians can clean up your gutters so that they continue to transfer rainfall to the appropriate drains. We can inspect your roof drains as well as surrounding environmental conditions in case anything exists that might contribute to a drain clog (e.g., tree roots growing under the drainage system).
If you are experiencing a drain clog in a different part of your home, such as the garage, our company can still service your property. We have handled various plumbing situations for over 30 years, so our plumbing technicians are prepared to face any obstacle that comes up during repairs.
Call Joe Hillman Plumbers for Drain Cleaning Services in Davie, FL
If you have a clogged drain or other issues in the pipe system of your home or commercial property, call Joe Hillman Plumbers at (954) 601-3286 to schedule a service appointment with one of our plumbing technicians. We can inspect your plumbing system to identify what is causing the clog in your drain, then clean it properly to restore its functions.
Not sure if you can afford our services? We regularly offer discounts and coupons to our customers. Clients can also discuss payment plan options. Our company partnered with GreenSky to provide customers the ability to afford the plumbing services they need without breaking the bank.