Spotting a leak before it develops into a major problem is something all homeowners and business owners should strive to do. Once a leak begins to break down the structural integrity of your plumbing foundation, you may face significant financial damage in having to cover costs to get rid of mold, replace cracked pipes, and rebuild wall structures affected by water damage.
Don't let a leak become a larger burden for you and your family. At Joe Hillman Plumbers, we offer leak detection services in Davie and other cities throughout South Florida to help people prevent severe damage to their properties. We can inspect your home or commercial business for leaks and conduct necessary repairs to restore the structure of your plumbing system.
Leaks Can Lead to Plumbing Emergencies
Taking steps to detect a leak in its early stages can help you avoid having to deal with major problems later. Leaks that grow along the plumbing system can cause several forms of damage and health risks, such as:
Mold Growth
Mold develops in areas that are prone to moisture, such as showers and faucets. Florida is the most humid state in the nation, according to the Florida Climate Center. As such, letting a leak fester in your home can lead to rapid mold growth, which can lead to health problems for inhabitants, such as respiratory issues and skin allergies.
Building Damage
Leaks can drip onto wooden beams in the building structure, which can eventually lead to collapse if the wood rots. Other pipes may build rust deposits on their outer rims because of a leak, which can weaken the pipes and lead to cracks. Leaks above electric furnaces or other electric appliances may also pose a safety hazard, as dripping water may cause electric malfunctions or even fires.
Water Waste
If you have a leak, you will ultimately waste water. The Alliance for Water Efficiency (AWE) states on its website that a typical household will lose 2,000 to 20,000 gallons of water due to unaddressed leaks in their home. Leaks lower the efficiency of your plumbing system, which could raise the price of your water bill if you pay for those services.
Germ Contamination
Besides mold, other germs and microbes can build colonies in leak areas. Depending on how harmful the germ is or a person's allergies, germ contamination can cause health problems like gastrointestinal issues since germs may contaminate food and water through the water line.
Explosive Hazards
While water leaks are common plumbing emergencies, they are not the only type of leaks. Gas leaks pose safety risks to home inhabitants, who might not realize they are in danger. Gas leaks can occur because of malfunctions with gas-powered appliances, such as boilers, or other installation errors in the home.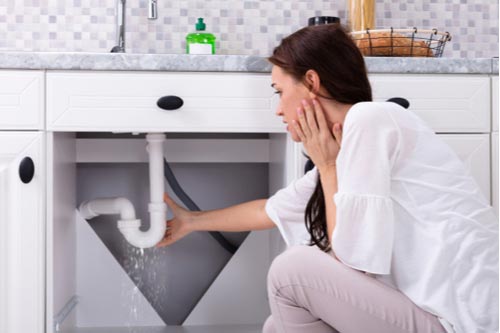 Financial Loss
If you do not repair a leak in time, the ultimate damage will be to your wallet. Whether you have to pay for a whole-house repiping due to eroded pipes or need to do renovations on your bathroom because the whole structural foundation is at risk of collapse, you could be facing hundreds to thousands of dollars in repairs if you do not respond fast enough to a leak.
If you notice signs of a leak in your building, such as water stains along the wall or ceiling of your bathroom, consider it an emergency even if it's a small leak. Leaks can be a sign of larger issues in your plumbing system, so try to set up service for your home or business as soon as possible.
We Offer 24/7 Emergency Plumbing Repair Services in Davie, FL
At Joe Hillman Plumbers, we consider leaks to be a plumbing emergency since a leak could indicate large issues underneath the wall surface. If you discover a leak in your home or business, our plumbing experts are available 24/7 to respond to your emergency and repair any leaks as soon as possible.
You can call our company for emergency plumbing repair, then we'll take care of the rest. We provide customers with respectful service – guaranteed. We have been serving South Florida for over 31 years, and we aim to be the number you call during your time of need.
Services We Provide Once We Detect a Leak
Once one of our plumbing technicians identifies where the leak is located and what are its causal factors, they can perform any of the following services to repair it:
To determine the cause of your leak, our technicians may conduct a video inspection through your water or sewer line, as this can provide more insight into existing problems that cannot be seen without a probing camera.
Other Services We Offer
Other services we offer at Joe Hillman Plumbers include:
If you require other work on your plumbing system, our customer service agents are available to discuss your situation and confirm whether our technicians provide services that can help you.
Call Joe Hillman Plumbers for Leak Detection Services in Davie!
If you noticed signs of a leak inside your home or commercial property, do not hesitate to take action. Failing to repair a leak early on can lead to irreversible water and structural damage, which can cause you even further financial setbacks if the foundation collapses. Call Joe Hillman Plumbers at (954) 601-3286 to schedule an appointment with one of our plumbing technicians.
Our company also offers financing options for customers looking for savings opportunities for our leak detection services in Davie. We also give out discounts and coupons for our plumbing services, so be sure to check back to our website to see if any coupons apply to you.