Davie homeowners can save money in the long run by having a professional conduct a video inspection of their plumbing systems or sewer lines. It can even save them the hassle of inheriting a previous homeowner's problem before buying a house.
Joe Hillman Plumbers have been using video inspections in Davie to help homeowners just like you solve their plumbing problems. Video technology gives us an immediate real-time look at your sewer lines or plumbing and quickly gets to the root of the problem. We have helped many clients in our 30-plus years in business, and we would like to do the same for you. If you have a plumbing problem, you can place a service call with us today, and we'll come out and look at the issue.
Video Inspections Diagnose Sewer Line Problems
Our video inspections can pinpoint a drain or toilet problem before the work begins, letting us give you an accurate answer about what is causing your issue. After we complete the work, we can use video footage to show you in real-time that the problem has been fixed.
Our video inspections can find problems caused by tree roots, deteriorating cast-iron pipes, erosion from chemical build-up, and other causes. We want you to feel confident that Joe Hillman Plumbers found and corrected your plumbing problem.
How Video Inspections Can Save You Money
If you have had to call a professional plumber in Davie repeatedly for the same issue, you already know how these costs can add up. You can also save money on a relatively minor problem by having us conduct a video inspection.
This kind of inspection can alert you to a small issue you may not have known about. Once you find something small that needs to be addressed, you can have it repaired before it turns into a bigger problem.
How to Know You Need a Sewer Line Video Inspection
At some point, every home needs a video inspection of its sewer lines and plumbing. Have you noticed any of the following warning signs?
Do You Have Slow Drainage?
Slow drains are one of the easiest plumbing problems to spot. If your draining is slow or completely stopped, you have a plumbing or sewer line problem. If you have tried plunging the drain without success, you likely need a video inspection to discover the cause.
Do You Have Inconsistent Water Pressure?
If you notice your water pressure dropping, you might have a leaky pipe or a cracked or broken sewer line. Most household pipes are easy to access and repair. But a sewer line with a leak is not easy to get to. If you have tried to find the cause of water pressure loss in your pipes without success at your Davie home or business, you can schedule a video inspection before the problem gets worse.
Is Your Foundation Leaking?
If you have noticed leaking around your foundation, you likely have sewer line breaks or cracks. Before video inspections came along, the only way to find the problem was to dig up your pipes. Video inspections are a simpler, faster, and more efficient way to identify your sewer problem and narrow down the cause.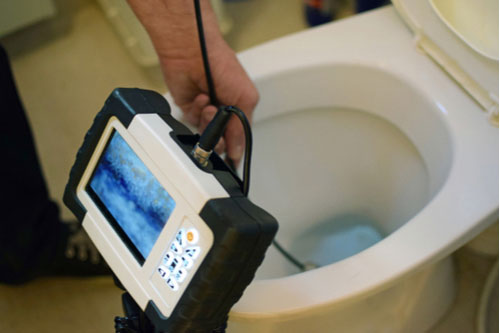 When You May Need a Video Inspection of Your Plumbing
Video inspections are great for diagnosing sewer line problems, but they are useful in other ways. You might want to schedule a video inspection for any of the following reasons:
Locate Missing Items
Sometimes, a wedding band, engagement ring, or other jewelry slips off while washing hands. If you or a loved one has accidentally lost a ring or other small item, you can schedule a video inspection. Our camera can locate your item and retrieve it for you.
Inspecting the Slab
Are you considering buying a new home? Many homes in Davie, FL, and surrounding areas were built on slabs. Because of unstable soil, slabs may experience shifting pressure and become subject to cracking. By scheduling a video inspection, you can accurately assess the slab's condition more effectively than a simple home inspection.
Inspecting Sewer Lines
Just as with the slab, it's often hard to judge the condition of a home's sewer lines. If you are in the market for a new home, video inspections can help you ferret out any major plumbing problems before you commit to the purchase.
Prepare for Remodeling
Adding new spaces to your existing home can be exciting. You get added space and comfort. But with the addition comes increased flow on your home's sewer lines and plumbing. Getting a video inspection before the work begins on your additions will let you know if your existing plumbing can handle the extra demand.
Septic System Health
A preventative video inspection is easier than a repair. Many sewer line problems go unnoticed for months at a time. When they are finally discovered, the damage might be much worse. By getting regular video inspections, you'll have peace of mind knowing you can deal with a problem before it grows.
How Sewer or Plumbing Video Inspections Work
Video inspections are so practical because they are non-invasive. A plumber from our Davie team will insert a thin fiber-optic line into the pipe during the inspection. The flexible cable allows it to easily go through the pipe, and it is equipped with waterproof cameras. This setup allows the camera's operator to view the footage.
The cable's powerful lighting gives the operator a clear picture of the inside of your sewer lines. After studying the footage, your operator can then assess your sewer line's problem and plan a solution.
Contact Joe Hillman Plumbers for Video Inspections in Davie
Are you having trouble finding the cause of your leak or sewer line issue? Do you see leaks around your foundation, but you are just sure where? Joe Hillman Plumbers can help you. We have been helping homeowners and companies solve their sewer line or plumbing issues for more than 30 years, and we are confident we can help you.
If you are in the Davie area, we can diagnose your plumbing issue with a video inspection and let you know what needs to be done before we start work. We stand by our work and offer 100% satisfaction guaranteed plumbing repair services. If you are not happy with your services, we will return your money. Getting started is easy. Give us a call today at (954) 601-3286, and we'll schedule your appointment.