Are you faced with broken water lines in your Davie home or business? Dealing with a broken water line isn't fun. It disrupts your entire household or business. It's also a problem you cannot put off. When your water lines break, you need them fixed right away—and you need them fixed right the first time.
Joe Hillman Plumbers has been helping homeowners and business owners fix or replace broken water lines since 1982. After serving thousands of satisfied customers, we know you will be happy with the job we do. We are family-owned and operated. Our courteous and professional staff will get the job done to your satisfaction. With our 100% service guarantee, you'll have peace of mind when you call us to repair your water lines in Davie and the surrounding Florida areas.
Water Line Repair and Replacement in Florida
There are many old water and sewer lines in Florida. When a water line breaks, it's very often because of age or corrosion. Other causes, like tree roots or foundation issues, can cause pipes to fail in or around your home.
Your home has an elaborate series of pipes working together to keep freshwater flowing to your home so it's there when you need it. This pipe network also removes water containing human waste to keep you and your family safe. When these pipes become cracked or broken, you will have to repair or replace them.
Our professional plumbers can help. We can inspect the damage and explain your options for service, including repair or replacement of the water line, sewer line, slab leaks, and other related services.
Warning Signs of Leaking Water Lines in Davie
Leaks are not always obvious. To find a leak before it becomes catastrophic, you may have to use a little detective work. Here are a few warning signs.
Is Your Water Bill Increasing for No Reason?
Pay attention to your water usage. There are times of the year when you may expect to pay more for your water, such as in the summer months. If you are washing your car every weekend or watering your lawn, you can expect your bill to rise.
However, if you notice your water bill creeping up, compare your payments from this year to the previous year. If you notice a big difference, call a professional plumber in Davie to have your water lines inspected.
Do You See Mold?
Your bathroom might have a little mold on the bathtub from time to time. Because of the heat and humidity associated with hot showers, this is probably normal—but this "normal" mold should stop at the bathtub area.
If you see mold on your walls in any room of your house, call a professional right away.
Do Your Rooms Smell Musty?
Not all mold is visible. Mold might start behind walls or under your floor. Let your nose be your guide.
Water might drip out of a leaking pipe. If it sits and collects in one area, this water could stagnate. The result? A putrid smell that serves as the tell-tale sign you have mold, even if you can't see it. If you smell mold anywhere in your house, you could have a water line leak somewhere.
Do You See Unusual Stains in Your Home?
Look at your walls, floors, and ceilings. If you see any discolored areas, it might indicate a leak. Depending on where the leak is, you may not see water. However, as that hidden leaking pipe allows water to gather, your floors, walls, and ceilings may soak some of it up.
First, you may see staining in odd places. Press against your wall or lean an object against it. Do you see an impression of your hand? Or does the wall feel bendable? That's another sign of potential water damage. Does your ceiling sag in places? This is one more signal that you should get your plumbing inspected.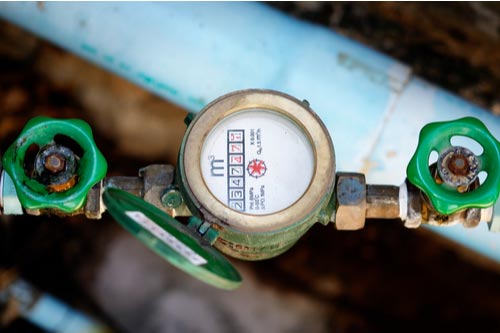 Does Your Meter Never Stop Running?
If you turn off every faucet in your house and make sure your toilets and appliances are not running, your water meter should stop. So, if your meter keeps running after everything is shut off, you have a leaking pipe somewhere.
Do You See Puddles Without Rain?
Check your lawn and areas around your house. If you have not had rain recently, there shouldn't be any collected water. If you do see mud or water around your house or on your lawn, it could indicate a leaking pipe.
The same is true in your house's interior. Do you see puddles of water gathering inside your home? Verify no one has spilled water recently. If no one has, consider calling a professional plumbing expert from our team right away.
Do You See Cracks in Your Home's Foundation?
This is one of the most alarming signs of cracked or broken water lines. Your house likely has settled over the years. It may continue to do so, especially in Florida where there are many foundations built on unstable soil.
If you see a crack that wasn't there before, it could indicate your foundation has shifted and cracked. If you have had a thin crack for some time, check it to see if it has widened. If it has, you could have a leaking pipe that is disturbing your home's foundation.
The long-term damage from a sinking foundation can ruin your home. Your entire home could be destroyed if the foundation and pipes are not repaired.
Contact Joe Hillman Plumbers for Water Line Repair in Davie
Neglecting leaking or broken water lines is never a good idea. You may not want to spend money on something you can't see, such as hidden pipes, but cracked water lines only get worse over time. The sooner you have the problem corrected, the more you will have peace of mind.
We at Joe Hillman Plumbers have been helping homeowners like you protect their investment in their homes for over 30 years. We can help you pinpoint the problem and repair your water lines before your home is ruined. We offer a satisfaction guarantee: if you aren't happy with your plumbing service, you'll receive your money back. To get started, contact us today by calling (954) 601-3286.