Although you may not think about it often, plumbing plays a vital role in your retail establishment's overall operations. Your retail business is subject to constant interruptions and inconveniences without a functioning plumbing infrastructure. Proper plumbing adds to your business's user-friendliness and overall functionality.
Therefore, if your retail establishment encounters a plumbing problem, you will want it fixed immediately and properly. For reliable retail plumbing, Joe Hillman Plumbers ticks off every vital box. From installation to regular maintenance and repairs, you can count on us to care for your retail plumbing in Port St. Lucie.
You can call us today for an appointment with a commercial plumbing technician who will come out to your property and check out the problem.
Why Choose Us to Handle Your Retail Plumbing in Port St. Lucie?
Whether you're dealing with leaky pipes, clogged toilets, or clogged drains, you can count on our technicians to fix them all. You don't have to sit around and watch these plumbing issues bring your retail establishment to a halt. We will ensure your plumbing systems are taken care of so that you can get back to serving your customers.
We know you have several options when it comes to retail plumbing in Port St. Lucie. However, we also understand that retail plumbing problems can be costly, especially when hiring the wrong plumbing company.
Here are some of the benefits you'll receive if you choose us for your Port St. Lucie retail plumbing needs:
Trenchless Technology
Our work as plumbers is to support and protect your everyday retail operations, not shut them down. We understand that you want to avoid contaminations while maintaining customers' safety as they come in and out of the establishment. That's why we use trenchless technologies to complete repairs in retail establishments.
With the help of "trenchless technologies," such as pipe bursting and pipelining, your retail business won't have to endure noisy excavations or extended shutdowns. These technologies help us complete the work with minimal inconveniences for both customers and workers.
Plumbing Codes
Plumbing that is not up to code can delay the work and cost you a lot down the line. Our technicians understand how the plumbing codes work in Port St. Lucie, and they always adhere to them in practice. Our repair team will perform high-quality plumbing work and look out for the safety of your workers and customers.
Experience and Credibility
We have more than 30 years of experience in the retail plumbing industry, and we will put it to work for you. We have worked on all kinds of plumbing issues in those years, making us the ideal team for your retail plumbing job. You can count on us to deliver high-quality work and the best results.
You'll also get much-needed peace of mind knowing that all our technicians working on your project are well-trained, insured, licensed, and bonded.
Affordable and Fair Pricing
Regardless of how big or small your retail plumbing project is, you can count on us to fix it at an affordable price. When we arrive at your retail establishment in Port St. Lucie, we'll evaluate the plumbing problem you're facing and then recommend the most effective solution possible.
We never include hidden fees or leave any charges explained. This way, you won't be blindsided by the project's final cost.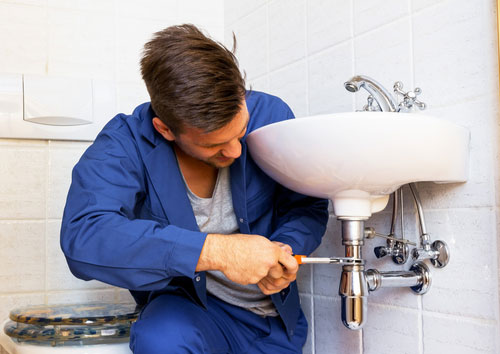 Our Retail Plumbing Services in Port St. Lucie
Joe Hillman Plumbers offers a wide range of retail plumbing services that keep you in business without any interruptions. These services include:
Backflow prevention
Backwater valve installation
Frozen pipe thawing and repair
Plumbing renovations
Sump pump installations and repairs
Faucet installation and repair
Toilet installation and repair
Water service pipe replacement
Signs That It's Time to Repipe Your Retail Establishment
Some retail owners usually consider repiping as an expensive and unnecessary plumbing service. However, you likely will need repiping done at some point during your business operations. So, how can you know when it's time to repipe your retail establishment?
The following signs indicate an impending repiping job for any retail establishment:
A sudden change in the water's color and smell.
Your retail establishment experiences frequent water leaks that require a plumbing company's help.
Higher-than-usual water bills.
Old and worn-out pipes made from outdated materials, such as lead.
Emergency Retail Plumbing Services
Plumbing emergencies usually create unique problems for retail businesses. This is because they can easily result in loss of productivity, reduced quality of service, and property damage. If a retail plumbing emergency isn't fixed in good time, it can ultimately lower your business's revenue. Severe plumbing system malfunctions can lead to your retail establishment's temporary or even permanent closure.
As a retail owner, you must be aware that plumbing emergencies can strike at any time and catch you and your workforce off guard. Therefore, we encourage you to have any plumbing issue you're dealing with fixed immediately to avoid inconveniencing your customers and workers. Our technicians offer 24/7 emergency retail plumbing services throughout the Port St. Lucie area.
You can count on our team of technicians to arrive at your retail establishment as soon as possible, equipped with advanced plumbing tools to fix the issue. Whether it's a clogged toilet or leaking pipes, we will resolve your plumbing emergency immediately and with minimal disturbance to your customers and employees. The best part is that you won't have to pay extra for our availability in your time of need, regardless of the services you require.
Contact Us Today for Your Retail Plumbing Needs in Port St. Lucie
As a retail business owner, the last thing you want to do is take chances on your valued establishment. If you're experiencing a plumbing issue at your Port St. Lucie retail business, you can contact us. We will aim to take care of the issue in the shortest time possible.
At Joe Hillman Plumbers, we have a dedicated team of experts in dealing with any retail plumbing issues you may have. Call (954) 283-5468 or contact us online to schedule your service visit today.