A commercial or residential building isn't complete until it establishes a fully functional plumbing system. Restaurants are commercial buildings with impeccable plumbing systems to guarantee that activities run smoothly. A plumbing problem can cause any restaurant owner or management team major headaches.
Whether it is a clogged drain, blocked toilet, backup sinks, or smelly odors, any plumbing issue can slow down your restaurant business, causing a significant financial setback. You can call Joe Hillman Plumbers for a solution to any issues with restaurant plumbing in Port St. Lucie and the surrounding area.
Our Port St. Lucie commercial plumbers are ready to help you.
Why Choose Us for Your Restaurant Plumbing Services in Port St. Lucie?
When you operate a restaurant, your employees and customers use a lot of water, quickly overwhelming the kitchen and bathroom plumbing systems. If you're faced with a plumbing issue, you may think that having one of your employees fix it is a great idea, but it may not be.
Instead, you can hire a professional plumber who has the training and experience to handle restaurant plumbing issues so that you can concentrate on running your business.
The following are some reasons you may want to consider hiring our plumbing company for your restaurant plumbing needs:
Save Money
While hiring someone else to fix your plumbing issue to save money may seem illogical, hiring a professional plumber is worth the cost. Restaurant plumbing is complicated, and it usually requires the appropriate tools and knowledge. If an amateur plumber doesn't fix the plumbing issue as expected, you could end up with a much bigger problem.
In the end, you'll end up spending much more money to fix the issue. On the other hand, if you hire our professional plumbers, they'll fix the plumbing issue effectively, and you'll have a greater chance of having recurring problems.
Save Time
Time is vital when running a restaurant. If a plumbing issue emerges at your establishment, you want it to be fixed immediately. Our professional plumbing technicians have years of experience in the business. They will investigate the issue before diagnosing and repairing it. Additionally, they will do so with minimal disruptions to your business activities.
Adhere to Plumbing Codes
Our professional plumbers understand the local area plumbing codes. Therefore, they'll always adhere to the respective plumbing codes when fixing plumbing issues in your restaurant. We can also remedy any plumbing code violations that may have been made in your restaurant earlier on.
The Restaurant Plumbing Services We Offer in Port St. Lucie
If you run a restaurant in Port St. Lucie, Joe Hillman Plumbers is a plumbing company you can count on for all things restaurant plumbing. We understand how important plumbing is to your restaurant business, and we're committed to ensuring that everything always runs optimally.
We offer the following restaurant plumbing services in Port St. Lucie:
Gas line installations and repairs
Grease trap installations and maintenance
Kitchen installations
Drain and sewer installations
Pipe installations
Bar plumbing installations
Tankless hot water installations
Water treatment
Water main connection
Leak detection and repair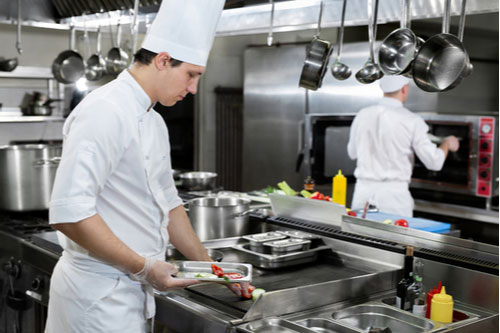 Preventive Maintenance Tips for Your Restaurant Plumbing
Water is vital for any restaurant business because it's used for cooking and maintaining cleanliness inside the establishment. This explains why it's one of the high costs of operating a restaurant. As a restaurant owner, maintaining a fully functional plumbing system and conserving water can immensely lower your operational costs without compromising your business's health and safety standards.
The following are some preventive maintenance tips that will help you minimize plumbing issues and guarantee the proper water use in your restaurant:
Install Grease Traps
Grease traps are undoubtedly some of the most common plumbing devices in most restaurants. These devices are usually installed under the sinks to stop solid waste from entering the drainage system. The solid waste is filtered and processed in a different waste disposal system. Most restaurant owners make the mistake of installing grease traps only under dishwashing sinks.
Grease poses a problem in all sinks inside a restaurant. Therefore, installing grease traps under all the sinks will go a long way in reducing the emergence of unnecessary plumbing issues.
Inspect All Restaurant Faucets
When you operate a restaurant, you must regularly inspect all faucets to make sure they are not leaking when not in use. If your restaurant is always busy, a small leak can go unnoticed for months and lead to higher-than-usual utility bills.
Therefore, you want to inspect all faucets from time to time and have them repaired immediately. We also recommend low-flow faucets to help you save more water and can help you find the right one for your restaurant's needs.
Install Water Filtering Systems
Municipal water usually contains very high levels of chloramines, which are known for deteriorating stainless steel appliances. By installing a water filtering system, you can make sure the water is safe to use and prevent your kitchen equipment and devices from deteriorating.
Use Copper Pipes
In most restaurants, water needs to be cooled before dumping it into the drainage system. This means that the hot water from kitchen appliances, such as dishwashers, must run through a drain tampering kit to cool. We recommend using copper pipes instead of plastic ones since they don't warp or melt when exposed to hot water.
Keep Bar Drains Clean
Sometimes, servers tend to push down orange peels, lime, cherry stems, and other materials used to make cocktails down the drain instead of disposing of them in a trash can. These materials can cause backups in your drains. As a restaurant owner, you must train your employees to properly dispose of all materials to prevent unnecessary and costly plumbing problems.
Contact Us Today for Restaurant Plumbing in Port St. Lucie
When you have a plumbing issue at your restaurant, it could benefit you to reach out to a professional plumber as soon as possible. Getting help early on can save you time and money.
Joe Hillman Plumbers offers high-quality restaurant plumbing services at affordable prices in the Port St. Lucie area. Call us at (954) 283-5468 or contact us online to schedule a service visit today. We guarantee our services, and we are open 24 hours a day, seven days a week, for your plumbing needs.