Whether it's a residential or a commercial premises, any building that hosts people for an extended period must be equipped with an efficient plumbing system and regularly maintained. Large commercial plumbing jobs can be complex, entailing larger plumbing systems and equipment. The unique demands of commercial plumbing mean that you are likely best served by experienced professionals that can provide these services.
If you need anything from a whole repiping at a hotel or you have been wrestling with a drain clog at a restaurant, we can help. At Joe Hillman Plumbers, we offer comprehensive Port St. Lucie commercial plumbing services—and we'll get the job right the first time.
Our Plumbers Can Assist in These Commercial Settings
A commercial plumber specializes in making plumbing repairs and replacements in a wide variety of commercial business settings. This isn't the same kind of plumber you call when you spot a leaky faucet or slow drain at home. Our commercial plumbers can work with sophisticated plumbing systems that demand more knowledge and skill.
The following are some of the settings where our Port St. Lucie commercial plumbing experts can help:
If you have questions about whether we can work in your commercial setting, our staff can explain how we can help.
Signs That You Need Commercial Plumbing Services
We understand that the last thing you want to encounter is a plumbing issue that will interrupt your business operations. Therefore, we recommend that you reach out to us immediately when you notice a problem with your plumbing system. Note that even plumbing issues that may seem minor can easily escalate and become major plumbing emergencies.
The following are some signs telling you to start looking for a commercial plumber:
Water pressure in the sinks or showers is low.
There are visible water leaks.
Your sinks take a while to drain.
The water bill on your premises is higher than usual, even though water usage hasn't changed.
There is no hot water in the guest rooms.
There is an unpleasant smell around the building.
The toilets are frequently overflowing.
There are noticeable signs of water damage, such as mold growth on the walls and yellow stains on the ceiling.
Gurgling, bubbling, rattling, or hissing sounds coming from the drains.
If you see a combination of these signs, it's best to seek emergency plumbing services to fix the issue in time before it escalates into a major plumbing and building task.
Common Commercial Plumbing Problems in Port St. Lucie
A commercial building may have many of the same plumbing problems that afflict residential buildings but on a larger scale. We can help you with these issues:
Old or Corroded Pipes: In some old buildings, especially those built before 1970, you may need to replace old or corroded piping. This is the case for many older galvanized or lead pipes.
Toilet, Faucet, or Other Plumbing Install: If you are in a new building, you may need to have toilets, faucets, and other plumbing fixtures installed.
Toilet and Drain Clogs: Clogs can occur when hair and other solid matter are flushed down the drain or toilet. They can cause burst pipes and water damage.
Silent Leaks: These are leaks that go undetected for a long time. Signs include water stains on the walls or ceilings, higher utility bills, and running water when every faucet is turned off.
Running Toilets: A running toilet can waste 180 gallons per week if the issue isn't fixed in time, per the Environmental Protection Agency (EPA). More than one running toilet in a commercial building could significantly increase utility costs.
Although these are some of the main commercial plumbing issues, you can also experience water temperature and pressure issues, sewer smells or unpleasant odors, water flooding, and more. We can diagnose the source of the issue and explain your repair or replacement options.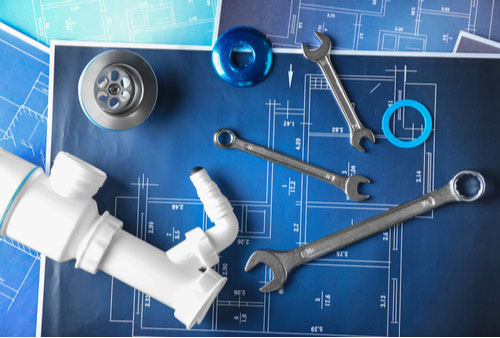 Commercial Plumbing Services We Offer in Port St. Lucie
At Joe Hillman Plumbers, no plumbing issue is too big or small for us. We do it all. We have a team of well-trained and experienced plumbing technicians who are ready to cater to all your plumbing needs at any time of the day or night.
We understand that the health of your plumbing system is critical to your business operations. Therefore, we'll treat any minor repair or major replacement with utmost urgency to get your business up and running as soon as possible.
The following are some of the commercial plumbing services we offer in Port St. Lucie:
Clog removal
Backflow prevention and testing
Routine plumbing inspections
Drinking fountain installation and repairs
Gas line installations and repair
Urinal installation and repair
Water pressure adjustment
Pumps/sump installation
Water treatment
Leak detection and repair
Boiler installation and repairs
The Unique Demands of Commercial Plumbing Jobs
Our plumbers have experience working with large, complex commercial plumbing systems. As a commercial business or property owner, you may want to be prepared for the unique demands of a commercial plumbing job.
Port St. Lucie commercial plumbing jobs are different from smaller residential plumbing tasks due to the following factors:
Building Size
Plumbing systems become more complex the larger a building is. Even a relatively small commercial building will have larger and more complex plumbing systems than residential homes. Commercial buildings also see heavy use, with hundreds of people using sinks, toilets, and other plumbing features every day. This regular use often results in minor issues and causes plenty of wear and tear in the long term.
Commercial plumbing jobs take much longer than residential jobs due to their size difference, and there's usually a lot more involvement from the property owners.
Several Stories
Most residential homes have one or two stories at most. On the other hand, commercial buildings can have several floors with dozens of plumbing fixtures. Each of these fixtures sees heavy use every day and requires regular care and maintenance. Gravity also plays a role in plumbing calculations, as it gets harder to maintain water pressure the higher a building goes.
These are considerations most residential plumbers don't have to make when working on residential buildings.
Frequency of Inspections
Plumbing structures in commercial buildings experience heavy daily use, increasing the rate of wear and tear. Property owners must budget for and schedule regular inspections to identify potential problems early and effectively to keep commercial plumbing functioning. Some large buildings even use sophisticated tools like pipe cameras to inspect their pipes.
Specialized Industry Knowledge
Due to the size and complexity of commercial plumbing systems, plumbers often use industrial-grade pipes and fixtures. A residential plumber specializing in commercial structures may not be equipped to install, repair, and perform routine maintenance on industrial-grade fixtures.
Expected Service Hours
Commercial plumbing jobs usually require a lot more working hours due to the size and complexity of the plumbing systems. Additionally, since commercial buildings tend to have hundreds of users per day, commercial plumbers must be flexible enough to work on the plumbing systems without disrupting normal operations. This means jobs may need to be done during off-hours or the weekends, extending the project's duration.
Our commercial plumbers can also run regular maintenance checks and inspections and consult with you to offer plumbing guidance and warnings about potential problems. In some cases, you will need to be aware of local building codes and laws regulating wastewater disposal. We have experience working within these local specifications in Port St. Lucie.
Why Choose Us for Port St. Lucie Commerical Plumbing?
We know that you have several options for commercial plumbing in Port St. Lucie. However, we also understand how important it is for you to hire the best commercial plumbing team to work on your property.
The following are some of the benefits you'll get for hiring Joe Hillman Plumbers for your commercial plumbing needs:
Professionalism: Our plumbing technicians always maintain a respectful demeanor during the job.
Experience: Our plumbing technicians have years of experience in the industry, and they'll complete the project on time—and ensure it's done right the first time.
Top-of-the-Line Equipment and Tools: We incorporate modern technology with the best plumbing tools to deliver the best results for our clients.
Licensed and Insured: All our plumbing technicians are licensed and insured. This means that you can count on us to deliver high-quality plumbing work and do the job right the first time.
Upfront Pricing: You always know what you're paying for before the work commences, thanks to our upfront pricing.
Contact a Port St. Lucie Commercial Plumber
Is the plumbing in your commercial building acting up? Are you looking for a commercial plumber who can handle the size and complexity of a commercial plumbing system?
Consider Joe Hillman Plumbers. We offer a wide range of residential and commercial plumbing solutions and handle every plumbing project with professionalism and dedication. We also offer emergency plumbing services 24/7 for your most urgent plumbing needs. Contact us today at (954) 283-5468 to schedule an appointment.