As a homeowner, the last thing you want to deal with is a plumbing issue that could result in costly damages and endanger your household. Your home is where your heart is, and you want to keep it as comfortable as possible by ensuring that your plumbing systems are functioning correctly.
If you're dealing with any plumbing issue in Port St. Lucie, reach out to Joe Hillman Plumbers immediately before the problem escalates. Our Port St. Lucie residential plumbing technicians are on call 24/7.
Why Choose Our Port St. Lucie Residential Plumbing Services?
Even though you have options to choose from for your residential plumbing, not all plumbing companies can guarantee reliable services. Therefore, regardless of the residential plumbing service you need, you want to ensure that you opt for a trustworthy plumbing company that can handle it all. In Port St. Lucie, we are renowned for offering reliable plumbing services and unmatched customer service no matter how extensive the job.
Here are some reasons why you should choose Joe Hillman Plumbers for your residential plumbing needs:
Never an Overtime Charge
As a homeowner, you know that a plumbing emergency can happen at any time of the day or night. Therefore, you need to have a plumbing company you can call at any time and day without being charged for overtime. Whether on a Monday, Friday, or Sunday, the charges will always remain the same when you hire us.
Locally Owned and Operated
Another reason you should hire our residential plumbing company is that we are locally owned and operated. This means that the technicians who will arrive at your home take pride in serving the local community and will consistently deliver high-quality residential plumbing services to uphold that reputation.
Upfront Pricing
Whenever you hire our residential plumbing services, you'll always know what you're paying for ahead of time. Since the charges are upfront and usually follow a flat-rate pricing model, you'll end up paying an affordable price for the services. Additionally, you'll get to agree on the price with the plumbing company before work begins, giving you complete control over the entire project.
Licensed and Insured Technicians
The best way to ensure that you'll get high-quality residential plumbing services is by hiring the best people for the job. Whenever you contact Joe Hillman Plumbers, you're guaranteed that licensed and insured technicians will be handling your plumbing issue. We have the skills and insight needed to address plumbing issues correctly and in the shortest time possible.
Workmanship Tools Guaranteed
Whenever you contact us for residential plumbing services, we'll arrive with a truck full of plumbing tools. This ensures that the project is completed in the shortest time possible so that your household can return to normal.
Detailed Diagnostic
Our plumbing technicians don't just fix the problem; they understand the cause. At the end of the service, we'll give you a detailed report on the underlying plumbing issues affecting your system. We can fix these issues in time and prevent major and costlier plumbing problems.
Signs You Need Residential Plumbing Services
Your home's plumbing may not be something you think about every day. However, if a plumbing issue emerges, it can quickly become a significant inconvenience in your home. Fortunately, some warning signs can alert you whenever there is an upcoming plumbing issue so that you can get it fixed before it worsens.
Some of the signs to look out for include:
Burst or leaky pipes
No water in your house
Low water pressure
Slow drains
Dripping faucets
Clogged toilets
Gurgling sounds
Unpleasant odors all over your home
Higher than usual water bills
Limited hot water
Soggy basement
Our Plumbing Services in Port St. Lucie
Our company offers various residential plumbing services, ranging from simple leak repairs to extensive drain cleaning. Regardless of how big you think your plumbing issue is, you can always count on us to handle all your plumbing needs.
The following are the different types of residential plumbing services we offer:
Regular Plumbing Inspection
Getting a regular plumbing inspection is undoubtedly one of the best things you can do for your home's plumbing system. Routine inspections are meant to prevent minor plumbing problems from becoming extensive emergencies. After a plumbing inspection, our technicians will fix the current plumbing issues, if any, or recommend some changes for the future.
During a plumbing inspection, our technicians will examine the following:
Water pressure
Water bills against water usage
Ceilings underneath appliances
Watercolor for signs of rust and corrosion
The flooring in the kitchen and bathrooms
Drain pipes and their joints
Plumbing Repairs
As a homeowner, you want to ensure that you repair minor plumbing issues in your home before they worsen. This way, you'll save money by avoiding unnecessary replacements. We recommend that you get routine repairs for your plumbing systems to avoid spending more money on emergency plumbing repairs in the future.
The following are the most common plumbing repairs we offer in Port St. Lucie:
Sump pump repair
Well pump repairs
Faucet repair
Garbage disposal repair
Water pipe repair and replacement
Water heater repair
Tub repair
Radiant heat repair
Sink repair
Shower repair
We also have the experience to handle sewer line repairs, gas line repairs, and slab leak repairs.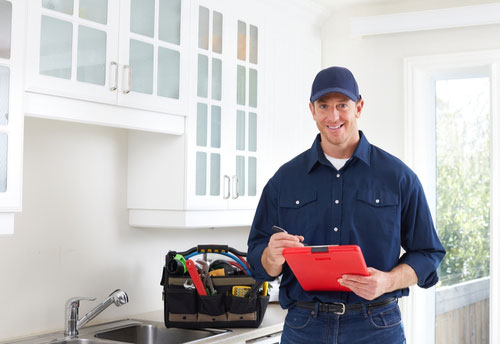 Plumbing Installations
Investing in new plumbing installations is a great way to give your home a makeover and save money down the line. Our technicians will ensure that your plumbing fixtures are properly installed to keep your plumbing system in the best shape possible.
The most common plumbing installations we provide include:
Factors Affecting Your Water Heater's Life Span
With proper maintenance and care, water heaters can last about 10 years. Knowing the factors that affect your water heater's life span is essential as it can give you an idea of what to do to get the most out of it. These factors include:
Build Quality
Like with any household appliance, you get what you pay for. You cannot expect a low-quality water heater system to last for long. Therefore, before purchasing a water heater for your home, ensure that you consult a professional plumber. The most significant indicator of a high-quality water heater is warranty coverage. Most of the time, a high-quality water heater system will come with a longer warranty period.
Installation Process
Proper installation is vital in determining a water heater's life span. Even if you purchase the best model in the market, it will probably develop serious issues when installed incorrectly. Consider hiring a professional plumber to install your water heater system for the best results. A plumbing company will determine the best equipment quality and point to install the water heater.
Before mounting the water heater, the plumber will consider ventilation, insulation, and accessibility. They'll also ensure the system is installed in compliance with the local building codes.
Usage
Your water heater's life span will also depend on how often you use it. A water heater system that serves a family of 10 every day is likely to wear out much faster compared to the one used by a couple always on the go. When purchasing a water heater system, you want to go for one that can handle your family's needs.
Water Quality
The water you use in your home carries all kinds of minerals from the water system. Therefore, the water quality in your home varies a lot depending on where you reside. If the water around your local area has high magnesium, calcium, and other impurities, it will likely shorten your water heater's life span. If you're in such a circumstance, you may consider getting a water softener to remove these minerals and impurities.
Maintenance
For a water heater system to last longer requires regular maintenance and timely repairs. If you ignore your system, it's likely to develop leaks that could affect its performance and shorten its life span.
Preventing Pipe Burst Issues in Your Home
Pipe bursts are some of the most destructive plumbing problems in your home during the winter. When a pipe bursts, the water can easily warp your wooden floors, ruin your walls and promote mold growth.
Here are some tips that will help you prevent pipe bursts:
Leave the water faucets running.
Seal all the leaks that allow cold air inside your home.
Replace pipes with corrosion.
Insulate the pipes.
Keep the kitchen cabinets open.
Direct warm air to colder spots inside your home.
Schedule regular plumbing video inspections.
Let Us Handle Your Residential Plumbing Issues Today
If we lived in a perfect world, residential plumbing systems and components would remain intact forever without needing regular maintenance, repair, or replacement. Unfortunately, we don't live in a perfect world, and residential plumbing services are the most requested services for the home. If you have a minor plumbing issue in your home, don't neglect it until it results in costly damages.
Joe Hillman Plumbers is a trusted plumbing company renowned for offering fast and high-quality residential plumbing services in Port St. Lucie. Call us at (954) 283-5468 today and let us handle all your plumbing needs.