Faulty and dripping faucets can easily waste hundreds of gallons of water every month. You can avoid this by installing durable faucets that complement your decor. Joe Hillman Plumbers offers professional faucet installation services for your Port St. Lucie home or business and can help you find the right faucet for your needs.
Whether you want a new faucet installed in your bathroom, kitchen, or utility sink, you can count on us to perform faucet installation in Port St. Lucie which also benefits your pocketbook. Our technicians have experience and training in installing faucets from various U.S. manufacturers. You can call us, and we'll send a technician out to review your tap needs and go from there.
Why Choose Our Professional Faucet Installation in Port St. Lucie?
Even though faucets require little to no maintenance after installation, they're likely to develop problems, such as low water pressure and leakages, after some time. When this happens, some homeowners try to fix the problem themselves with the help of DIY videos online. The motivation is to save money. Most of the time, this never goes according to plan and only results in creating a bigger plumbing issue than the existing one.
Faucets are fitted with many small moving parts, and installing them isn't an easy job despite what some might think. If your faucet breaks in your Port St. Lucie home, we can be there on-site to fix the problem with our professional installation services. A leaky or malfunctioning faucet may indicate an underlying problem with your plumbing system, which is why it must be addressed immediately before extensive water damage occurs.
If your faucet starts malfunctioning, turn off the water using the main shut-off valve as you wait for our technicians to arrive.
Here are some of the reasons you may want to hire our professional faucet installation services in Port St. Lucie.
Knowledge and Experience
The task of removing a faulty faucet and installing a new one involves dealing with your home's plumbing system. This means if an inexperienced person takes on the task, you may end up with leaking pipes and other plumbing issues.
Our technicians have the necessary knowledge and experience to install all types of faucets. They will install the new faucets properly so that you won't have to deal with unnecessary leaks anymore.
The Right Tools
Just because you have some tools in your toolbox doesn't mean they can help with installing a faucet. The tools you'll need for the job will mainly depend on the kind of faucet you're installing and how your bathroom sink or kitchen sink is positioned.
Our technicians install different types of faucets every other day, meaning that we have the right tools needed for the job. By hiring professional faucet installation services, you won't end up spending any money to purchase new tools for the job.
Saves Time
Thanks to our technicians' experience, you can expect a faucet installation job to be completed the right way and in the shortest time possible. With them working on the job, such a task will only take a few hours so that everything in your home can get back to normal.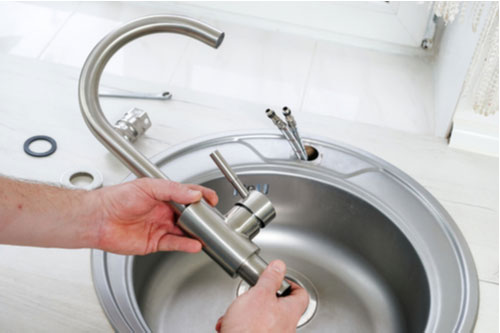 When Should You Seek Professional Faucet Installation Services?
We recommend that you have your faucets inspected every two years to make sure they are working properly. However, if you live in an old house, a home surrounded by big mature trees, or you've just recently purchased the house, you should have your faucets inspected more regularly.
Additionally, if you find out that the water coming out of the faucets is discolored or the faucets have rust stains, you should immediately contact a repair tech to professionally install a new faucet. You shouldn't wait any longer since malfunctioning faucets can easily lead to water damage in your Port St. Lucie home and illnesses if the problem isn't taken care of immediately.
Our Residential Faucet Installation Services
You can always count on us to install and replace different kinds of faucets in your home, including the following:
Kitchen sink faucets
Tub faucets
Bathroom sink faucets
Outdoor faucets
Shower faucets and showerheads
Wet bar faucets
Laundry and utility room faucets
Hot water dispensers
Our Commercial Faucet Installation Services
If you run a business in Port St. Lucie, you can count on us for commercial faucet installation services. This way, a faulty or malfunctioning faucet doesn't cost your business downtime.
The following are some of the commercial faucet installation services we offer:
Sink, tub, and shower faucets
Waste valves
Pot filler faucets
Hands-free faucets
Hose bibs
Dip well faucets
Pre-rinse faucets
Bedpan cleaner faucets
Water stations and fillers
Water-conserving faucets
The Cost of Professional Faucet Installation
Knowing the cost of professional faucet installation services in Port St. Lucie is highly recommended before the work starts. This way, you're able to adjust your budget accordingly and avoid unnecessary inconveniences after the job has begun.
Since faucets usually vary in complexity and design, the overall installation cost will vary. The best way to get an idea of the faucet installation cost is by requesting a quote online.
The final faucet installation quote will incorporate the following:
The average cost to hire professional faucet installation services
The average price of materials and tools for faucet installation
The cost of the entire project and cleanup fees
What Do Faucet Installation Services Involve?
When you hire Joe Hillman plumbers for professional faucet installation in Port St. Lucie, our technicians will do the following:
Remove and dispose of your old faucet or sink
Unpack and inspect the new faucets for any faults
Install the new faucet and secure it to the existing plumbing system
Test the new faucet to ensure it is functioning properly
Clean up all the job-related waste and materials
Get Professional Faucet Installation for Your Port St. Lucie Home or Business Today
Installing new faucets can quickly improve the overall appearance of your home or business, increase its value, and save you hundreds of dollars in utility bills.
At Joe Hillman Plumbers, we offer reliable and affordable faucet installation services in Port St. Lucie and its environs. Call (954) 283-5468 or schedule an appointment online today.