It's imperative to get a qualified and reliable gas line repair company to solve the problem if you've got a gas leak in your Port St. Lucie home. Joe Hillman Plumbers is registered and complies with the Florida State Contractors Board's requirements. Our company knows everything about gas line inspection and repair in the Port St. Lucie area.
Our award-winning company is an accredited member of many professional organizations. You can also reach us 24 hours a day for emergency gas leakages.
Our Technicians Will Determine the Source of the Gas Leak
If you experience a gas leak in your Port St. Lucie, Florida, home, you can seek help from our expert gas line repairs technicians. We will immediately dispatch our team to conduct an assessment and stop the leakage when you reach out.
In the meantime, during your call, our staff will tell you how to turn off your gas valves and all electrical appliances and open your windows to avoid an explosion. If you are satisfied with our services, you can schedule regular gas line maintenance with us.
Signs That Your Gas Lines Are Damaged
Several indicators point to a damaged gas line. The most common signs to look out for include:
A Rotten Egg or Sulfur Smell
A common indicator of gas leakage is an odor like sulfur or rotten eggs. Gas companies add mercaptan to the odorless gas to produce a rotten egg smell. Mercaptan helps property owners know when the gas line has a leakage.
Hissing Sounds
If you hear a hissing sound from your gas line, it's an indication that the pipes are letting out the gas. If this happens in your home, you should call our company immediately to come and replace the leaking gas pipes.
Orange or Yellow Flames
Gas appliances, when lit, produce a blue flame when the gas system is operating efficiently. An orange or yellow flame signals a problem with the gas line. Therefore, you should seek immediate help from the experts.
Dying Houseplants
Dying houseplants can also signify gas leakage in your workplace or home. Due to carbon monoxide, the plants start turning brown and eventually die.
A Higher Gas Bill
Receiving a bill for higher-than-normal gas charges could indicate you have a gas leakage. The high gas bill may be due to unaccounted gas usage due to the leak.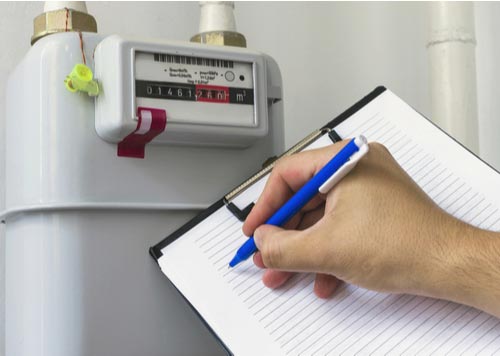 Why Choose Our Gas Line Repair and Installation Services?
If you have a gas leak in your home, we offer gas line repairs or replacement, depending on which one you need. At Joe Hillman Plumbers, we have trained our technicians to ensure that the gas line repairs we perform in Port St. Lucie are done with due care and safety.
Our technicians will examine the pipe to locate the leakage, turn off the gas supply, and repair the damaged line. The leaking section is cut off and replaced with a special fitting that forms a gas-proof seal. Receiving services from a professional technician during the repair and installation process helps uphold your warranties on gas appliances. Having a nonprofessional do the work can void a warranty in some cases.
Here are the reasons why you may want to consider calling us for gas line repairs in Port St. Lucie:
Insured and Licensed
Credible professionals are usually licensed and insured. It's advisable to work with a plumbing company that is licensed and insured since they'll take responsibility for any damages or injuries resulting from their work. Our plumbing company's insurance will compensate you if you sustain injuries during the gas line repair or your property is damaged.
However, if you work with an unlicensed or uninsured company, it will not be liable to compensate you for damages if an accident occurs during repairs. You will be responsible for all the expenses or have to sue the plumbing company directly for compensation.
Experience and Diversity
Gas line repair is a sensitive job requiring highly skilled professionals since one mistake can be disastrous or fatal. Therefore, before hiring a plumbing company to fix your gas leak, consider the repair person's experience to ensure safe and quality work. The diversity in skills we have in our company means we can handle different plumbing issues without creating new ones.
Availability and Great Customer Care
Our plumbing company is available to serve you in an emergency 24 hours a day. We are easily reachable since gas line repair issues are sensitive and disastrous if not attended immediately.
Having a good working relationship with your plumbing company is important. You can quickly contact us and discuss your plumbing problems, and we'll be glad to listen and offer a solution. We aim to build lasting relationships with our clients. Here, you can read what others say about working with us.
Accurate Estimates
The last thing you need is to engage with a plumbing company that keeps changing its quote. After more than 30 years in this business, we know what price to quote you after all the repair work has been completed. Our technicians ensure they provide precise and accurate cost estimates of repairs to our customers for proper budgeting.
Therefore, our customers know the amount they should pay for the service without any hidden or surprise charges. We provide accurate and precise estimates, which helps build our clients' trust in our plumbing company. The cost estimates are based on labor and materials used to repair or replace the leaking gas pipes.
Contact Joe Hillman Plumbers for Your Gas Line Repairs in Port St. Lucie
Contact Joe Hillman Plumbers if you need gas line repairs in Port St. Lucie. We have 30-plus years of serving our customers, and we are available 24/7 for any gas leak and other emergencies. Our team will use its expertise to ensure your gas line repair in Port St. Lucie is done safely and with no room for future issues. We follow all the protocols and building standards.
We offer a 100% service and repair guarantee on all our work. If you are not satisfied with our services, we will refund your money. Call us today at (954) 283-5468 for affordable and fast gas line repairs.