Running a hotel is not easy. With so many people moving through the establishment every day, you want to ensure that everything runs smoothly. Unfortunately, many people treat hotel amenities with less respect and care than their own homes, especially plumbing systems. They use more water than they usually do and flush objects down the toilets that they usually wouldn't, leading to significant plumbing issues.
When you encounter such plumbing issues, you can hire professionals to inspect and service your hotel plumbing in Port St. Lucie. You can call Joe Hillman Plumbers today, and we will send our commercial plumbing technicians out to look at the problem and tell you how we can fix it.
Why Choose Us for Hotel Plumbing Services in Port St. Lucie?
Keeping your hotel's plumbing systems fully functional is one way of meeting your customers' expectations. Therefore, there is always a need for a quick and effective response whenever a plumbing problem occurs. This is why you should reach out to a reliable plumbing company that offers high-quality hotel plumbing services to fix your plumbing issues in good time and prevent everyday activities from coming to a halt.
The following are some of the reasons why you need to choose us for all your hotel plumbing needs:
Experience and Expertise
Hotel plumbing issues require heightened caution, and there is no room for error. Therefore, leaving the work to an inexperienced plumber is not a great idea. Our technicians are uniquely trained and experienced in handling all kinds of hotel plumbing issues.
Whether you need showerheads installed, toilets unclogged, water heaters repaired, pipe leaks repaired, or the drains cleared and cleaned, you can count on us to handle it all.
Time-Conscious and Efficient
When it comes to hotels, time is a vital factor. You don't want to stretch the plumbing repairs for too long because that could end up hurting your business activities and lowering revenue. Hotel plumbing issues require immediate attention to keep the establishment running smoothly. When you hire an amateur plumbing company, you're likely to prolong the plumbing issue for days or even weeks.
On the other hand, when you hire a reliable and experienced plumbing company like us, you are guaranteed that the plumbing issue will be fixed efficiently and in the shortest time possible. This way, your Port St. Lucie hotel guests will earn your goodwill and keep visiting the establishment.
Advanced Plumbing Tools and Technology
There is no denying that using the right plumbing tools and technology guarantees high-quality plumbing services and results. We have access to the best plumbing tools and technology out there. Our technicians will use the latest trenchless technologies to avoid extensive excavating that can inconvenience the guests.
With trenchless technologies, you won't have to worry about a significant section of your hotel being torn up, and your guests won't suffer through severe noise pollution.
Our Hotel Plumbing Services in Port St. Lucie
At Joe Hillman Plumbers, we offer various hotel plumbing services designed to keep your establishment running as smoothly as possible. They include: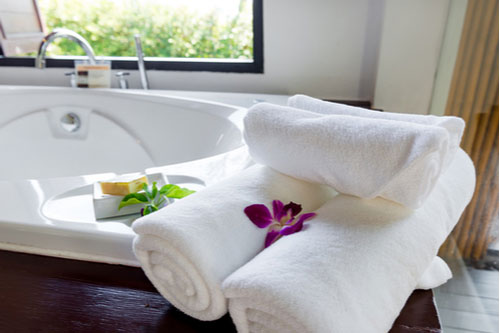 How to Optimize Your Hotel Plumbing in Port St. Lucie
To keep everything up and running, you must pay close attention to the details that make your hotel. While maintaining things like beddings isn't so difficult or costly, the same can't be said about your hotel's plumbing systems. Plumbing malfunctions can easily set you behind hundreds or even thousands of dollars if you're not careful.
Once a plumbing issue emerges, you may want to consider hiring professional hotel plumbing services, and the hotel room has to remain vacant until the work is completed. To minimize plumbing costs and inconveniences to the guests, you can enforce the following preventive plumbing tips:
Use Hair Catchers
Hair shedding is one of the unavoidable aspects of human anatomy. Unfortunately, hair is also one of the leading causes of drain clogs in hotels and homes. When someone sheds hair while in the shower, it combines with soap and other dirt and ends up blocking the drainpipes over time.
Installing hair catchers on every drain will prevent hair from entering the drainage system. In the long run, this will save your hotel thousands of dollars on drain cleaning services.
Install Low-Flow Devices
These days, many toilets, faucets, and showerheads meet the low-flow criteria. Even though many hotels must bear increasing water expenses every month, they're still hesitant to switch to low-flow devices. This is because they believe these devices will ruin the guest experience at the hotel.
However, it's important to note that low-flow devices don't mean low performance. Low-flow devices don't necessarily tamper with the water pressure. Instead, they regulate the amount of water these devices and appliances release every minute. The low-flow faucets and showerheads in the market today rely on aerators to release water in many tiny streams, thus achieving the same volume with less water.
Schedule Regular Drain Cleaning Services
As a hotel owner, you don't have to wait for a clog to happen so that you can contact hotel plumbing services. You can stay on top of things by scheduling regular drain cleaning services. These services usually include preventive maintenance, cleanups, and hydro-jetting occasionally.
This ensures all drains in the hotel are clean and free of damaging clogs. We can always discuss an appropriate interval for these services with you, depending on the size of your hotel.
Schedule a Sewer Line Inspection
Some guests who check into hotels usually flush strange items in the toilet that they would not ordinarily flush in their toilets at home. When these items accumulate, they can easily compromise the drainage system of the entire building.
Regular sewer line inspections are necessary because they help identify potential plumbing issues before they happen. This way, you're guaranteed peace of mind knowing the hotel's plumbing systems are running correctly.
Contact Us Today for Hotel Plumbing Services in Port St. Lucie
If you're dealing with any hotel plumbing issues in Port St. Lucie, you can reach out to us as soon as possible. At Joe Hillman Plumbers, we have trained and experienced technicians who will thoroughly evaluate the hotel's plumbing system and fix the problem in the shortest time possible. Call (954) 283-5468 or contact us online to schedule a service visit today.