With the team from Joe Hillman Plumbers on your side, you do not have to worry anymore about your Parkland residential plumbing needs. We provide 24/7 emergency repair, including clearing clogs, finding leaks, and fixing problematic fixtures. We can also help out by handling repiping projects, remodels of kitchens or bathrooms, replacing fixtures, and more. We handle all types of plumbing needs—including the kitchen sink.
Our business is family-owned and operated. We understand how stressful it can be when something goes wrong in your house, and you need someone who can repair it quickly, correctly, and without charging more than you can pay. This is what we strive to do for our residential clients in Parkland and greater Broward County.
Joe Hillman Plumbers Offers These Residential Services in Parkland
Our plumbers specialize in repairs and installs, addressing all your needs for water pipes, kitchen and bathroom fixtures, water heaters, and gas lines. We pair a passion for helping our customers when they need us with the latest in plumbing and leak detection technology to provide services that include:
Drain cleaning
Emergency services
Faucet installation
Gas line repairs
Leak detection
Sewer line repairs
Slab leaks
Toilet installs
Video inspections
Water heaters
Water lines
Whole-home repiping
We can also help you with your renovation plans if you want to redo a kitchen or bathroom or are considering your options for moving a toilet, sink, shower, or another fixture. We also repair and replace faucets, handles, and drains. Considering a new laundry room, dishwasher, or another appliance? We can help with the installation of any appliance that requires a water or gas hookup.
Some of our most common calls come from customers who cannot find a leak or are not sure how to address it. If this happens to you, we encourage you to let us help. Not only are you wasting water and your bill is higher than it should be, but a leak could bring mold growth, rotted wood, and other concerns.
About the Joe Hillman Plumbers Team
At Joe Hillman Plumbers, our team has been providing residential plumbing services in Parkland and the surrounding area since 1987. We have helped thousands of homeowners address emergency plumbing concerns, replace water heaters, deal with gas leaks, and much more over the last 30+ years.
You can count on our plumbers to work with you to decide what services you require, when and how you want them performed, and we will make sure it is done correctly the first time. Our certified and licensed plumbers take pride in their work, and we make it our job to ensure every customer is satisfied.
This is evident in our customer reviews. You can read hundreds of positive reviews for our plumbers and other team members on Angi's List, Yelp, Facebook, and others. We are proud of our reputation in the community and encourage our customers to leave reviews and be honest about their experiences.
You may have a slab leak, a leak behind a wall, a water line problem, or another concern we can address quickly to prevent any further damage.
Testimonials From Our Past Clients
Don't take our word for it. Here's what some of our past customers had to say about our team.
"I used Hillman Plumbing to fix the valves in the two bathrooms in my house. Tony came out and did an excellent job. He was very professional and gave me great suggestions to fix the problem that I had. I would recommend this company to anyone with plumbing issues." –Isla H.
"They returned phone calls and were professional in every way. They showed up on time, got the job done and left the area clean. I would highly recommend them for any job large or small." –Andrew L.
We Equip Highly-Trained Plumbers With High-Tech Tools
Our team utilizes the latest high-quality equipment in plumbing technology. This allows us to maximize the knowledge and training each of our team members already possesses, giving them the tools to ensure every job is done properly. The technology we use includes:
Leak Detection Technology
Joe Hillman Plumbers in Parkland can find and diagnose your leaks and other plumbing concerns thanks to our sewer line camera. This leak detection system allows us to place a camera into your pipes to discover the location of leaks and obstructions, check for rust or other concerns, and put an effective game plan in place to make any necessary repairs.
Our sewer camera offers clear, high-quality video and images inside your pipes—something that was impossible just a few years ago. We use this camera frequently on clogs and difficult-to-diagnose leaks. We consider it a vital member of our tool kit.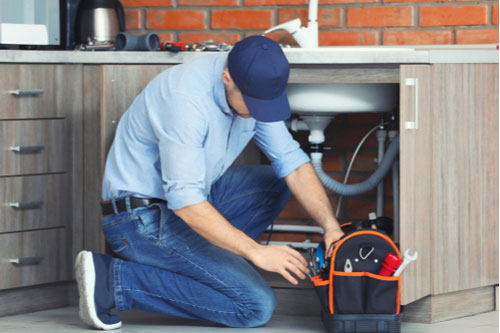 High-Pressure Hydro Jetting
Once we identify plumbing issues, obstructions, and clogs, we can employ one of our high-pressure hydro jetting machines to clear them. From sludge to complete blockages, this offers an option that is faster and easier than traditional methods and does a better job of completely clearing the pipe. Thanks to this machine, we can get your home's plumbing working properly again quickly.
We Have the Experience and Knowledge You Need to Address Your Concerns
At Joe Hillman Plumbers, our customers can always expect us to live up to their expectations. We take our reputation seriously, and that includes our dedication to:
Offering the best solutions to even the most complex situations
Competitive pricing
Being available for 24/7 service and support
Utilizing advanced technology to get the job done better
Each of our plumbers is licensed and qualified to manage any concerns you have and carry out any of the services we offer. With more than three decades of experience, we can sort out even the most complex and perplexing plumbing issues. We know what to look for based on the symptoms you are experiencing and may be able to understand a problem that even other plumbing companies have not solved.
Equipment and Appliances We Can Assist With
While we can help with almost any plumbing inspection, repair, or replacement, some of the most common equipment our plumbers work on for customers include:
Electric appliances, including washers, dishwashers, ice makers, and more
Gas appliances, including heaters, stoves, and ovens
Water heaters (gas and electric)
Faucets
Garbage disposals
Sinks
Bathtubs and showers
Washers and dryers
Toilets and other fixtures
Sump pumps
Instant hot water systems
Our plumbers can come up with creative, effective solutions to your needs, whether that means helping you with a short-term solution until we can make a repair or formulate a plan to renovate the kitchen of your dreams. We can do work in private homes, condominiums, townhomes, commercial structures, and other unique buildings.
When you connect with our team, we will work with you to decide what services are right for you, set a time to do them, and ensure they are done right.
What You Can Expect From Our Plumbers
Our team of plumbers are not only licensed, experienced, and certified, but they are passionate and professional about the job. No matter how large or small the repair or job, all of our plumbers like to know they were able to help. They will take notes when they first meet with you or enter your home, work with you to decide what your needs are, and make sure the job is done correctly before they leave.
The Joe Hillman Plumbers Team Is Passionate About Helping Customers in Parkland
At Joe Hillman Plumbers, our team knows Parkland. We know the neighborhoods and residential streets. We understand how these homes are built, the common issues that are most likely to develop, and how the water and gas lines are run. Like you, we appreciate the city's waterways and the streets lined with mature trees.
We know residents in this area strive to create and maintain a high quality of life, and we are here to help when you're facing a plumbing concern.
Areas We Serve
At Joe Hillman Plumbers, we provide service to South Floridians from Davie to Miami. This includes Parkland and other areas of northern Broward County. We also serve nearby areas, including Coral Springs, Boca Raton, and Fort Lauderdale.
Contact Our Team About Your Parkland Residential Plumbing Needs Now
If you are considering a project, we have someone available who can answer your questions, explain our fees, and talk about how we can help you reach your remodeling, upgrading, or repiping goals. You can speak with a plumbing expert from Joe Hillman Plumbers today by calling (954) 601-3286.
We will discuss your concerns, assess your need for a plumber, determine if it is an emergency, and dispatch someone as soon as possible. We can go to work and get the job done quickly, properly, and at a competitive price.