Joe Hillman Plumbers has handled the Parkland commercial plumbing needs of businesses like yours for more than 30 years. Our company remains family-owned and operated, but we utilize the latest in technology to identify, diagnose, and repair commercial plumbing concerns, including water lines and gas lines. We provide 24/7 emergency repair for both businesses and residential customers.
As business owners ourselves, we understand how essential your plumbing is to keep your company operating properly. Whether you own a restaurant, retail store, condominium, or hotel, we know you need prompt and discrete service when there's a backup or leak. We can also help with your remodel or fixture replacement.
Joe Hillman Plumbers Can Address All Your Commercial Plumbing Needs
At Joe Hillman Plumbers, our team of licensed professionals provides a wide range of services focused on water and gas lines, leaks, clogs, repairs, and installation. We can help almost any type of business and may be able to work with you to visit before or after your business hours or at a time that inconveniences your customers the least.
Some of the services our plumbers may be able to help you with today include:
Drain cleaning and clog removal
Faucet installation
Gas line repairs
Gas and water leak detection
Sewer line clogs, leaks, and repairs
Slab leaks
Toilet installs
Water heaters
Water line leaks and clogs
Appliance installation
Whole-building repiping
Moving or replacing fixtures
Video inspections of water lines
Some of our most common calls—both residential and commercial—include repairs of rusty or leaky pipes, drips, renovations, faucet replacements, and unidentified leaks. We can help with any of these projects and many more. Regardless of how large or small the job is, our plumbers take every project we work on for you seriously.
Equipment and Fixtures We Can Install or Repair
Our plumbers also install, repair, replace, and inspect a variety of related equipment for our commercial customers. We can help you with issues or concerns related to:
Plumbing fixtures
Appliances with gas or water line connections
Water heaters (gas or electric)
Faucets, drains, and knobs
Garbage disposal units
Dishwashers
Sinks, including commercial kitchens
Bathtubs and showers
Laundry machines
Toilets
Sump pumps
Commercial Clients We Serve
We have a long list of commercial clients who we have worked with in Parkland, Fort Lauderdale, and other nearby areas. This includes:
Hotels
Condominium units and facilities
Supermarkets
Restaurants
Big box stores
Department stores
Shopping centers
Small shops
We also work in other types of commercial settings, including office parks, strip malls, industrial parks, and more. We can discuss our services and how we can be of use to your business when you reach out to our team about your plumbing needs.
Commercial Plumbing Services Our Parkland Plumbers Offer
When you trust Joe Hillman Plumbers with your commercial plumbing needs in Parkland, you can count on our team to decide on the services you need, put a plan in place with you, and handle the repairs or other services quickly and effectively. We offer competitive pricing on our work.
The services we provide in Parkland vary widely depending on your needs, but could include:
Commercial Leak Detection
With commercial buildings, the size of the structure involved often makes it difficult to determine where there is a leak, especially when the leak is in a wall, the floor, or the foundation. Our plumbers are experts in commercial leak detection and even utilize a high-definition sewer camera to look into your pipes if necessary to identify the source of the problem.
You may have a hidden leak if you notice a rising water bill or hear water dripping or running in an otherwise quiet building. A hidden leak can do significant damage to your building before you even know it. Putting off this kind of service can be an expensive mistake. An ongoing leak can cause:
Mold growth in hard-to-see areas
Rotten wood
Cracks in your foundation and other structures
Interior damage to the areas accessed by customers and/or employees
Taking care of your building for the long term is key to keeping your business running smoothly. You will want to identify and repair the leak as soon as possible to prevent additional damage, a high water bill, and other impacts on your bottom line.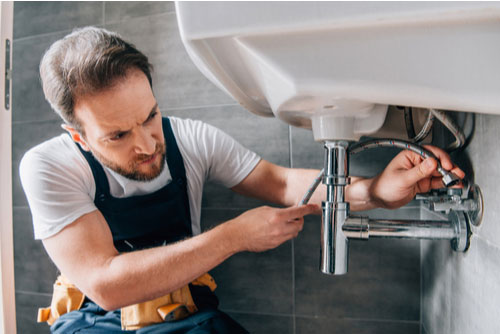 Addressing Commercial Backflow Concerns
Most commercial buildings have backflow preventers, but there may still be some circumstances where water flowing in the opposite direction as intended affects your Parkland business. We can assess whether you have one of these issues and how we can address it.
Because backflow issues can contaminate your clean water supply, a problem may be an emergency if you are a restaurant or other facility that uses clean water regularly for the purposes of running your business. Of course, you do not want yourself or your customers exposed to contaminated water for any reason.
We can repair or replace backflow preventers, ensure your business is compliant with all codes, and certify your backflow preventer based on local and state commercial guidelines.
Commercial Drain Clog Clearing
Drain slowdowns are common. In fact, they are one of the top reasons why customers connect with our team. If running hot water into your sink or other drain does not work, we are here to get your system working smoothly again. We can even schedule preventative cleanings if you want.
While we offer high-pressure water jetting services, sometimes the traditional approach is more effective. Depending on your unique needs, we may clear your clogged toilet or drain just like we did back in 1982: with a snake or drain auger.
High-Pressure Water Jetting for Your Pipes
Even the most stubborn clogs will not stand a chance thanks to our water jetting technology. We can use high-pressure water jets to break down blockages, remove clogs, and wash away sludge. While we use this tool in many types of buildings, we find that businesses that use drains heavily may get an especially large benefit. This includes restaurants, food preparation facilities, and more.
Video Inspection of Pipes and Lines
Our plumbers utilize high-tech devices to look inside your pipes and take a look inside. This fiber-optic camera, known as the sewer camera, allows us to look at real-time images and video to spot leaks, clogs, and other issues.
Commercial Building Repiping
As plumbing systems age, they may become damaged because of corrosion or other issues. When this occurs, it is sometimes a better option to repipe the entire facility instead of trying to repair each issue as it arises. In some cases, we also recommend repiping because of hazardous materials used in your original pipes.
We can also update or alter your plumbing system layout during this process, so it is a good idea to handle this in conjunction with other renovations. If your building was built before 1970, you may want to consider letting one of our plumbers assess your system and discuss your options with you.
Joe Hillman Plumbers: Serving Businesses in Parkland Since 1982
Joe Hillman Plumbers has served Parkland and other nearby areas since 1982. We are a family-owned business and have been for more than 30 years. We know how important it is to you to get your doors open and ensure everything is operating as it should. All our plumbers keep this in mind on every commercial plumbing call, and we will work with you to minimize any disruption to your normal operations.
Our team of certified and licensed plumbers is available to help you address your commercial plumbing concerns and issues as soon as possible—and for a competitive price. When you trust us with your business, we strive to exceed all your expectations for a plumbing company in Parkland.
The things we are most proud of at Joe Hillman Plumbers include:
The passion of our plumbers to help our customers in need
24/7 support and services
Advanced technology that helps us work faster and smarter
When we go to work for you, you can count on our team to:
Talk about your needs with you, including why you called us, what issues you discovered, and what you need
Diagnose the problem, including using our sewer camera and other tools
Develop and carry out a plan for repair, installation, or other services
Ensure you are happy with the services and everything is working as expected
We have hundreds of clients who leave positive reviews, and we believe word of mouth is one of the best indicators of reputation and success. Read more of our customer reviews on Angi's List, Yelp, or Facebook.
Reach Out to Joe Hillman Plumbers for Your Parkland Commercial Plumbing Needs
At Joe Hillman Plumbers, our team of certified and licensed plumbers is qualified to handle any commercial or residential plumbing job in Parkland or greater Broward County. We can diagnose your concerns and work with you on a plan to repair the issue. We offer 24/7 support and services.
To get started with your project or to get our 24/7 emergency support, call (954) 601-3286 now.