Plumbing emergencies can happen any day, any time. These emergencies can cause serious water damage to a home or business, or they can pollute your space, requiring deep cleaning, so your family, employees, or customers stay safe.
You don't want to wait all night to get your leaking pipes fixed, as every second counts when protecting your Parkland home or business. You certainly don't want your toilet or shower to be off-limits to your family or visitors, so you may want to have a plumber in your corner who can come to the rescue.
If you have a plumbing emergency in Parkland, Florida, you can trust Joe Hillman Plumbers to answer your call! We offer Parkland emergency plumbing services all day, every day. Contact us at (954) 601-3286 today.
Why Choose Joe Hillman Plumbers for Emergency Plumbing Services?
At Joe Hillman Plumbers, we know that plumbing emergencies can happen when you least expect them and at the worst possible time. Here's why you should give us a call during a plumbing emergency.
24/7 Plumbing Service Whenever You Need It
We're proud to offer on-call emergency plumbing services in and around Parkland, 24 hours a day, seven days a week, 365 days a year.
Local Team
Our plumbing technicians are local to Parkland and the surrounding areas. That way, we can dispatch one of our team members to your home or business in a flash. No more waiting until the next available appointment.
Always Prepared for Anything
Our technicians always have a full stock of vital tools to handle any plumbing emergency. This helps us quickly fix the issue permanently or give you a temporary solution until we can fully address a larger plumbing problem.
Call us whenever you need Parkland emergency plumbing services!
We Handle Residential and Commercial Plumbing Emergencies.
We offer high-quality plumbing services for both residential and commercial properties. We can come to your home to inspect the issue, devise a quick and effective solution, and follow up with you on preventative measures to keep your home safe.
If you're a business owner or manager in Parkland, the team at Joe Hillman Plumbers is happy to handle any plumbing emergency on your property. We've provided plumbing services to hundreds of commercial properties in and around Parkland.
Our commercial clients include:
Restaurants
Hotels
Condo complexes
Supermarkets
Retail stores
Small businesses
Whether you have a plumbing emergency in your Parkland home or business, Joe Hillman Plumbers is ready to help you.
Common Plumbing Emergencies We Take Care of
No plumbing emergency is too big or too small for our team! We have taken care of all types of plumbing emergencies in the Parkland area.
Clogged Drains
Your shower, tub, sink, or garbage disposal can stop draining and even back up when there's buildup in the pipes. We can investigate the cause of the clog, which often turns out to be one of the following:
Hair
Food
Grime
Oil
Foreign objects
A clogged drain, no matter where on your property, can cause serious damage to your pipes and the entire plumbing system. It can also lead to nasty backups that leave a mess and lots of germs.
You can try store-bought and natural home solutions, but they often don't provide consistent results. Plus, if you use the wrong solution or mix chemicals that you shouldn't mix, you could have an even more dangerous situation on your hands.
Toilet Clogs and Leaks
Toilet clogs and leaks are one of the most common types of plumbing emergencies. No one wants to be without access to the facilities, whether it's at home, at work, or visiting a business. Here are some toilet issues we can fix.
A clog in the toilet can damage the pipes and lead to big messes. If you've tried using that plunger, but the clog still won't budge, we can identify the cause of the clog and clear up the pipe to get the toilet working again.
A toilet leak can cause water damage in the bathroom. Leaks may be the result of poor installation, lack of maintenance, rusted or worn parts, or a bigger issue you may not see. One of our plumbers can inspect the source of the leak and fix it so your family or customers can use the facilities safely.
A running toilet can be the result of faulty or broken parts in the toilet or even a water pressure issue. While this issue may not cause immediate damage, it can run your Parkland water bill through the roof. We know what to look for when you have a running toilet.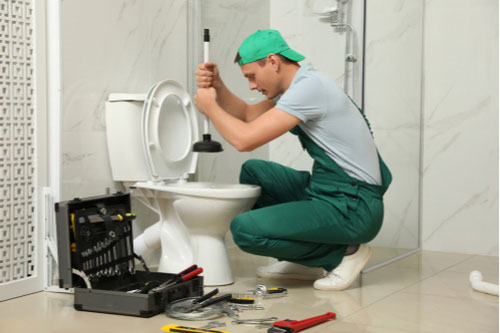 Faucet Leaks
Faucets and showers can start leaking due to improper installation, poor maintenance, or just because of outdated parts. There could also be an underlying issue with the pipes. One of our plumbers can identify the source of the leak and prevent further damage to the sink, the pipes, and your water bill.
Water Pressure Issues
If you notice that your water pressure has significantly gone down suddenly, you could be dealing with an emergency issue with the waterline, a clog, or damage or blockage of your supply pipe. Gradual water pressure decreases can be a sign of mineral buildup in the pipes, and that can get worse, leading to very low water pressure over time.
We'll inspect your waterline, water supply, your faucets, and more to figure out where your water pressure issue comes from.
Water Heater Issues
Some common water heater issues include your water not heating up at all, sudden lukewarm water when you've got hot turned all the way up, and scalding-hot water when you've barely got the hot valve on. These issues can really become an emergency when they happen suddenly.
We can determine if your water heater issue involves parts of the water heater that need repairs or replacement, a hot water heater replacement, water pressure issues, or a potential issue with your gas line.
Sewage Backups
Whether you have septic or sewer, we can fix any sewage line emergencies. These emergency situations include:
Wastewater coming back up through your sinks, toilets, or drains
Tubs, sinks, or toilets that won't drain
Wastewater out in your yard, home, or building
We can identify the issue with your sewer system or septic tank by inspecting the inside and outside of the home, identifying the source of the blockage, like roots in the line or material backup in the system, and clearing out the system.
Leaky Pipes
If you hear a leak but can't see it, or if you see a puddle but don't know where it's coming from, Joe Hillman Plumbers is here to help. These "hidden" leaks can cause serious water damage because it may take a while for someone to notice there's a leak, meaning the leak probably has spread mold or rot.
Another major plumbing issue we handle is busted pipes due to freezing. Yes, even in Parkland, Florida, your pipes can freeze in the winter. It still gets cold at night sometimes, and if you don't run your water during these months, you could have a serious plumbing emergency.
We'll inspect pipes throughout your property to identify the source of a leak and repair it.
Gas Line Issues
Our technicians can also inspect and repair gas lines. If you notice that a gas-powered appliance, like a stove or boiler, isn't working, you may have an issue with your gas line. It's important to have a professional inspect your gas line to identify potential issues, such as the following.
Dirt or debris in the gas line
Poor maintenance of the line
Damage to the line, like dents or kinks that block flow
Improper installation or connection of appliances
Valve issues
Failing to identify gas line issues could lead to a gas leak, fire, or explosion on your property. Keep yourself, your family, your employees, and your customers safe by contacting our team to inspect and fix your gas line if you suspect any issues.
Preventing Plumbing Emergencies in Parkland, Florida
Regular maintenance can prevent many plumbing emergencies. When you have a plumber inspect your plumbing systems once or twice per year, you're better able to catch possible issues and fix them before an emergency happens.
The team at Joe Hillman Plumbers is happy to provide you with our rates for annual and biannual inspections to help make sure you don't experience another plumbing emergency. We'll also guide you through other preventative measures you can take to protect your home or business from plumbing emergencies.
Call Anytime for Parkland Emergency Plumbing Services!
Plumbing emergencies can be stressful and inconvenient, but finding a plumber shouldn't be. Contact Joe Hillman Plumbers now if your Parkland home or business has a plumbing emergency. Dial (954) 601-3286, and we can dispatch an on-call plumber right away.