Finding a good plumber can be very hit or miss. Tons of unlicensed contractors know exactly what to say but can't fix your home repair needs appropriately. That's particularly alarming because South Florida homes are prone to a unique set of plumbing issues.
Salt corrosion, scaling, and hurricane and flood damage are all known to wear down the pipes inside Boca Raton homes. That's why we recommend you consult a certified Boca Raton plumbing service to evaluate your plumbing repair needs.
Call Joe Hillman Plumbers today at (954) 601-3286 to schedule an appointment.
We Will Take Care of Your Boca Raton Plumbing Needs
Joe Hillman Plumbers is ready to help you and offers the following Boca Raton plumbing services:
Water Heater Installation
Leak Detection
Drain Cleaning
Faucet Installation
Water Line Repairs
Toilet Installation
Gas Line Repairs
Entire Home Repiping
Slab Leaks
Sewer Line Repair
Video Inspection
Whether you own a commercial property or are looking for plumbing services for your Boca Raton home, Joe Hillman Plumbers is uniquely qualified to help you. We've been in business for more than 30 years and know our plumbing codes like the backs of our hands.
Certified Boca Raton Plumbing Services
As a licensed and insured Boca Raton plumbing service, Joe Hillman Plumbers offers water heater installations, water line repairs, and more. Your home is an important personal and financial investment, which is why you want to make sure that whoever is conducting repairs on your property knows what they're doing.
We offer firsthand knowledge of home repairs promptly. We also give you an exact quote before getting to work so that you can choose when and how you'd like to invest in your next plumbing project.
Why Consider a Boca Raton Plumbing Professional?
While these plumbing repairs sound like quick fixes, this isn't always the case. A simple plumbing issue can escalate into a full-blown renovation in a matter of minutes if you apply the wrong method to your home's plumbing repairs.
Not only that, but without proper expertise, one plumbing problem can turn into many.
They Know Their Plumbing Codes
If you decide to take on your plumbing projects, be aware that you'll have to make sure your finished product is up to code. South Florida is known for having strict plumbing codes, along with some of the strictest building codes in the country.
If your home or business is found to have faulty plumbing, then the city may issue you a citation.
Personal Safety Is Their Priority
Often, home repairs involve power tools and specialized knowledge of plumbing repair methods and applications. There are also various non-toxic and toxic materials involved that a professional must handle properly. Also, a professional plumber will eliminate any risks you might run into yourself with their experience and know-how.
For example, a gas line repair could be deadly if done without a professional's help. Repairing a gas line requires intimate knowledge of how to find gas leaks and how to safely contain a leak without causing a fire or explosion.
In fact, if you happen to find a gas leak inside your home, you should call your energy company to cut off the gas in your home until you find a plumber and should evacuate your home immediately.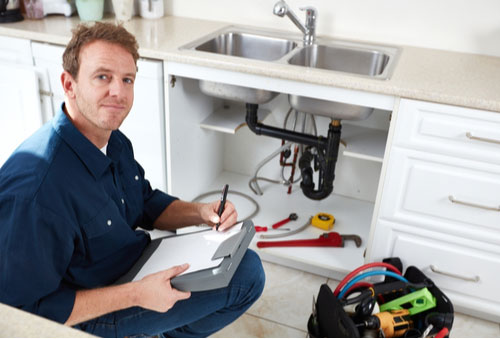 Our Boca Raton Plumbers Prevent Further Damage
Amateur plumbers know that, more than likely, their quick fixes will need to be redone sooner or later. This is time and money that you could save by hiring a professional plumber from the start. Although it's exciting to try your hand at something new, some matters require an expert to handle from the get-go.
Our Boca Raton plumber will know exactly what to do once they've reviewed the damaged area inside your home or commercial business. Rather than shelling out a small fortune for your plumbing project, consult with a professional who will know exactly what they'll need to do and how much materials will cost.
It'll save you a headache further down the line—and hundreds, if not thousands of dollars in repairs, too.
24/7 Emergency Boca Raton Plumbing Services
The hardest part of taking on a do-it-yourself plumbing job is when it's an emergency. If you have a leak or a serious repair to fix in the middle of the night, chances are that you're not going to be prepared for it. Even if you are, there's nothing more uncomfortable than having to get up bleary-eyed in the middle of the night to go and get your tool kit to figure out what's happening.
Rather than having to worry about buying materials, understanding Boca Raton plumbing codes, or cleaning up once a project is done, you can outsource the job. Our Boca Raton plumbers are more than happy to pick up the slack.
Licensed Plumbing Professionals Help You Avoid Fines
Working with an unlicensed plumbing professional is a risk you should avoid at all costs. If the city finds out that a repair hasn't been done up to code, then you may be stuck holding the bill for a citation.
Not only that, but you'll more than likely have to redo the repairs. Rather than run the risk of having to pay for a repair twice, consider a professional plumber in Boca Raton to ensure the job is done right the first time.
Finance Your Plumbing Project With Green Sky
Affording a professional plumber can get pricey very quickly. Thankfully, we offer financing through Green Sky, a technology company that finances home improvement loans up to $65,000. That means that it's open season for your creativity and any plumbing repairs you'd like to make around the house!
Financing your project through Green Sky puts less financial pressure on you to come up with money that could be better spent elsewhere. Keep your wallet happy and home in tip-top shape when you figure out the perfect payment plan for you.
Contact a Boca Raton Plumber Today
At the end of the day, the best thing to do when you have a plumbing problem is to call a professional. As a licensed plumbing company, Joe Hillman Plumbers can help you with all your Boca Raton plumbing service needs. We know it's important to keep your home's plumbing in order and have licensed professionals ready to see any home project through until completion.
Call (954) 601-3286 or contact us online to get started on your Boca Raton home renovation and plumbing repairs today.