Do you have wastewater backing up in your drains? Are you without hot water or dealing with low water pressure? These may constitute plumbing emergencies, and Joe Hillman Plumbers provides emergency plumbing services in Fort Lauderdale!
There is no need to wait until regular office hours or the next available appointment. We offer emergency plumbing services 24 hours a day, seven days a week. We come to your Fort Lauderdale home or business as soon as possible to investigate the emergency and act fast to resolve it.
Joe Hillman Plumbers is ready to help. Call us at (954) 601-3286, and we can dispatch one of our plumbing technicians to your property.
Make Joe Hillman Plumbers Your On-Call Plumbers in Fort Lauderdale
We know how hazardous a plumbing emergency can be. That's why we offer on-call emergency plumbing service all day, every day. We provide 24/7/365 service right here in Fort Lauderdale, thanks to our locally-based technicians who can respond to emergency calls in a flash.
Our team members are prepared with all the tools to fix your plumbing emergency. We handle immediate concerns with speed and skill, giving you the most effective short-term solutions to protect your property and plumbing system. Then, we can set up additional appointments to tackle this problem for good.
If we can resolve the issue with just one visit, we're equipped to get your plumbing system back up and running.
Got a Residential Plumbing Emergency in Fort Lauderdale?
If you're experiencing a plumbing emergency in your Fort Lauderdale home, we can help. We provide plumbing emergency services in Fort Lauderdale to homeowners and renters of private properties.
As a homeowner, you want to preserve the integrity of your house to make it a safe, comfortable place for you and your family to live. You also want to ensure its resale value, too. Homeowners' insurance providers generally require you to properly maintain your home, and addressing plumbing emergencies is vital to follow through on your policy.
We can handle any plumbing emergency inside or outside of your home. That includes:
Sewer or septic backups
Clogged tubs, sinks, and toilets
Leaks
Busted pipes
Does Your Fort Lauderdale Business Have a Plumbing Emergency?
If you are a business owner or manager in Fort Lauderdale, you can contact Joe Hillman Plumbers to take care of your commercial plumbing emergency. We have helped hundreds of Fort Lauderdale businesses, including:
Local shops
Supermarkets
Large retailers
Hotels and resorts
Condominium complexes
No matter what customer base you serve, you know the importance of having working facilities on your commercial property. It's also important to handle plumbing emergencies to protect your property and ensure it's safe and comfortable for all.
We handle all types of commercial plumbing emergencies, including:
Backups in guest or employee bathrooms
Drainage issues in a restaurant kitchen
Major leaks
Plumbing system eruptions
Common Plumbing Emergencies We Can Handle in Fort Lauderdale
Whether you have a plumbing emergency in your home or business, Joe Hillman Plumbers stands ready to take your call. Here are some of the most common plumbing emergencies in Fort Lauderdale that we can solve.
Clogged Drains
The major causes of clogged drains include:
Hair from people and pets
Oil and food particles in a garbage disposal or kitchen sink drain
Foreign objects that fell into the drain
A clogged drain might quickly turn into a bigger plumbing emergency, as it can damage the pipes, cause an overflow or backup, or prevent you from using your facilities.
Many people use store-bought or homemade solutions to unclog drains. While these can work, many people don't get consistent results. Plus, you risk causing more damage to your plumbing system if you use the wrong solutions or accidentally create hazards with improperly mixed chemicals.
A plumber from our team can inspect the drain, identify the source of the blockage, and use industry-grade tools and solutions safely and effectively unclog your drain.
Toilet Clogs, Leaks, and More
A clogged toilet can result from material buildup in the pipes, a sewage or septic tank issue, or a broken toilet. Not promptly addressing a clogged toilet can cause serious, costly damage to your plumbing system.
A leaky toilet is often due to a lack of maintenance, a broken part, poor installation, or just because it's an old toilet. Our plumber can identify the issue with the leaky toilet and repair or replace it and any of its parts to prevent further damage and inconvenience.
Lastly, you may have a toilet that won't stop flushing or running. This plumbing emergency can lead to a high Fort Lauderdale utility bill. Not to mention, it can do serious damage to the toilet and your system. Your plumber can adjust the water pressure or otherwise solve this plumbing issue.
Faucet, Shower, and Tub Issues
Common plumbing emergencies we handle in faucets, tubs, and showers include:
Clogs
Backups
Water pressure issues
Water temperature issues
Broken pipes and leaks
There are many different causes of all these issues. For example, a clog may be due to hair trapped in the pipes, not allowing the tub or shower to drain. Alternatively, a pipe in your shower system may affect the water pressure and cause damage behind the wall.
It's especially important to call an emergency services plumber to address any faucet, shower, or tub leaks or water pressure issues, as these may indicate larger problems in your plumbing system and unseen damage we must attend to right away. We'll address immediate concerns during your emergency appointment and come up with a plan to solve large-scale issues as necessary.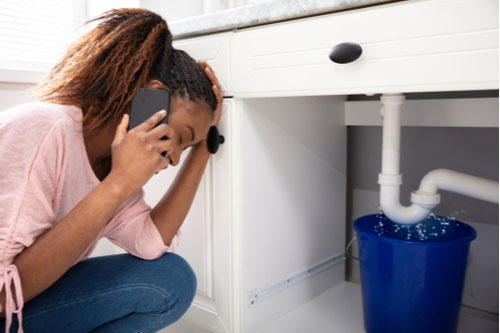 Water Pressure Issues
Got low water pressure? Is your water coming out at a trickle or not at all? We can investigate possible issues affecting your water pressure, like:
Clogs
Buildup
Leaks
Kinks or dents
Supply line interruptions
Water pressure issues that suddenly arise are a plumbing emergency that can impact your whole house or property. If you notice worsening water pressure over time, they can turn into plumbing emergencies when not addressed soon enough.
We can explore the cause of your sudden or worsening water pressure issues, whether it's happening with every water source on your property or in one part of the system.
Leaky Pipes
Leaks in your plumbing system can cause serious damage to the foundation of your home or business. Whether you see a puddle or steady stream coming from a pipe or hear dripping but don't know the source, Joe Hillman Plumbers can handle these and other leaking pipe emergencies.
Common causes of leaky pipes include:
Clogs
Improper installation
Lack of maintenance
Rusted or damaged pipes and connectors
Loose connections
We also handle our fair share of broken pipes in Florida winters. Sometimes, pipes in Fort Lauderdale can freeze if the nighttime temperature drops low enough and you haven't been running your water regularly. If your home or business sustains a broken pipe during winter, you can call Joe Hillman Plumbers any time of day or night.
Water Heater Issues
If you have no hot water or it's scalding hot, no matter how you turn the knob, you could have a problem with your water heater. Issues with water heaters often include:
Broken parts
Dead heaters/boilers
Leaks
Waterline issues
Our plumber may investigate all these potential causes to identify the best possible solution. We can repair an old water heater so you have hot water until we can replace it. We can even fix any broken waterline connections to ensure good pressure and flow.
Sewage and Septic Issues
When a sewage system or septic tank overflows, it can cause damage to your property and a big mess. Related issues we fix include:
Clogs from tree and plant roots, dirt, debris, and other environmental factors
Sewage material backups
Maintenance issues
Connection issues
Drainage issues
You may want a plumber to inspect your system to identify the source of the backup, clear the system, and keep it from happening again.
We Also Offer Plumbing Inspection and Prevention
At Joe Hillman Plumbers, our priority is to stop the plumbing emergency in its tracks. That's why we offer follow-up appointments to solve the larger problems that contributed to or caused your plumbing emergency. We also offer annual and biannual inspections to keep a close eye on your plumbing system and address any issues before it's too late.
We are happy to offer emergency plumbing services in Fort Lauderdale, but it's also important that we provide you with preventative measures to stop a plumbing emergency from happening again. Some preventative solutions include:
Whole-home re-piping
Drain and pipe cleanings
System maintenance
Replacing old or worn-out parts
Call Joe Hillman Plumbers Today to Solve Your Plumbing Emergency!
If your home or business has a plumbing emergency, use our emergency plumbing services in Fort Lauderdale. Joe Hillman Plumbers are local to the area and can be there as soon as possible. Connect with us at (954) 601-3286, and we can dispatch someone right away!