At Joe Hillman Plumbers, our team can handle all your Fort Lauderdale residential plumbing needs. We are a family-owned company that hires plumbers with a passion for the trade and utilizes the latest technology to help our customers with any project—from remodeling your kitchen or bathroom, fixing leaky pipes, finding and repairing a clog, or installing new fixtures.
We offer services throughout the Miami metropolitan area, including in Fort Lauderdale and greater Broward County and along Florida's southeastern coast. If you need to call a plumber—whether for emergency plumbing needs or to schedule future service—the team from Joe Hillman Plumbers is ready to answer the call.
Top-Rated Residential Plumbing Services in Fort Lauderdale
Our Fort Lauderdale plumbers can diagnose, repair, install, and manage any concerns you have with water lines, gas lines, water heaters, fixtures, and many appliances. While we can handle a wide range of services, we specialize in:
Leak detection and repairs
Video inspection
Slab leaks
Emergency diagnosis and repairs
Drain cleaning and clog clearing
Faucet installation
Gas line repairs
Sewer line repairs
Toilet installs
Water heater repair and installation
Water line leaks
Whole-home repiping to replace rusty or leaky pipes
Some common reasons why our customers call us include:
Emergency Services
When you have a plumbing emergency, whether that is a leak, clog, or gas line issue, our team is available to help. We answer calls 24/7 and help you deal with the unexpected at any time of day and any day of the year. Our team of certified and licensed plumbers can handle your emergency quickly and at a competitive price.
Undiscovered Leaks
All too often, customers have a leak and are not sure where. They may hear water running, see a rising water bill, or notice other signs that there is a problem—even when there are no dripping faucets, running toilets, or other noticeable leaks. Our plumbers can use their training, experience, and the latest in leak detection technology to identify where the leak is and repair it.
Slab Leaks
Our team from Joe Hillman Plumbers knows how frustrating a slab leak can be. Unfortunately, though, they are a common problem for Florida residents. Most homes in and around Fort Lauderdale are built on a concrete slab foundation. Frequent rain and hurricanes weather the home's slab, damaging the concrete and the plumbing inside it. Damaged pipes lead to leaks and additional damage, both within your foundation and inside your home.
Other Leaks
It's only natural to put off dealing with seemingly minor dripping faucets and running toilets. However, these small leaks can lead to major issues, from mold to water damage to increasing water bills. These are often inexpensive and quick repairs, so putting them off for weeks or even longer is only costing you more in the long run. We can assess your damage and repair your leak in your Fort Lauderdale home.
Renovations and Installation
If you are considering making an upgrade to your kitchen, bathroom, or laundry room, we are here to help. From swapping out fixtures to replacing faucets, putting in drains, moving appliances, and handling complete home repipe jobs, our plumbers can help you develop a plan for your renovations or handle your related plumbing needs.
What Sets Joe Hillman Plumbers Apart
Our team of certified and licensed plumbers at Joe Hillman Plumbers provides residential plumbing services throughout Fort Lauderdale and greater Broward County. We have spent more than 30 years working with customers to determine their needs and get the job done right.
Our plumbers love helping people, no matter how big or small the job. We believe this is reflected in our customer service. You can learn more from our customer testimonials or reviews on sites like Angi's List, Yelp, and Facebook. We strive to provide service that exceeds the customer's expectations every time.
Our Professional Plumbers Are Standing By, Ready to Serve You
In addition to hiring team members who are well-trained and experienced, we also seek plumbers who have a passion for the trade and helping customers. You can expect our plumbers to conduct themselves professionally and offer you a high level of courtesy when working in your home.
At Joe Hillman Plumbers, there are some things that our plumbers take immense pride in being able to tell our customers and other residents of Fort Lauderdale. This includes:
We provide 24/7 support and services 365 days a year. If you need us, we are here for you.
We have competitive pricing.
Our licensed, qualified, and experienced plumbers can handle any service we offer. You can count on any member of our team to help you.
Our plumbers know what to look for and how to diagnose your issue, no matter how complex or unusual.
We use the latest in plumbing technology, including high-definition sewer cameras and jetting machines.
Areas We Serve
Joe Hillman Plumbers provides residential and commercial plumbing throughout Fort Lauderdale. This includes all parts of the city, from The Strip to Florida's Turnpike, as well as other areas of greater Broward County. We can help residential customers in most areas of the Miami metropolitan area and Florida's southeastern coast.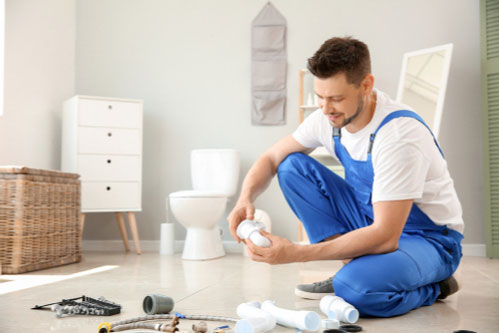 Joe Hillman Plumbers Uses the Latest Technology
Joe Hillman Plumbers invests in the latest technology to make it easier and faster to identify problems, determine what the customer's needs are, and make repairs. By employing our tech tools, we ensure the work is completed properly, which makes the entire experience easier for the customer and our plumbers.
While we have several tools we often use during inspections, installations, and repairs, there are two we consider our all-stars for residential plumbing. One is the latest in leak detection technology, while the other is our go-to option for clearing tough clogs and pipe obstructions.
Sewer Camera
In the past, detecting a leak or locating an obstruction was one of the most difficult parts of the job. There was no way to look inside the pipes, sewer lines, or other areas to determine what was happening, where the problem was, or if there was a problem at all.
With our cutting-edge sewer camera, we can get high-definition, clear, crisp video and still images inside your pipes. We can check for clogs, sludge buildup, leaks, poorly aligned pipes, damage, and more. All of this occurs remotely, causing no damage to your pipes. The sewer camera makes it possible to build a plan to repair clogs and leaks sooner.
Having this type of leak detection technology at our fingertips sets us apart from many plumbing companies. They still rely on traditional methods that require the plumber to make an educated guess about where the clog or another issue may be. While this traditional method is effective—and our experienced plumbers can manage many repairs this way—having a tool like our sewer camera is key in some cases.
Jetting Machine
Joe Hillman Plumbers also utilizes high-pressure jetting machines in many plumbing repairs. Much quicker and more effective than foam, snakes, plungers, or other tools, our jetting machine can remove clogs, hair and soap sludge, buildup, and other similar issues in your sink, tub, toilet, drain, or another pipe. By using a jetting machine instead of a manual option such as a snake, our plumbers can get your home and plumbing back to normal faster.
When our team calls on our high-tech tools, we know it is an advantage for our customers. It makes our job faster and more effective.
Our Plumbers Can Repair or Install Home Appliances and Equipment
In addition to coming out to find and repair leaks and clogs, our team can also work on a wide range of equipment found in many residential homes. Some of the most common types of equipment we repair, install, or replace include:
Appliances
Water heaters
Instant hot water systems
Faucets of all types
Plumbing fixtures
Garbage disposal units
Dishwashers
Sinks
Bathtubs, showers, soaking tubs, whirlpool tubs, and more
Laundry machines
Toilets
Showers
Sump pumps
We may be able to help you with items not on this list, as well. Our plumbers may be able to help with any appliance that connects to a water or gas line. We offer inspection, troubleshooting, installation, and repairs. We can address leaks, performance problems, and more.
We have helped customers who are redesigning their kitchens, bathrooms, and laundry rooms, as well as those installing wet bars, outdoor kitchens, and similar amenities.
Call Our Fort Lauderdale Residential Plumbing Team Now!
You can contact a team member with Joe Hillman Plumbers now by dialing (954) 601-3286. We will discuss your residential plumbing needs, determine if you require emergency service, and answer any questions you may have for us. We may be able to dispatch someone right away to address your leak or clog, if necessary.