As a business owner, you want to ensure that your property is in good condition, especially when it comes to plumbing. Plumbing is not limited to having clean water, although that is undoubtedly an important aspect. Maintaining your plumbing system also requires you to schedule drain cleaning, backflow testing, repiping, and more. If any part of the plumbing on your Fort Lauderdale commercial property goes awry, Joe Hillman Plumbers is here to help.
Since 1982, our team has been providing plumbing services to commercial properties across Fort Lauderdale and South Florida. Our family-owned business is dedicated to solving your Fort Lauderdale commercial plumbing issues, just as we have for thousands of other satisfied customers.
Types of Commercial Plumbing Clients We Serve
When our plumbers work on commercial properties, it takes more time and equipment to complete the job compared to residential properties. Still, we are prepared to tackle whatever plumbing troubles you are having on your commercial property. We serve many types of commercial businesses in Fort Lauderdale, including:
Hotels
Condos
Large and small retail stores
Restaurants
Supermarkets
Even if your type of business is not listed above, we still want to hear from you to find out how we can meet your needs.
Types of Plumbing Equipment We Fix on Commercial Properties
Some types of plumbing equipment that we can repair, replace, install, or inspect on your Fort Lauderdale commercial property include:
Appliances
Bathtubs
Dishwashers
Faucets
Garbage disposal units
Instant hot water systems
Laundry machines
Plumbing fixtures
Showers
Sinks
Sump pumps
Toilets
Water heaters
This is a partial list of what we can fix. When you contact our team, just let us know what type of equipment you need help with.
Our Commercial Plumbers Offer an Array of Services in Fort Lauderdale
At Joe Hillman Plumbers, we offer a wide range of plumbing services for commercial property owners and managers. We also offer 24/7 emergency repair services for unexpected plumbing issues.
The commercial plumbing services we provide include:
Commercial Backflow Testing
Backflow occurs when water starts flowing in the opposite direction. This usually happens when:
The water pressure is more powerful than the building's system, and all this pressure causes the water to reverse its direction. This problem usually occurs in boilers, chemical feed pumps, elevated tanks, and recirculating systems.
The pressure in your water distribution system is too low, causing the water to leak.
Every commercial building should have backflow preventers to keep this issue from happening. Our plumbers can repair or replace the unit and make sure your backflow preventer complies with local and state regulations.
Commercial Building Repiping
Sometimes, plumbing systems are so old, damaged, or corroded that the most efficient way to fix the issue is to replace the system altogether. When we repipe the plumbing system, we may need to change the entire layout. Even though the thought of starting from scratch may seem overwhelming, it should be far more effective in the long run. You also reduce the high risk of running into piping problems later.
If your commercial building was built prior to 1970, you may want to consider having our plumbers repipe the system. We can install a new system before your current one breaks down, preventing additional damage.
Commercial Leak Detection and Repair
If you run a large commercial building and notice a leak, it can be difficult to detect where the leak is coming from. It can be especially tricky when water is leaking in more than one area, such as the floor, foundation, and walls.
When you hire our plumbers, we can inspect your building, confirm the leak, and find its source. You are more likely to have a leak if:
Your water bill has increased
You hear running water, even when the faucet is not on
There is mold on the floors, walls, and/or ceiling
There are impressions of people or objects after leaning against the wall
There are cracks in the floors, walls, and/or ceiling
Your building may sustain long-term damage if you do not address the leak soon, so be sure to act quickly. Reach out to Joe Hillman Plumbers to solve this issue today.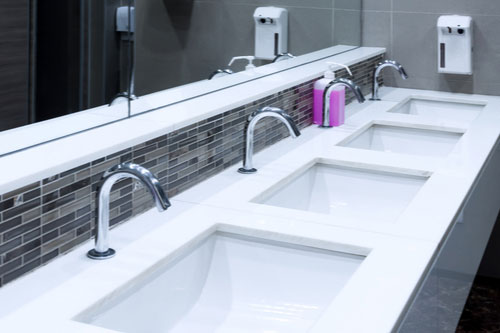 Commercial Sewer and Drain Cleaning
If you notice that the water in your commercial building drains slowly or backs up frequently, our plumbers may be able to detect the underlying issue. Then, we can clean the drain or perform a preventative cleaning service to eliminate any future problems.
Our plumbers use the following techniques:
Drain snaking: We can use a drain auger or snake to unclog the drain. Augers and snakes come in different sizes, so we will find one that matches the length of your pipe. If this method falls through, we have other options we can try.
High-pressure water jetting: Your plumber can use high-pressure water to break down and get rid of any buildup in your plumbing system. The hydro-jet equipment we use can penetrate thick materials. Commercial buildings like hospitals, factories, and restaurants with large draining systems often benefit from this method.
Video inspection: Your plumber can conduct a video inspection to locate the problem with your draining system. A fiber-optic camera with fitted lights goes down the drain, takes pictures, and sends them to the plumber. Based on the images, your plumber can decide the best way to fix your backed-up drain.
Commercial Slab Leak Repair
It is not uncommon for Florida buildings to be built on unstable soil. This soil can move, causing the foundation of the building to be distributed unevenly and eventually crack. Pipes can also break, causing a leak in the building that gets under the foundation as well.
Some signs of a slab leak include:
Mold on the carpet
Wet stains on the walls
Warm spots on the floor
Warped hardwood floors
Hearing water run even when it is turned off
Fluctuating water pressure (especially low pressure)
A sudden increase in your water bill
Do not overlook these signs, no matter how subtle they may seem. If left unattended, your whole building could undergo irreversible damage as the foundation cracks and shifts. Your windows, floors, and walls could also sustain serious damage. If you notice any cracks in the slab of your building, we urge you to contact our team as soon as possible.
Commercial Water Heater Repair or Replacement
The life expectancy of a water heater is 8-12 years. Once it is 10 years old, you may want to consider replacing it. If you wait until it breaks down completely, you may end up scrambling to install a new one—after all, you cannot go long without a water heater. Do your research now before your water heater breaks down.
You should always keep up with maintenance, which can ultimately save money on your water bill. It is important to schedule regular maintenance checks after your new water heater is installed, as certain parts can fail over time without you even knowing. What's more, excess water can cause the metal parts of the heater to rust.
However, there are things you can do to keep your water heater from rusting so quickly. For example, every water heater contains an anode rod, which attracts corrosive material to the tank and slows down any rusting. Generally speaking, you should replace the anode rod every three years. Failure to do so could result in flooding that causes thousands of dollars in damages.
What Our Former Clients Say About Our Plumbing Services
At Joe Hillman Plumbers, we use our education, skills, and knowledge to give customers the best possible experience. The success of this approach is reflected in client testimonials like these:
"I must say I am very satisfied with the service and outcome. The service was impeccable, the guys were extremely professional and communicative. They made sure I was aware of any issues they encountered during the job, what was completed for the day and what to expect for the next day." —Jessica R.
"Overall, the service rendered was professional. He respected my space, did the job in a timely manner, and left my home 100% cleaned up. Would I use this company in the future? Most definitely! I will definitely recommend them as well." — Debra B.
We guarantee that you will be satisfied with our plumbing services. If not, we will refund 100% of your money.
Call Today for Your Fort Lauderdale Commercial Plumbing Needs!
If the foundation of your Fort Lauderdale commercial building is cracking, you have a water leak but cannot pinpoint the source, or your water heater is on its last leg, Joe Hillman Plumbers is at your service.
Our plumbers are ready to assist with all your commercial plumbing needs, including 24/7 emergency repairs. We always have plumbers on call for emergencies, so we can get your problem fixed as quickly as possible and get you back to business.
Join the thousands of South Florida commercial clients who rely on Joe Hillman Plumbers to keep their plumbing systems running smoothly. To schedule an appointment for repair or installation services, call us today at (954) 601-3286.