Plumbing emergencies are never convenient, but you don't have to wait until it's convenient for a plumber to help you. At Joe Hillman Plumbers, we offer emergency plumbing services in Weston all day, all night, every day of the week.
Whether it's a small leak that's creating a puddle on the floor to an overflow in the bathroom, we handle every plumbing emergency efficiently. Our priority is to prevent your home or business from suffering further damage and keep you, your family, your employees, and your visitors safe.
If you need Weston emergency plumbing services, get in touch with Joe Hillman Plumbers at (954) 601-3286 today. We'll send one of our trained plumbing technicians as soon as possible.
Why Call Joe Hillman Plumbers to Fix Your Plumbing Emergency in Weston?
A plumbing emergency is a serious situation, so you need a plumber you can trust. Count on the team at Joe Hillman Plumbers to get the job done. Here's why you should call us for Weston emergency plumbing services.
24/7/365 Emergency Plumbing Service
We can take your plumbing emergency call 24 hours a day, seven days a week, 365 days a year. Our technicians know every minute counts during a plumbing emergency, which is why we respond as soon as possible!
Local, on-Call Technicians
We have plumbers on call for plumbing emergencies, and some of them are local to the Weston area, so we can dispatch someone to your home or business quickly.
Prepared for Any Plumbing Emergency
We always stock our vehicles with the necessary tools and parts to efficiently take care of any plumbing emergency. This helps us stop the emergency and fix the problem fast.
30+ Years of Experience
We've been providing emergency plumbing services for over 30 years. In that time, we've seen it all, so we have the skills, knowledge, and resources to tackle any plumbing issue.
If you have a plumbing emergency in your home or business, Joe Hillman Plumbers stands ready to take your call.
24/7 Residential and Commercial Emergency Plumbing Services in Weston
We provide plumbing services to both residences and commercial properties around the Weston, Florida, area.
Whether you're a homeowner, a landlord, or a renter, you can call Joe Hillman Plumbers to get a plumber to your home or rental. Getting emergency plumbing service any time of day or night is key to protecting your home, personal belongings, and family.
Joe Hillman Plumbers fixes plumbing emergencies on commercial properties and businesses, including:
Restaurants
Condo complexes
Hotels and resorts
Local shops
Large retail stores
Supermarkets
We're proud to offer emergency plumbing services to local businesses, as well as regional and national businesses with locations in Weston. We can be your 24/7 on-call plumber so you can keep your business running safely and smoothly, no matter what time a plumbing emergency strikes.
Our plumbers can help you resolve potentially hazardous plumbing issues, restore function to guest or employee facilities, and offer a great customer experience.
Some Common Plumbing Emergencies We Handle in Weston, FL
Plumbing emergencies come in many different forms, but we handle them all. Here are some plumbing emergencies we take care of in the Weston, Florida, area.
Clogged Drains
Any drain in your property can get clogged, but clogged drained are especially common in:
Tubs
Showers
Kitchen sinks
Bathroom sinks
Utility sinks
Blockages occur when there's a buildup of material in the pipes. Common culprits include:
Hair
Soap grime
Food
Grease
Foreign objects
You can use store-bought solutions and tools to clear clogs, but they aren't always effective in the long term. At Joe Hillman Plumbers, we can use industry-grade tools and solutions to remove blockages and clear your drainage system.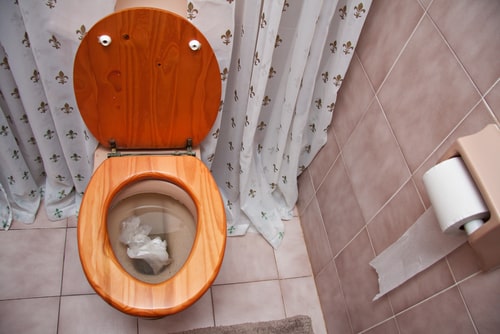 Toilet Issues
Toilets are a necessity in every home and business, so when a toilet isn't working on your property, it may constitute an emergency. This is especially true if a toilet:
Won't flush
Overflows
Constantly flushes or has running water
When toilets don't flush, blockages in the water supply line, broken parts in the toilet, or water pressure issues could be the culprits. When a toilet overflows, it's usually because there's a clog or the toilet fills with too much water. If a toilet keeps running water or flushing, it may be broken.
No matter what's wrong with your toilet, we can determine the cause of the issue and either repair the toilet, replace it, fix the waterline, or clear a blockage.
Water Heater Problems
One of the most common water heater problems is having no hot water. This could indicate an issue with the water heater itself or a connection issue between the heater and the faucet. We can repair broken parts, replace whole systems, and update connections to make sure your property has access to hot water.
Another common water heater issue is when you have your faucet turned to cold or warm, but you're only getting hot water. According to the American Burn Association, it only takes three seconds to get a burn from hot water.
We can protect your family or patrons from accidental burns from scalding water by testing your water heater's calibration, checking the temperature valves, and fixing any other issues causing unnecessarily hot water.
Water Pressure Issues
When your water pressure suddenly drops, that may indicate a plumbing emergency. You may experience it in a single facility, like a sink, shower, or toilet. Alternatively, it may affect your whole property.
We can investigate the causes of your water pressure problem, which may be waterline breaks and connection issues. Then, we can repair the water line, replace worn parts to improve water pressure and prevent leaks, and replace blocked fixtures that don't allow water flow.
Leaks
Leaks can happen anywhere on your property. Every leak can constitute a plumbing emergency because even a small leak could quickly turn into a bigger leak or cause costly water damage in a short amount of time.
First, we'll investigate the source of the leak. The following are some common culprits.
Worn or broken pipes and connections can start as small trickles but grow into steady streams. They could also be out in the open or behind walls or under your floor or the slab foundation of your home.
Blockages can put pressure on the system and loosen pipe connections. When water can't flow normally, it gets forced out.
Burst/frozen pipes occur when water flows through frozen pipes and can break them. Yes, pipes can freeze in Florida, too.
We'll determine if we can fix the leak on the spot or if we need to quickly provide a temporary solution. We may need a temporary solution to prevent more damage while we further inspect your system, identify the full scope of the issue, and take additional steps to fix your plumbing system and completely stop the leak.
Sewage and Septic Issues
If you are experiencing overflow or drainage issues, you may have an issue with your sewer or septic system. You could have roots, debris, dirt, material buildup, and more blocking the system or clogging a tank. You may also be facing broken drainage pipes. Clogs and overflows from drains and toilets could actually be a sewer system issue.
We can clear your system to allow sewage to drain properly, or we can repair your sewer line or septic tank, depending on the severity of the problem. Our technicians are trained to do full sewer line repairs when necessary.
Is your plumbing emergency not on this list? We can fix all sorts of plumbing issues, no matter how big or small. You can call us to get help right away.
We Offer Preventative Plumbing Services in Weston, Too!
After we resolve your plumbing emergency, we'll be happy to discuss our rates for annual or biannual inspections. This service is important for identifying any issues that could arise in the future.
During regular inspections and emergency plumbing services, we can determine if you need to take additional steps to prevent another plumbing emergency. Here are some preventative plumbing services we may recommend.
Installations, so you reduce the likelihood of leaks due to connection issues or improper setup
Drain cleaning to clear all the drains on your property and prevent blockages that could cause overflows or burst pipes
Leak detection to spot hidden leaks that are causing water damage
Whole-house re-pipe to replace worn parts, improve water flow and drainage, and update your plumbing system
Call Joe Hillman Plumbers Now for Weston Emergency Plumbing Services!
If your Weston home or business has a plumbing emergency, there's no time to wait. Call Joe Hillman Plumbers at (954) 601-3286 today. We'll have one of our plumbers head out to your property ASAP.