At Joe Hillman Plumbers, we offer a variety of Weston residential plumbing services. Whether you have a leaky faucet or need to repipe your entire house, look no further. Our highly-trained technicians can help you with any of your plumbing needs. In addition, if you have a plumbing emergency, we're available 24 hours a day to fix it.
If you need plumbing services in Weston, Florida, our team can help. We've been in business for over 31 years and know how to fix many complex plumbing issues. Our plumbers go the extra mile to exceed your expectations.
Weston Residential Plumbing Services We Provide
We offer a wide array of residential plumbing services in the Weston area, including:
Drain Cleaning
Clogged drains can cause many issues throughout the house. For example, if your sink or shower is blocked, they become unusable. In addition, a clog can cause bacteria or mold to grow, which can cause illness to those who come in contact with it.
A good Weston residential plumber can help clean clogged drains. We provide emergency services if you need the drain unclogged immediately. The drain cleaning services we offer include:
A standard drain cleaning
An assessment of why your drain is draining slowly
Leak repair
Root removal
Cast iron cleaning
Bathrooms, kitchens, laundry rooms, and basements are common areas that need drain cleaning on a residential property.
Faucet Installation
Whether you are remodeling your home or have a damaged faucet, we can help with the installation of a new one. Faucets could require a replacement if they are over fifteen years old, have cracks, or require many repairs. In addition, many of our clients are choosing newer faucets that are more energy-efficient.
There are various problems faucets can cause in the residential setting. Common issues we see include:
Leaks
Mold
Low water pressure
Drips
Squeaking or whistling
These issues can occur if your faucet is faulty or was installed incorrectly. Our technicians are certified professionals and can properly install your new faucet.
Gas Line Repair
Gas lines are typically underground to avoid any exposure to water or hazards. If a gas line is damaged, it can cause the line to explode or for carbon monoxide to enter your home. Carbon monoxide is dangerous for anyone inside the house. They could develop carbon monoxide poisoning, which can cause severe illness or death.
If you believe there is gas line damage in your home, contact Joe Hillman Plumbers. We are certified to repair gas lines to ensure your home is safe. Signs of a gas leak include:
A new odor from an unknown source
Houseplants beginning to die or wilt
Noises from the gas lines
A lightheaded feeling while at home
If you notice any of these signs, call Joe Hillman Plumbers immediately. Damage to gas lines can cause life-threatening injuries. We offer 24-hour emergency services if you believe your gas line needs repair.
Leak Detection
Water leaks can cause extensive damage to your home. Sometimes leaks are challenging to detect, and you need help from a professional. Our plumbers have leak detection tools so we can get to the root of the problem and fix a leak before it becomes a more significant issue in your home.
While a small leak may not require our emergency services, it can lead to a massive issue if you don't catch it in time. If a leak grows, it can cause the following problems in your home:
Mold
Damage to the building
Bacteria
Sewer Line Repairs
The team at Joe Hillman Plumbers is certified and confident in fixing sewer lines. If you believe your sewer line needs repair, we can help. Signs your sewer line needs repair include:
The toilets have lower water pressure
The toilet is making a different sound than usual when you flush
Your yard develops unexplained puddles
Sewer lines get damaged for a variety of reasons, including tree roots growing into them, the pipes getting corroded, debris falling on them, or extreme temperatures.
Slab Leaks
A slab leak means a leak in the plumbing pipes underneath a concrete slab. They can occur for several reasons, including unstable soil or soil erosion. If you believe you have a slab leak, look out for the following signs:
Your water bills increase
Your faucets have lower water pressure
Sections of your floor are warmer than others
Cracked foundation on the floor
Mold
Our plumbers have several strategies to fix a slab leak. We can discuss your options and provide an estimate to repair yours.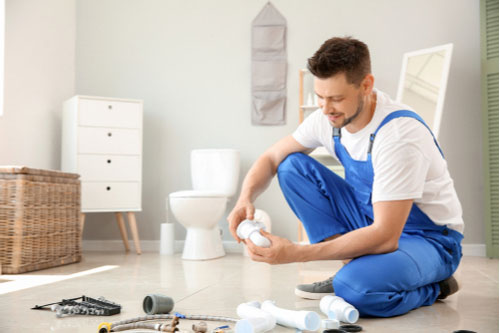 Toilet Installs
Our Weston residential plumbers at Joe Hillman Plumbers can install your new toilet whether you're remodeling a bathroom or simply need to replace your current toilet (if your toilet wasn't installed properly the first time, it could leak, run, or cause other problems).
We can help you determine if you need a new toilet. Signs it's time to replace your toilet include:
Its bowl or tank is cracked
It clogs often
It requires constant repair
It won't flush
It leaks
Toilet leaks are costly if they go unnoticed over time. However, we offer several options of toilets to choose from. Our plumbers do the complete installation and offer a 100% guarantee.
Water Heaters
Your water heater is essential to daily living in your residential home. If the water heater goes out, you lose hot water in the faucets, shower, dishwasher, and more. Put simply, it isn't easy to live comfortably if your water heater goes out.
The lifespan of a water heater varies based on how much your household uses and maintains it. Properly maintaining your water heater can extend its lifespan and avoid it breaking down. With good, routine maintenance, our technicians can identify potential problems before they become big. If your water heater is old, begins to rust, or starts making loud noises, it's time to replace it.
Whole House Repipe
Plumbing pipes transfer all of the water in a house. Sometimes, a homeowner must decide to repipe their whole house. Reasons for this include a remodel, having to make continuous repairs, or having lead piping.
If you are wondering whether you should repipe your whole house, look for these signs:
The water bill continues to increase
You smell mildew
You notice mold
You see water spots on your ceiling
Usually, when we complete a whole house repipe, our plumbers try to replace one set of pipes at a time, so the other piping remains in working order. This means (in most cases) that you and your family can conveniently continue to use the plumbing as we fix it.
Water Lines
Homeowners must replace water lines if they are broken or corroded. We can look at the damage in your home to determine if your lines require a replacement or if we can repair them.
Signs your water lines have broken include:
Mold
A musty smell in some rooms
Unusual stains on the floors and ceilings
Cracks in the foundation
Why You Should Choose Joe Hillman Plumbers
At Joe Hillman Plumbers, we strive to offer quality plumbing services to our customers and in return, they have wonderful things to say about us. Check out our Google reviews to hear how we've helped past customers. Weston residents love our residential plumbing services because:
We are licensed and insured.
We offer competitive pricing and 24-hour support.
We Offer Emergency Plumbing Services
Plumbing emergencies don't wait for business hours. True emergencies require immediate action to ensure the issue doesn't get worse. Plumbing emergencies can include:
Clogged drains or toilets
Sewage problems
Gas line leaks
Flooding if a pipe bursts
A ceiling is sinking in
If you notice an issue that could cause severe damage to your home, our plumbers can help immediately. Our technicians are available 24 hours a day to fix your emergency plumbing issues. Once we fix the immediate problem, we can schedule a follow-up visit to ensure we have completely fixed the plumbing issue.
Contact Joe Hillman Plumbers for Weston Residential Plumbing Services Today
We are a full-service plumbing contractor providing comprehensive plumbing services in the Weston area. We handle any plumbing issue you have, no matter how big or small. Our plumbers do the job right the first time, so you don't experience further problems. We are professional, highly-trained technicians ready to conquer your plumbing issues.
To schedule residential plumbing service with Joe Hillman Plumbers, contact us at (954) 283-5468. We can schedule an appointment or provide emergency plumbing services now if you require immediate help.