If you need commercial plumbing services in Weston, Florida, our team of certified technicians at Joe Hillman Plumbers can help. We can confidently handle the maintenance, repair, or replacement of your plumbing. In addition, if you have a middle-of-the-night emergency commercial plumbing need, our team is available 24 hours a day to help.
Call our Weston commercial plumbing experts today!
Why Commercial Plumbing Clients Can Count on Joe Hillman Plumbers
If you own a commercial property, you'll eventually need plumbing services. Regardless of the severity of the issue, you need a plumber you can trust. When you choose Joe Hillman Plumbers, you can expect:
Licensed and Insured Employees: Each technician has the proper certification to complete commercial plumbing work.
Experience: Our company has been in service for over 31 years. Throughout that time, we have satisfied many commercial clients and exceeded expectations.
Competitive Pricing: We can finish your plumbing project at an affordable price.
24-Hour Emergency Plumbing: A qualified team member can handle your plumbing needs any time of the day or night. If you have an emergency and need something fixed right away, we can help.
Our Past Client Testimonials
Our clients have wonderful things to say about our plumbing services. Testimonials from past clients include:
"I have used Hillman at home, at the office, and at rental properties. I will always use their service."
"They returned phone calls and were professional in every way. They showed up on time, got the job done, and left the area clean. I would highly recommend them for any job large or small."
"Drained the old water heater. Installed the new water heater. Swept up. Disposed of the old water heater. Very efficient and very professional."
"The service rendered was professional. He respected my space, did the job in a timely manner, and left my home 100% cleaned up. Would I use this company in the future? Most definitely! I will definitely recommend them as well."
For more glowing testimonials, check out our reviews on Google.
We strive to offer professional plumbing services to our customers. We've been in business for over 31 years and have built a solid reputation in the community for exceptional work and quality service.
Industries We Serve
At Joe Hillman Plumbers, we're proud to offer Weston commercial plumbing services to local businesses and commercial ventures. The industries we commonly provide plumbing services to include:
Condos
Condos are unique as any plumbing issue can affect more than one person's home. In addition, there are unique plumbing issues people who live in condos deal with.
The first issue is who pays for the plumbing services. If you rent your condo, your landlord is most likely liable to pay for the plumbing services. If you own the condo, your homeowner's association might cover the plumbing costs. If they won't, the cost might end up as your responsibility. Other issues condo owners or renters may face include:
Water leaks from appliances
A rusted water tank
Issues with the garbage disposal
You can take preventive measures to avoid plumbing issues in a condo, including drain screens and faucet filters.
Hotels
A hotel's plumbing must work in all areas of the hotel at all times. To keep the hotel's plumbing in proper repair, the hotel owner or manager must have maintenance checks done often. A maintenance check can catch any potential plumbing issues before they become an emergency. The last thing someone wants in a hotel is no hot water in the shower.
At Joe Hillman Plumbers, we offer maintenance checks to identify potential hotel problems. We also offer 24-hour emergency service to our hotel clients who need the plumbing fixed quickly. Plumbing services we provide hotels include the installation and repair of: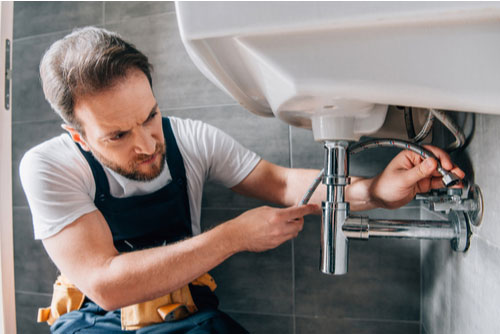 Restaurants
Plumbing is a vital part of a successful restaurant. If there is a plumbing issue, restaurants need immediate help. Proper maintenance is essential to catch any potential plumbing issues before they become huge problems. Major plumbing problems can shut a restaurant down completely. Routine maintenance checks can give restaurant owners and managers peace of mind and keep things running smoothly.
Common restaurant plumbing issues include:
Clogged drains: Restaurants deal with a lot of greases which can wreak havoc on the plumbing system. It's crucial for restaurant owners and managers to keep plumbing maintenance up to date, so there are no grease buildups that cause clogs.
Toilets: Restaurant patrons often put things down the toilet that the system can't handle. This can cause the system to clog and the bathroom to flood. We offer 24-hour emergency services in these situations.
We use several effective tools when working with our restaurant clients. One of those tools includes using innovative technology to determine where the clog is. We can get video footage of the drain to understand better where and what the clog is so we can quickly eliminate it.
Retail
Every part of the building must work properly in a retail setting. This includes the plumbing. Customers may judge the entire retail store based on the condition of its plumbing facilities. This is why keeping the plumbing in order at retail locations is essential.
Regular maintenance checks can help the owners or managers of retail locations prevent big plumbing issues that could occur while customers are in the building. The most common issues we see in a retail setting include:
Sewage odors
Clogged drains and toilets
Running toilets
Damaged pipes
If you notice any plumbing issues at your retail location, we can help. Since we're available 24 hours, we can have your plumbing issue fixed before customers even notice it.
If you own a commercial building or business that isn't listed here, give us a call. We can discuss the circumstances of your plumbing needs and provide an estimate of the repair or replacement.
Commercial Plumbing Services We Offer in Weston, Florida
Since we've been in service for over thirty years, the Joe Hillman Plumbers employees have fixed many plumbing problems. Our certified technicians have the skill and knowledge to resolve complex plumbing issues.
Leak Detection Services
If you suspect a leak but cannot find it, our plumbers can help. We have tools that can help us detect the location of the leak. Once we find it, we can begin fixing it so you don't have to deal with the consequences any longer. Common signs of a leak include:
Your water bill is rising: If you don't think you're using significantly more water than usual, the cause could be a leak.
You hear running water: Continuously hearing running water when you don't have a faucet, sink, or shower turned on could mean a leak.
You have mold: Mold is a strong indicator of water leaking somewhere in the building.
Catching a leak before it gets bad can save your building from extensive damage. If you suspect a leak, the team at Joe Hillman Plumbers can help.
Backflow Testing
At Joe Hillman Plumbers, we can assess if your backflow is working correctly. Testing the backflow can ensure the building's water isn't contaminated. If the backflow system isn't working, our plumbers can repair or replace the part causing the issue.
Building Repiping
Once a building reaches a certain age, the plumbing might corrode or break down. Our plumbers can replace the piping that is damaged or could potentially burst in the future. We can then inspect your whole system to ensure the pipes are in good condition. If they aren't, we can provide an estimate of the costs to repipe the building.
Drain Cleaning
Our plumbers have several tools to clean clogged drains. If your drains are backing up, there could be a blockage causing the issue. We can identify the problem and clean the drains to fix the backup. Tools we use to clean drains include:
Drain snaking
High-pressure commercial water jetting
Video inspection
These tools help our plumbers identify where the clog is coming from and thoroughly clean the drain.
Water Heater Repair or Replacement
The water heater affects many aspects of a building. If it goes out, it could affect many customers. Routine water heater maintenance checks can prevent emergency issues.
If our plumbers detect an issue, we can repair the water heater or replace it with a new one.
Call Joe Hillman Plumbers for Weston Commercial Plumbing Service!
If you need plumbing services, contact us at (954) 283-5468. You can schedule an appointment with our team for a maintenance check, repair, or replacement. If you have an emergency plumbing issue, we provide 24-hour emergency services. Call Joe Hillman Plumbers today.