At Joe Hillman Plumbers, we offer top-quality Weston plumbing services. Whether you are a homeowner or own a business in Weston, Florida, we can assess your needs and provide a solution for the plumbing issues you face. We utilize many techniques to ensure we fix your plumbing problems effectively and quickly.
For over three decades, we have served our community and built positive relationships with our clients. We are nearby and on-call 24 hours a day to fix your plumbing problems when you need emergency plumbing services. No job is too big or too small. Our certified plumbers complete repairs and installations right the first time.
Benefits of Choosing Joe Hillman Plumbers
Joe Hillman Plumbers has been in business for over thirty-one years. Our qualified team of plumbers can tackle all your challenging plumbing projects in Weston. We can assess the situation and perform repairs or replacements whenever you have a plumbing issue.
You can expect the following benefits if you choose us for Weston plumbing services:
We offer 24-hour emergency plumbing. If you have a plumbing issue at 3 a.m., we can come out quickly to fix the problem and avoid further damage.
We offer both residential and commercial plumbing services. Regardless of the type of establishment, we can provide plumbing services.
We use innovative technology to better identify leaks. We offer video inspections to see all parts of the leak or clog to ensure we completely repair or clear it.
We highly train our plumbers so you can expect excellence. They are qualified to handle any type of plumbing issue that comes their way. We teach our plumbers to use a variety of plumbing techniques to repair issues.
We offer competitive pricing and provide honest estimates to our clients. We're committed to providing affordable, high-quality service to all of Weston.
Our Customers Have Great Things to Say About Us
We work hard to ensure our clients are happy with our service and our customers have great things to say about our technicians:
"I used Hillman Plumbing to fix the valves in the two bathrooms in my house. Tony came out and did an excellent job. He was very professional and gave me great suggestions to fix my problem. I would recommend this company to anyone with plumbing issues."
"It took about 3 hours to complete the installation, which was longer than I expected, but the installer said it took a long time to drain the old water heater (which seemed like a logical explanation since the water heater was over 15 years old). In the end, I was happy with the finished product and the hot water was flowing afterward."
"They returned phone calls and were professional in every way. They showed up on time, got the job done, and left the area clean. I would highly recommend them for any job large or small."
On top of writing us with their testimonials, our customers have also left glowing Google reviews after we provided services.
Weston Residential Plumbing Services We Offer
Our team offers a wide variety of residential plumbing services, including:
Drain Cleaning
You can schedule an appointment or get our emergency plumbing services whenever you have a clogged drain. Our Weston drain cleaning services include standard drain cleaning, slow drain assessment, and cast iron cleanings. Typical areas of the home that require drain cleaning include bathrooms, kitchens, laundry rooms, and basements.
Faucet Installation
We can install faucets if you're doing a home remodel project or if you simply need to replace your faucet. If your faucet leaks, we can assess it to determine if it needs a repair or replacement.
Repairs to Gas Lines
Damaged gas lines are dangerous if not repaired quickly. If you believe your gas lines are damaged, call our emergency services line immediately. Signs of a damaged gas line include an odd smell in your home, houseplants looking different, or you feel sleepy for unknown reasons.
Detection of Leaks
Detecting a leak before it becomes a huge problem can prevent water damage to the home. Leaks can lead to dangerous situations. Hazards include mold, building damage, water waste, and germs. If you suspect a leak, we can help. We have tools to detect exactly where leaks are and can determine the proper repair method to use.
Slab Leaks
Slab leaks can wreak havoc on a residential foundation. The earlier a slab leak is detected, the less invasive the repair is. Repair techniques for slab leaks include breaking through the slab to get to the pipe or rerouting pipes around the damaged section. Common causes of slab leaks include unstable soil or leaky plumbing joints.
Installation of Toilets
Our plumbers can install toilets whether you're remodeling or your current toilet is damaged. We offer many options for toilet installation including the two-piece toilet, the one-piece toilet, and the high-tank toilet.
Water Heaters
We can provide maintenance, repair, and replacement services for your water heater. Proper maintenance of a water heater can extend its life, saving you money over time.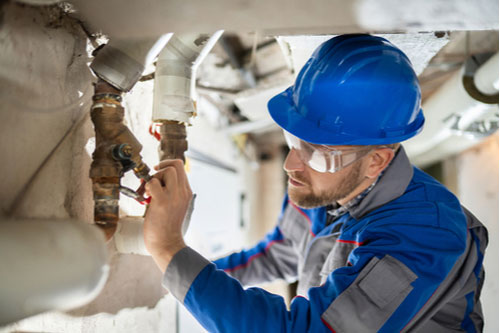 Water Lines
If your water lines are damaged or leaking, we can repair or replace them. Replacing water lines quickly can help you avoid further damage to your home. Look out for signs of water line damage in your home, including mold, a musty smell in certain rooms, and unusual stains around the home.
Repiping
In some situations, we can replace a small part of the piping in your home. However, it's often easier to replace the entire piping system at once to guarantee we fix the issue. Signs you need to repipe your home include watermarks on the ceiling and the smell of mildew or mold around the house.
Weston Commercial Plumbing Services We Offer
We're proud to extend our plumbing services to our many commercial customers. We serve a variety of commercial plumbing clients, including:
Hotels
We can repair, install, or provide maintenance for bathrooms and faucets. We ensure all facilities are compliant with the Americans With Disabilities Act (ADA). Our plumbing technicians also clean drains, install fire sprinklers, adjust shower pressure, and detect and repair any leaks.
Condos
Plumbing problems condos face include water leaks from appliances, rusted water tanks, and issues with garbage disposals. If you need plumbing services for your condos, look no further.
Restaurants
Common plumbing problems restaurants face include drain clogs, toilets, and grease in the sinks causing them to clog. We regularly help our restaurant clients with these and many more issues.
Retail Corporations
Regular plumbing maintenance in retail locations is vital to keeping the plumbing systems working and the business running as usual. Common plumbing issues that occur in retail locations include toilet leaks, running toilets, and clogged toilets. The plumbers at Joe Hillman Plumbers can provide all these plumbing services and more to retail locations in the Weston area.
Our team offers a wide variety of commercial services, including:
Repairing or replacing plumbing fixtures
Installing appliances
Fixing or unclogging garbage disposals
Sink installation
Washing machine installation and maintenance
Toilet repair or replacement
Evaluation and repair of sump pump issues
We also offer complete repiping to our commercial clients. We've learned that repiping a whole system is sometimes easier and better for our clients in the long run than replacing a small area of piping. If some of the piping corrodes, the rest of the piping will likely corrode soon. Complete repiping eliminates the likelihood of needing more repairs and replacements in the future.
We Offer Emergency Plumbing Services 24 Hours a Day
Day or night, the professionals at Joe Hillman Plumbers are ready to repair any plumbing issue you need to be fixed immediately.
The most common emergency plumbing repairs include:
Leaking faucets
Clogged sinks
Clogged toilets
Burst water pipes
Risk of severe water damage
Suspected broken gas lines
If you believe it's an emergency and there's a risk to the occupants inside the residence or commercial building, call immediately.
Contact Us Today to Schedule Weston Plumbing Services
We do more than make promises at Joe Hillman Plumbers. We want you to have peace of mind, knowing we can fix all your plumbing issues.
Contact us today at (954) 283-5468 to schedule an appointment. We're proud to serve the Weston area and are ready to help 24 hours a day.