When something goes catastrophically wrong with your plumbing, you need to find a Miami plumber that is fast and reliable—and you need to do it now. Joe Hillman Plumbers can provide the right technician for your needs at any time of the day or night.
If you are experiencing a plumbing emergency, call (954) 601-3286 immediately. Our Miami emergency plumbing experts are available 24 hours a day to come to your house or place of business, assess the situation, and quickly repair the damage.
Our Emergency Plumbing Technicians Are Here for You
At Joe Hillman Plumbers, we understand that emergencies are serious business, so we waste no time in:
Responding to your call, no matter what time of day or night it is
Arriving at your house or place of business as quickly as possible
Taking steps to mitigate the damage, such as shutting off the water valve
Identifying how the emergency happened
Recommending possible ways to fix the situation so there are no more emergencies in the future
Letting you know how much each possible solution will cost versus the cost of doing nothing
Following through on our recommendation as quickly and effectively as possible
Cleaning up after we are done
In an emergency, you need help now, not in a few hours or the next business day. Joe Hillman Plumbers will dispatch a technician to tackle your plumbing issue as soon as you call, even on a weekend, on a holiday, or in the middle of the night. Plumbing emergencies do not follow a 9-to-5 schedule, and neither do we.
Types of Plumbing Emergencies We Handle in Miami
With over 30 years of experience under our belts, we are experts at resolving the following types of plumbing emergencies and many others.
Leaks
In an ideal situation, you could identify a leak while it's still very small and call in a plumber before any real damage is done. Unfortunately, this is not always possible, as many pipes are hidden where you do not have easy access to them.
Any type of pipe could spring a leak, and each causes its own specific set of problems.
When gas pipes leak, your family or customers could be in very real danger. Call us immediately if you smell gas or if you or others start to feel ill for no apparent reason.
When sewer pipes leak, you may start to notice mold or mildew growing on your walls and low water pressure in your toilet. Sewer pipe problems can also expose you to toxic chemicals, so again, prompt action is advisable.
When water pipes leak, they can make your water bill skyrocket and cause water damage to your walls, ceiling, or foundation.
Pipes are not the only thing that can leak. Your water heater can also spring a leak if it's old or damaged. As with water pipe leaks, a leaky water heater can cause flooding and other issues.
According to the Environmental Protection Agency (EPA), water leaks can cause a single household to lose 180 gallons of water (the equivalent of 300 loads of laundry) every week. This can cost you a great deal of money in:
Water bills
Damage to your house and foundation
Damage to your personal property
The sooner you call us to deal with leaky pipes, the more money you will save.
Flooding
If you see water in your basement, a problem with a pipe or water heater may be to blame. This is true even if it doesn't seem like a great deal of water. You do not have to wait until there are several inches of water in your basement to get help. Even localized flooding, such as around the base of your water heater, is cause for concern.
Dealing with flooding quickly is essential to preventing:
Mold and mildew
Lingering odors
Damage to your personal property
Exposure to unhealthy bacteria or other substances in the water
The cost of repair increasing (the longer a problem continues, the more serious the damage it could cause to pipes or appliances)
Before you can start the clean-up process, you need to identify the cause of the flooding and prevent more water from coming in. We can send a Miami emergency plumbing technician out to your location right away to figure out what is wrong and how to solve the problem rapidly.
When it comes to flooding, we keep our priorities straight. First, we stop the water from coming in and work to prevent you from being exposed to contaminants in the water. After that, we can focus on long-term solutions, like replacing the failed pipe or water heater.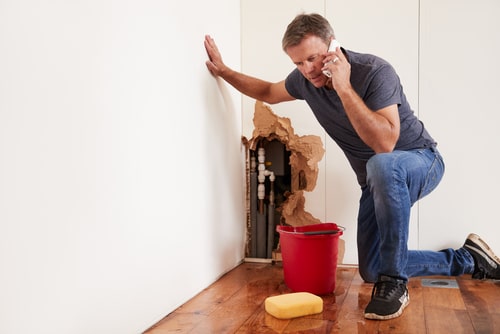 Broken Pipes
In this extreme situation, the pipe does not simply leak, it breaks or develops a large hole through which water can escape and mix with dirt or other pollutants. This can cause flooding, potentially allowing contaminants out into the open.
A pipe may burst due to:
Age: Eventually, all pipes get old. If they are not replaced in time, they could break.
Poor maintenance: Not taking proper care of your water pipes could lead to rust and corrosion, eventually causing a hole or break in the line.
Tree roots: As trees grow, so do their roots, regardless of whether or not there is a water pipe in their way. Spreading roots can put pressure on pipes until they fail.
If you notice an unusually high water bill, cracks in your foundation, or unexplained puddles on your property, you may be dealing with a broken pipe.
As with any emergency, it is best to deal with a broken pipe immediately, before it has a chance to do further damage to your property or your finances.
What if I Don't Know What the Problem Is?
You know how your home or business is supposed to function and you can tell when something is off. However, you may not have the expertise to pinpoint the exact cause of the problem. That is perfectly normal and you can rest easy. It is our job to diagnose and solve plumbing problems, not yours.
Other Plumbing Services We Offer
Our company handles more than just emergencies. We are also available to tackle more routine jobs, including:
Installing appliances
Maintaining appliances or pipes
Cleaning out drains or pipes (including fixing clogs)
Replacing parts, pipes, appliances, or even entire systems as necessary
We have vast experience and can handle these tasks in either a commercial or a residential environment. We even offer financing options for homeowners who need help paying for new appliances or piping systems.
When you repair, maintain, and replace your plumbing regularly, you can avoid the kind of emergency that sends you rushing to call a plumber. You can rely on our entire team to keep your plumbing in good condition and prevent costly emergencies.
We Provide Top Quality Service
After discovering a problem with your plumbing, the last thing you want to deal with is a plumber who takes forever to find and fix the problem, leaves your house a mess, or has to come back and do more repairs because they missed something the first time.
At Joe Hillman Plumbers, we take our work seriously. We focus on making sure every aspect of what we do is top-notch, including:
Our technicians' conduct
The speed with which we arrive and handle the repairs
The quality of the repair job itself
Why do we go to such great lengths to satisfy customers? At Joe Hillman Plumbers, we firmly believe in the power of giving back to our Florida communities. One way we do that is by sponsoring local charities we believe in, which we've done for years.
We provide the best, most convenient possible service to each of our clients, especially those experiencing an emergency. We understand that severe, acute plumbing problems can make you feel:
Anxious: What is happening? Am I in danger? How much will this cost me?
Uncertain: How can I fix this? Can it be fixed? Who can help me?
Angry: How could I let this happen? Will I have to cancel my other plans to deal with this?
Our technicians are here to take the guesswork and stress out of your plumbing emergency. We work fast to identify and resolve any plumbing or piping issue and to address each one of your concerns. As terrible as the situation may be, you'll feel better knowing you have an expert who knows exactly how to help.
Call Our Miami Emergency Plumbing Experts Now!
Whether you are dealing with a slow leak or a flooded basement, Joe Hillman Plumbers is here to help. Call (954) 601-3286 at any time, day or night. Someone is always here to answer your call and deploy a plumber with emergency plumbing experience to Miami or elsewhere in south Florida.