Running a business means that your plumbing needs are greater than that of your average homeowner. You also stand to lose a great deal in terms of money and reputation if something goes wrong.
Joe Hillman Plumbers is here to handle all of your Miami commercial plumbing needs. Call (954) 601-3286 to let us know how we can best serve you. We're proud to serve businesses of all sizes and industries across the greater Miami area.
Commercial Operations Have Special Plumbing Needs
Commercial buildings, regardless of their purpose, require many of the same types of services, including:
Keeping basic appliances like toilets and faucets in good repair
Maintaining water pipes
Maintaining gas pipes
Fixing leaks and clogs
In addition, all businesses require an efficient waste disposal system equipped to handle large volumes without backing up, releasing odors, or causing other problems.
However, depending on what industry you are in, you might also require more specialized Miami commercial plumbing.
Restaurants
Whether you run a sit-down restaurant or a fast-food place, you need a kitchen with multiple appliances that rely on water, such as:
Sinks
Dishwashers
Refrigerators
Freezers
Restaurants also need to keep large amounts of food clean and cold at all times, which means having a reliable source of liquid water, ice, and cold air.
Hotels
Like a restaurant, hotels need to keep guests fed, which means maintaining an efficient kitchen.
On top of that, your guests expect their rooms to be comfortable, no matter what season it is or what room they are in. Multistory buildings have different heating, cooling, and piping needs than a single-story building or a home.
Laundry Facilities
Both laundromats and certain types of apartment buildings offer laundry facilities for tenants and patrons to use. This means installing a large number of washers and dryers and keeping those appliances running. Having more than one or two machines out of order at a time is a big inconvenience for the people who depend on you.
Hotels also need top-notch laundry facilities to keep towels, sheets, and other items clean and sanitary for guests at all times.
Stores
All shops need proper water, heating, and cooling systems. Some stores require more than the basics, such as supermarkets, which deal with perishable items that must be cleaned and kept at the right temperatures.
Commercial Plumbing Requires Experience and the Right Equipment
At Joe Hillman Plumbers, we cater to businesses of all kinds and sizes, from hotels and condos to restaurants and retail outlets. We are equipped to handle both big and small jobs. Below are some of the services we provide Miami businesses on a regular basis.
Clogged Drains
What seems like a small, simple matter can quickly become catastrophic. Blocked drains in a kitchen, bathroom, or basement can cause flooding and foul odors, and render certain appliances unusable.
Whether the clog is in a hotel room bathroom, a restaurant kitchen, or anywhere else, we can:
Respond to your call as quickly as possible
Find out the source and cause of the clog, possibly with the help of our innovative video inspection
Determine how best to resolve the issue—it may be as simple as cleaning out the drain or pipe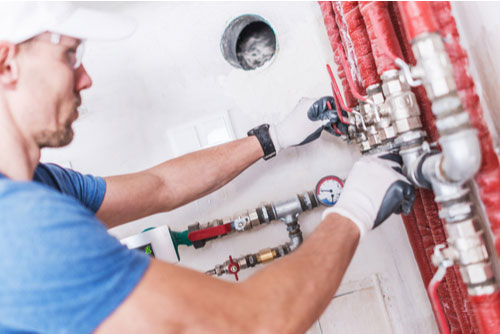 Installations
Running a business can be expensive, and no one wants to waste money when they don't have to. Installing energy-efficient appliances designed specifically for your needs is one way to save money and protect the environment as well.
Our technicians can install nearly any appliance, including:
Water heaters: Heating enough water for a large building is not cheap, but the right type of water heater can bring costs down for years to come.
Dishwashers: The Environmental Protection Agency (EPA) reports that 52 percent of all the water restaurants use goes towards fulfilling kitchen needs and dishwashing. It pays to have the most efficient dishwashers available.
Bathroom appliances: All businesses need enough toilets for both employees and customers. The EPA reports that bathroom use accounts for at least 30 percent of the water used in restaurants and hotels, so both of these facilities should use the most efficient restroom appliances they can.
While new appliances cost money, they can save your business a lot in the long run. However, you don't want to replace old appliances that are still in perfect working order. Our technicians can determine whether replacement or just good maintenance would be the more cost-effective move for you.
At Joe Hillman Plumbers, part of the service we provide is evaluating each client's situation and informing them of the best ways to:
Save water
Save money
Keep their business operating smoothly
Gas Line Issues
Just like water, gas comes into your business via pipes, used for any number of commercial purposes, from heating the building to operating appliances.
Gas pipes need to be inspected, maintained, and occasionally replaced to prevent problems. If there is a leak or rupture in the line:
You or your customers may notice a bad smell
You or your customers may start to feel tired or unwell
You should evacuate the building and call us immediately
Gas leaks are an emergency situation that cannot wait. We recommend that you call us at the first sign of a gas leak or any other kind of emergency, such as a water leak or a flooded room.
How We Help Our Commercial Clients Thrive
Our clients are the lifeblood of our business, and we treat each project with respect and care, regardless of whether they are commercial or residential clients, or how large a business they run. When you call Joe Hillman Plumbers, you can expect:
Someone to answer your call 24 hours a day.
To schedule an appointment as soon as we both have availability.
Your technician to show up on time or give ample warning if they have been delayed.
A thorough examination of the problematic pipe or appliance.
To receive a fair and accurate estimate of how much our services (including parts) will cost and how long it will take to complete the job.
That we may be able to fix the issue right away—we carry a wide range of tools and parts in our vans to minimize the need for follow-up appointments.
That we will work quickly and efficiently while still making time to address your concerns and explain what we are doing and why.
That we will cause as little inconvenience to your customers as possible by working fast, being discreet, and cleaning up the area after we've finished the job.
Our technician to return and perform follow-up maintenance or repairs as necessary.
Advice on how to take care of new appliances or prevent similar problems in the future.
You work hard to provide great service to your customers and clients. So do we.
We Handle Emergency Plumbing Too
An emergency plumbing situation could crop up for many reasons, including:
Lack of maintenance
A faulty or defective appliance or part
A natural disaster or extreme weather
A poor installation job by another plumber
Using an appliance improperly
The age of the pipe or appliance
Emergencies can be devastating for a commercial enterprise. You could end up losing inventory, upsetting customers or residents, having to close down for extended periods, or sustaining costly damage to your building
This is exactly why Joe Hillman Plumbers is available 24 hours to deal with plumbing emergencies. We encourage you to call us as soon as you notice something is wrong. We can save you time, hassles, and money by:
Arriving as soon as possible
Assessing the problem
Taking steps to implement short and long-term fixes
Working quickly and efficiently so you can get back up and running quickly
Allowing a problem to fester only costs you more money. Let Joe Hillman Plumbers get to work on your plumbing problems so you can get back to focusing on your business.
Have a Residential Plumbing Issue?
We can help with that, too. We employ technicians with a wide range of experience and are well-equipped to handle plumbing problems at your place of business and at your home. We encourage you to contact us if:
You have a leaky pipe.
Your water pressure is low.
A drain is clogged or blocked.
You need help installing a new appliance.
You want to upgrade an appliance or your piping system.
You notice odd stains, puddles, cracks, or smells.
We promise that you will be just as satisfied with our residential plumbing services as with the commercial side of our business.
Call Today for All Your Miami Commercial Plumbing Issues
At Joe Hillman Plumbers, we can fix any commercial plumbing issue. Call (954) 601-3286 to learn more about the many services we offer. Our company is proud to serve both commercial and residential clients in Miami and throughout southern Florida.