If you own a home, there will be many times when you need a plumber. Many homeowners try to fix plumbing issues themselves, but they often only delay a bigger problem or create an issue that was not there before. Plumbing issues can be some of the most devastating to your property and should be treated in a serious manner.
At Joe Hillman Plumbers, our team of certified plumbing technicians is committed to helping you affordably solve your Miami residential plumbing problems. We can help with a wide variety of issues and make sure the problem is fixed the right way the first time.
Our team is available 24 hours a day, 365 days a year, so no matter when you need us, we are there for you. When your home has a plumbing issue, our Miami plumbers are ready to help you. Call us at (954) 601-3286 today.
Residential Plumbing Services We Offer
No matter how big or small your problem may seem, Joe Hillman Plumbers can help you fix it. When it comes to plumbing issues, there is no reason to try to fix them yourself. Professionals taking care of the issue will ensure that the entire problem is resolved.
Drain Cleaning
A clogged drain is something everyone thinks they can fix themselves. Stores sell products that can be used at home, but these products often only provide a temporary solution. This may hold you over for a few days, or perhaps even weeks, but eventually, you will need a professional plumbing technician to look at the problem.
At Joe Hillman Plumbers, we will clean out all of the gunk in your drains to ensure that mold and bacteria cannot continue to grow, making your drain safer for you and your property. Our team will also assess what is causing the problem to ensure that it's completely taken care of.
Leak Detection
Catching a leak before it turns into a larger problem is one of the easiest ways to save yourself money and headaches. Leaks can lead to many problems, such as mold growth and damage to your home's walls, floors, and foundation.
If you are concerned that you may have a leak somewhere in your home, our team of plumbers can come out to your house and do a thorough inspection. During this inspection, we will look for any possible leaks and leak-caused damage. Do not hesitate to contact us if you believe you have a leak in your home. It could save you a huge financial burden in the future.
Faucet and Toilet Installation
Faucets and toilets last a long time in a home, but when it does come time to replace one (whether out of necessity or because of remodeling), you want to ensure the installation is done correctly. Our team has experience installing many varieties of faucets and toilets, so no matter which type you select, we can help you.
Gas Line Repairs
Many people think that plumbers only handle water damage, but we can actually replace and repair your gas line for you as well. All of our technicians are qualified to handle these repairs and get your gas line working properly again.
Unlike a leaking water pipe, if a gas line is left unrepaired, it doesn't just end up in damage and repairs. It could result in serious danger to you and your loved ones, such as carbon monoxide poisoning or a sudden explosion. If you notice an odd smell or if you are hearing strange noises coming from your gas line, contact our plumbers immediately so we can come out and diagnose the issue.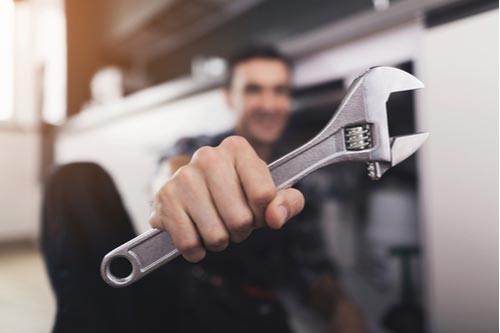 Slab Leaks
Slab leaks can result in serious damage to the floors of your home, as well as lead to mold growth and foundation cracks. Detecting a slab leak can be difficult, but if you notice your water pressure has suddenly weakened, or sections of your floor feel warmer, then you may have a leak.
Slab leaks are one of the leading causes of high water bills. If your bill is suddenly way more expensive and you and your family have not significantly changed your habits, there may be a slab leak.
Sewer Line Repairs
Regular maintenance on your sewer line is incredibly important, not just to prevent water damage but also to keep your family safe. Some of the signs that your sewer line needs to be repaired are puddles in your yard, multiple clogged drains in your home, and strange sounds when you flush your toilets.
Reasons for damaged sewer lines include tree roots, pipe corrosion, and debris or foreign objects flushed down the toilet.
Whole Home Repiping
A whole home repiping may feel like a massive undertaking, but it could ultimately save you a lot of money. Water damage from old pipes that corrode or start to leak over time can cause damage to every part of your home. After years of accumulating damage, you could have far more than just a piping problem when you finally decide to fix the issue.
If your water bill is getting higher, your ceiling has watermarks, or you see or smell mold or mildew, then it may be best for you to have your entire home repiped. This may seem expensive at the moment, but it can cost far less to solve problems before they can do major damage elsewhere.
Water Heaters
Water heaters are essential to a home. They make sure all your faucets provide warm water, which helps with cooking, cleaning, and bathing. If you have an electric water heater, it should be replaced 10 to 15 years after being installed. Gas water heaters have a shorter life span of eight to 12 years.
24-Hour Service for All Plumbing Emergencies
Plumbing issues often cannot wait and must be addressed immediately. That is why our plumbing technicians are on-call 24 hours a day, seven days a week, every day of the year to ensure that we best serve our clients. We know that plumbing issues have no sense of time. A water leak can happen at 3:00 am or during Christmas dinner.
Whatever day and time you need us, we're there for you. Our plumbing technicians can come out to review the issue you are experiencing and solve the dilemma. If the problem is likely to cause issues in the future, we can offer advice on how to move forward to ensure that you are not faced with another, even worse plumbing-related emergency later on.
Video Inspections
One of the best ways to avoid emergency situations is to have a plumbing technician conduct a full home video inspection. This is generally done when you purchase a new home, experience a plumbing problem, or have construction done to your home.
During this process, our technician will diagnose any issues that you may have with your drains, piping, water lines, sewer line, or any other plumbing-related area. This inspection can help prevent minor problems from turning into major ones. If you want a video inspection done, our team is ready to conduct it for you.
Financing Options Available
We understand that plumbing problems can cost a lot of money. While we strive to make our services affordable, some projects are expensive because of the work needed to complete them. To ensure all of our customers have access to our quality plumbing services, we have partnered with GreenSky.
GreenSky offers financing options based on the cost of the services you require and your credit score. These financing options are intended to allow you to pay for repairs now, so you do not have to pay for a more serious issue down the road. You could enjoy benefits such as no interest if paid in full in 12 months and reduced rates for longer payments.
If you'd like to hear more about financing options through GreenSky, simply ask any of our plumbing technicians.
Contact Joe Hillman Plumbers for Your Miami Residential Plumbing Needs
As a homeowner, you want to keep your home in the best condition possible at all times. While many problems will be apparent to the naked eye, other problems can develop over time, then cause severe damage in the future. Water damage falls into this latter category.
Oftentimes people try to fix plumbing problems themselves, or they assume a minor issue isn't a cause for concern. However, catching a plumbing problem early can be the difference between a minor inconvenience and a massive, costly headache.
At Joe Hillman Plumbers, our goal is to exceed your expectations while providing quality service at a reasonable price. Our team of trained plumbing technicians can help you with many problems in your home to ensure that you and your family are safe and will not be inconvenienced.
We are on call 24 hours per day to assist you. When you need Miami residential plumbing services, call us at (954) 601-3286 or contact us online.