Few things can alter the course of your day like an unexpected plumbing emergency. Luckily, you've found a team who can help. Our certified and licensed plumbers arrive quickly, solve your emergency, and do so at a fair and competitive price. We offer both commercial plumbing and residential plumbing.
Call Joe Hillman Plumbers now for Hialeah emergency plumbing services. We can diagnose and repair your leak or clog, address gas line concerns, or work on appliances, including water heaters. We have a technician available around the clock, every day of the year.
If you need a plumber now, call (954) 601-3286 to reach our team.
Let Us Help With Your Emergency Plumbing Needs in Hialeah!
Our team of licensed professionals at Joe Hillman Plumbers can help with all your emergency plumbing needs. Our knowledgeable technicians and high-tech tools can keep your plumbing issue from becoming an even bigger problem.
When you call our team for an emergency repair, we get there fast, take care of business, and leave you satisfied with a fully functioning home or business. Emergency plumbing services in Hialeah include:
Leak detection
Leak repairs
Drain cleaning and clog clearing
Gas line diagnosis and repair
Sewer line repair
Water line leaks in the house or yard
Water heater repair or replacement
We know that many plumbing issues are true emergencies, with the possibility of causing water damage, preventing your family from staying at home, or shutting down your business until repairs are complete. We want to help you avoid all these scenarios. Call our team, and we can go to work for you today.
Why Choose Joe Hillman Plumbers for Your Plumbing Emergency?
At Joe Hillman Plumbers, we've been family-owned and operated since we opened our doors in 1987. To this day, our identity as a family business makes us strive to provide top customer service and ensure every customer is satisfied before we leave their home or business. For more than 31 years, we have thrived on helping people, whether the job is big or small.
If you need emergency plumbing services in your Hialeah home or business, our team is ready to identify, diagnose and repair your water and gas lines.
We use the latest plumbing technology, and our licensed plumbers stay on the cutting edge with new techniques and options. We also know the trusted, traditional repair techniques and will use whatever method gets the job done correctly, as quickly as possible, and at a competitive price.
Having extensive plumbing knowledge is only part of the story at Joe Hillman Plumbers. We hire licensed plumbers who love to help people. We believe this changes our attitude and approach, and our customer testimonials reflect how much emphasis our team puts on providing the best service possible.
How Do Joe Hillman Plumbers Help in a Hialeah Plumbing Emergency?
Joe Hillman Plumbers hires only well-trained, licensed plumbers who want to help people when they need it most. We take great pride in being there for our customers in an emergency, and our technicians want you to understand your satisfaction is the top concern. This is why we are available whenever you need us, making service calls and providing 24-hour support, every day of the year.
When you have a Hialeah plumbing emergency, you can expect one of our licensed, qualified, experienced technicians at your door as soon as possible. This plumber will know how to handle every plumbing service we offer and can diagnose and repair your issue even if it is unusual, complex, or challenging. We offer all our services at competitive pricing.
Many Hialeah customers are so happy with our emergency services, they come back to our team to schedule work on routine plumbing issues, renovations, and upgrades. We handle a lot more than leaks and clogs.
We also repair, install, or replace the following fixtures and systems:
Gas and electric water heaters, including tankless systems
Garbage disposals
Dishwashers
Gas ovens and ranges
Faucets and other plumbing fixtures
Toilets and bidets
Sinks
Showers, tubs, soaking tubs, whirlpools, and spas
Washers and dryers
Sump pumps
Other appliances that require water or gas hookups
Our team is available to inspect, troubleshoot, and repair many of your household appliances and fixtures. You don't have to live with dripping leaks, low water pressure, or other issues. Consider our team for your non-emergency repairs as well.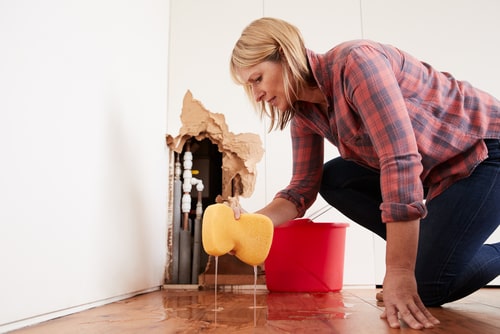 Your Family and Business Are Important to Joe Hillman Plumbers.
At Joe Hillman Plumbers, our team is our family. By extension, so are our customers. We strive to always provide the best customer service and top-quality repairs at every stop. We take pride in our work, including how quickly we can help customers manage a plumbing emergency and get their home or business back to normal.
Residential Hialeah Emergency Plumbing Service
Our licensed plumbers understand how important it is to have working fixtures and appliances in your house. If you have a leak, clog, or failed water heater, it disrupts the day for every family member. You need a quick repair that allows you to get to work, to school, or otherwise back to your normal routine.
After a call, we work quickly to arrive at your door, diagnose the issue, and make repairs. We work as diligently as possible and use effective methods of stopping a leak or removing a clog, so you have the repair you need, and we can go on to the next call.
Commercial Hialeah Emergency Plumbing Service
When a plumbing emergency causes issues with your Hialeah business, it could disrupt your workday or even force you to close until a plumber makes repairs and solves the issue. Our team works quickly and discreetly. In some cases, customers may not even know we are onsite.
We can also handle repairs before opening or after closing if you prefer. We will work with you to ensure you do not have to sacrifice sales because of a plumbing emergency.
Our Team Relies on the Latest in Plumbing Technology.
Joe Hillman Plumbers not only hires the best technicians, but we invest in the industry's latest high-tech tools. Having the latest in leak detection and clog-clearing technology makes our plumbers faster and more effective. While some jobs are easy to manage using traditional means, more complicated clogs or other blockages rely on this new technology to help us get your home or business back to normal sooner.
Here are some examples of our innovative tools.
Our High-Definition Sewer Camera
In the past, finding a leak, identifying an obstruction, or even tracking down a stubborn clog wasn't always easy. Plumbers had to use an educated guess to determine where there was a problem and what it might be. When sewer cameras came on the scene, they changed everything. However, the picture wasn't clear, and it was sometimes still difficult to get a good view inside the pipe.
Our cutting-edge sewer camera lets our technicians get crisp video and still pictures inside water or sewer lines. We can identify clogs, buildup, leaks, and spots that are likely to cause ongoing issues.
With no risk to your pipes, we can look inside to diagnose the issue and develop a plan to repair it, whether it's a clog, a leak, or another issue. By getting a good understanding of the problem sooner, we can formulate an effective plan to address it faster. We never have to second-guess. We know before work even begins.
Jetting Machine for Clearing and Cleaning Pipes
Some of our other commonly used high-tech tools include our high-pressure jetting machines. Foams, snakes, plungers, augers, and other traditional tools work just fine on many clogs, but they're not always the most effective choice. Our team utilizes jetting machines to force hair, paper, and waste clogs from the lines and clean up any sludge adding to the issue.
Our jetting machines take care of even very serious clogs quicker and more effectively than traditional methods. This allows our plumbers to take care of your plumbing emergency faster and get your home or business back to normal sooner. These innovative machines give us a significant advantage over many plumbing companies still relying on snakes and foams to clear tightly clogged lines.
While you might expect a premium price for these high-tech services, we offer more competitive pricing than other plumbing companies in Hialeah. This is true for emergency and standard calls, as well as for business or residential services.
Call Joe Hillman Plumbers About Your Hialeah Plumbing Emergency!
If you have a plumbing emergency in your home or business, call Joe Hillman Plumbers now at (954) 601-3286. We monitor this line 24 hours a day so you can connect with a team member right now. We have caring, certified plumbing technicians in Hialeah who are ready to help.