Joe Hillman Plumbers has served the Miami-Dade area for 35 years. Our licensed professionals offer a wide range of services across Miami-Dade County, including help with water or gas lines, leaks, clogs, diagnosis, repiping, repairs, installation, and more.
Our Hialeah plumbing services include commercial and residential plumbing. We also provide emergency plumbing services and have technicians available 24 hours a day and seven days a week. Call Joe Hillman Plumbers at (954) 601-3286, we are ready to go to work for you.
Plumbing Services We Provide in Hialeah, Florida
At Joe Hillman Plumbers, our certified technicians are available around the clock to help with emergencies, emerging concerns, nagging issues, and future planning. Our team of plumbers can diagnose and repair your water pipes, gas lines, fixtures, water heaters, and most appliances that require water or heat.
Some of the most common tasks we take care of for our customers include:
Leak detection
Leak repairs, including slab leaks
Emergency repairs
Clog clearing
Drain cleaning
We also help clients who have a problem and require:
Gas line repairs
Sewer line repairs
Water heater repair and installation
We work with clients who want to be proactive about their plumbing needs or want to upgrade their fixtures or appliances. These services include:
Video inspection of water and sewer lines
Faucet installation
Toilet installation
Whole house repiping
Appliance installation
Our Most Common Jobs
Our clients depend on us to provide effective, efficient service at a competitive price, and we are proud to provide it. When they call, we assign a technician with the experience, training, and knowledge to help. We do things right the first time. Some of our most Hialeah plumbing services include:
Emergency Services for Leaks and Clogs
We have team members monitoring our phones 24/7. We have someone available when your plumbing emergency happens, regardless of the time or day of the week. We can have a technician to your home or business quickly to deal with a leak, clog, or concern about a gas line or appliance.
We only hire certified and licensed plumbers who we know can get the job done. You can count on the Joe Hillman Plumbers team to be at your door quickly, handle your emergency, and charge a fair and competitive price.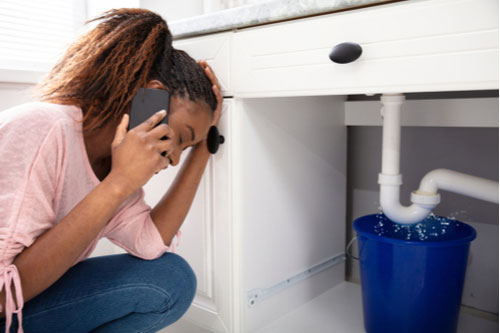 Helping Customers Find Leaks
Customers often need our expertise when they have indications of a leak but are not sure what is happening. They may hear a drip or rushing water, see mold or mildew, have unusual wet spots on ceilings or walls, or receive an unusually high water bill.
Our team has the knowledge, experience, and technology to track down a water leak in your home or business and repair it. In addition to the pipes and fixtures inside your home, we diagnose and repair water line leaks, sewer line leaks, and slab leaks.
Slab Leaks Occur Frequently in Hialeah
Many Miami-Dade County homes are on a slab foundation. With the salt water, frequent rain, and damage from hurricanes and other storms, these concrete foundations often suffer significant damage. This can also damage the plumbing inside the foundation, including water lines and sewer lines.
Our team at Joe Hillman Plumbers knows how to diagnose and repair slab leaks and help prevent similar issues in the future.
Those Repairs You Are Putting Off
Many of us have nagging plumbing issues we keep putting off, whether it is a dripping faucet or a toilet that refills on its own. While they are not a major cause for concern, they are contributing to a higher water bill. These are usually quick, inexpensive repairs. You may even plan to handle them yourself. But when? Let our technician take a look and give you a fair price to do the job for you.
Renovations and Installation
Our technicians can help you with an upgrade or renovation by handling all your fixture replacements and installing your new appliances. We can even help you develop more significant renovation plans if you are considering moving a toilet or installing a soaking tub.
We Employ the Latest Technology
We believe that our licensed technicians are our greatest asset. However, we also believe in equipping them with the tools they need to get the job done. This is why we invest in the latest in plumbing technology to support our knowledge and skill. Depending on your needs, we may use one or both of our most high-tech tools for your repair.
Sewer Camera for Leak Detection or Locating a Clog
Our team has a cutting-edge sewer camera we can run into your lines to determine where the problem lies. We can get live, high-definition, clear video and images inside your pipes in only a few minutes. This allows us to understand if there is a clog or leak and formulate a plan to clear it quickly.
It may also help us understand other problems with your lines, such as poorly aligned pipes or damage that is causing ongoing issues. We do not have to make an educated guess—we can just look and see what is happening.
High-Power Jetting Machine to Clear Clogs
Traditionally, plumbers use foams, snakes, augers, and other tools to remove clogs and sludge in pipes and drains. While these are effective for hair and soap buildup, toilet paper, and other waste, they can take time.
At Joe Hillman Plumbers, our technicians have access to high-pressure jetting machines. These work much faster and are more effective than the traditional tools used on tough clogs. If your technician opts to use this high-tech tool on your sink, tub, toilet, drain, or other pipes, you can count on your home or business returning to normal soon.
Call Today for the Best Hialeah Plumbing Services!
Joe Hillman Plumbers opened its doors in 1987 and has met the commercial and residential plumbing needs of the greater Miami-Dade area ever since. We are still a family-owned and operated business, and we take pride in our work. We hire plumbers who like to help people solve their plumbing problems, and our customer testimonials show it.
Call Joe Hillman Plumbers today at (954) 601-3286 to get a technician on the job as soon as possible. We have someone available to help you 24/7 with your Hialeah plumbing emergency.