Whether you own a business, residential property, or home, emergency plumbing situations pose a serious threat to how your life operates. Emergency situations can result in severe water damage, mold growth, property damage, and other problems affecting your safety and finances.
Many people believe they can fix plumbing issues on their own by using homemade or store-bought methods. However, these solutions often lead to more issues in the future. At Joe Hillman Plumbers, our mission is to fix your plumbing troubles the first time and ensure that it never causes a problem again.
When you need Deerfield Beach emergency plumbing services, our plumbers are ready to examine the situation, identify the problem, and find a quick, effective solution. To get your plumbing up and running smoothly, reach out to Joe Hillman Plumbers today at (954) 601-3286.
Why Choose Joe Hillman Plumbers to Help With Your Plumbing Emergency?
Joe Hillman Plumbers has over 30 years of experience serving the people of South Florida. As we have expanded over the years, our service has never faltered. We commit to providing our customers with the best plumbing services possible, and we back that up with how we operate.
We Are Available 24/7, 365
We know that plumbing issues do not follow a timeline. Whether you need us at noon on a Tuesday or midnight on Christmas, we are available to help you. Our technicians are always on call and ready to come out and resolve your plumbing emergency.
When a plumbing emergency arises, time is of the essence. An emergency left unaddressed for even a short amount of time can cause severe damage to your property and even your health.
When you choose Joe Hillman Plumbers, you do not have to worry about waiting until the next morning to call to have us fix an emergency plumbing issue. Usually, by the next morning, a small problem has become much more severe. Instead, all you need to do is pick up the phone and call us, so we can send someone out to help you.
We Offer Financing Options
Emergency plumbing services can be expensive. However, continued damage caused by emergency plumbing issues can be even more detrimental to your overall financial situation.
We want to ensure that our customers elect to have their plumbing issues resolved properly. That is why we have partnered with GreenSky to offer helpful financing options.
GreenSky is a loan program designed to help you obtain all the plumbing services that you want and need. To learn more about whether a GreenSky financing option is right for you, speak with your plumbing technician.
Our Technicians Are All Trained in Plumbing and Customer Service
At Joe Hillman Plumbers, we do not just hire anyone. We carefully select each of our plumbing technicians, not just on their ability to address plumbing issues but also on how they represent our company.
Our Customers Can Attest to Our Quality Service
We have helped hundreds of South Floridians with their plumbing issues in our decades as a company. Check out what a couple of our customers had to say.
"I used Hillman Plumbing to fix the valves in the two bathrooms in my house. Tony came out and did an excellent job. He was very professional and gave me great suggestions to fix the problem that I had. I would recommend this company to anyone with plumbing issues." – Isla H.
Throughout the job process they were completely focused. I really felt I was dealing with professionals, and that is a great feeling! As for the job itself, there are such clean cuts to the wall and the pipes are laid out so beautifully, it's like an art piece. Very impressive! " – Jessica R.
We're ready to get to work for you today!
No Matter How Big the Job, We Stand Ready to Assist You
During our 30 years serving the people of South Florida, we have built up our workforce and increased our equipment inventory. These resources allow us to take the time to handle even the biggest of plumbing projects.
If a job is going to take weeks to complete, we have the workforce and equipment to get it done right.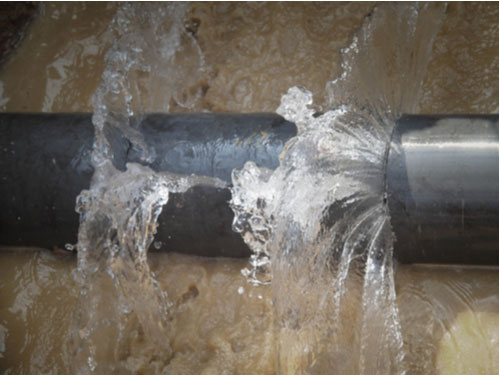 What Qualifies as a Plumbing Emergency?
Nearly any plumbing issue qualifies as a plumbing emergency. Whether you have a severe leak or your water heater is not working properly, you should treat every situation as if it needs to be fixed as soon as possible. The longer you leave a plumbing issue untreated, the more likely you are to experience serious damage.
Drain Clogs
Drain clogs are one of the most common plumbing issues and one of the most common issues that people try to fix themselves. Drain clogs can pose serious threats to your health and the integrity of your plumbing infrastructure.
If a drain clog is left untreated, it can lead to busted piping, severe leaks, and sewage backups. If you have a drain clog, you should have a professional take care of it for you. A do-it-yourself home remedy may work temporarily, but over time, your pipes could suffer wear and tear, leading to bigger problems.
Sewer Line Damage
A raw sewage backup can cause severe health problems. If you notice that raw sewage is coming out of your drains, toilets, or sinks, then you should seek help from a plumbing technician on our team immediately.
Sewer line damage may also present itself in your front or backyard. If you notice that still water is forming in your yard without any known reason, it could be that the sewer line has been damaged and is leaking.
Water Line Damage
If you notice a leak, a lack of water pressure, or signs of mold, you may have water line damage. You must take care of these problems as soon as possible.
An untreated leak can lead to severe property damage, while mold and a lack of water pressure can cause the weakening of pipes and the areas around them.
Gas Line Damage
Our plumbing technicians can also treat gas leaks and gas line repairs. Gas leaks can lead to serious health problems and severe damage to property if they go unnoticed.
Gas is highly flammable, and if you do not repair a gas leak, you put your property at a higher risk of a fire or explosion.
You can often smell a gas leak, but sometimes, you may not notice them at all. If you do not smell a gas leak, but you are suffering from shortness of breath, concentration problems, unexplainable fatigue, and headaches, you may have a gas leak on your property.
Slab Leaks
Slab leaks can cause damaging results to your property, mold growth, or even partial or total collapse if you don't address it soon.
If you notice a slab leak, consider hiring one of our technicians as soon as possible so we can detect your problem and come up with a solution.
We Provide Emergency Plumbing Services for Commercial Properties in Deerfield Beach
Our goal is to be a one-stop shop for all of your plumbing service needs. That is why our technicians are experienced in providing services not just for residential properties but also for commercial properties.
Commercial properties tend to require larger equipment, and you may need services for longer than you thought. At Joe Hillman Plumbers, we have the staff, the equipment, and the time to ensure that even the most intense commercial plumbing job is done correctly.
We have performed plumbing services for various commercial clients, including those who own:
Hotels
Condos
Supermarkets
Restaurants
Large retail corporations
Small shops
We offer the same services to our commercial clients as we do to our residential clients. You must address commercial plumbing emergencies as soon as possible, as failing to do so can affect your business and the health and safety of those who live on or visit your Deerfield Beach property.
Get the Best Deerfield Beach Emergency Plumbing Services!
Unattended emergency plumbing issues can lead to severe complications. Your health, finances, home, and/or business can all take a turn for the worst when a plumbing issue wreaks havoc on it for too long. You may think that you can fix a problem yourself, but your solution may, unfortunately, just prolong the inevitable need for serious intervention.
Our plumbing technicians are always on call and ready to assist you with your most urgent plumbing needs. Do not wait until a problem becomes unmanageable. Connect with Joe Hillman Plumbers at (954) 601-3286 to learn more about the Deerfield Beach emergency plumbing services we provide.