Plumbing issues can put a huge damper on business operations, especially if the issue gets out of hand. Having a Deerfield Beach commercial plumbing service near you can help sort out every issue, big or small, and get things back on track.
Whether you need sewer line installation, water line repairs, or a leaky faucet fixed, you can count on skilled plumbing services in Deerfield Beach from Joe Hillman Plumbers to get the job done.
Commercial Plumbing for Hotels, Condos, and More in Deerfield Beach
Joe Hillman Plumbers caters to a range of businesses' commercial plumbing needs. With all of our commercial services, so you have the peace of mind that your plumbing needs are taken care of.
Whether you need major repairs or routine maintenance, our experienced plumbers are here to help with businesses such as:
Hotels
Restaurants
Condos
Large and small retailers
Supermarkets
Deerfield Beach Commercial Plumbing Services We Offer
Deerfield Beach business owners rely on us for our fast and reliable plumbing services. We can help with small and large-scale projects to satisfy all your commercial plumbing needs. We are confident we can help with your plumbing problems in areas concerning:
Regular maintenance
Routine inspections
Drain cleanings
Leak repairs
Bathroom and kitchen fixture installations
Water heater installation and repair
Repiping
Gas line installation and repair
Sewage line installation and repair
Sump pumping
If you do not see a commercial plumbing service listed here, rest assured that Joe Hillman Plumbers has seen a wide range of commercial plumbing problems, and we are happy to assist with any repair or service you need.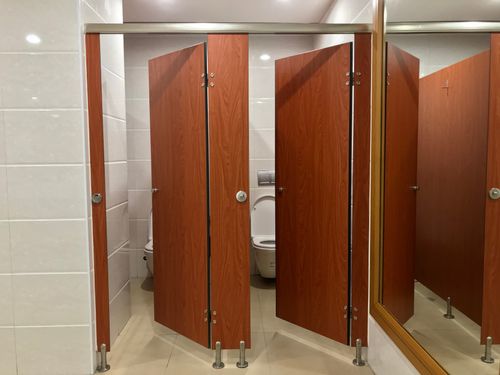 Detecting Commercial Leak Issues in Deerfield Beach
One of the most frequent problems we see in commercial buildings is leaky pipes. Commercial buildings are large, and that can make it difficult to determine if and where you have a leak. Even minor leaks can become a big problem; water damage can be costly to repair and can lead to wood rot, mold, and other issues that may require more costly renovations.
Joe Hillman Plumbers can inspect your plumbing and determine if you have any undetected leaks. Some signs that you may have a leak somewhere in your building include:
A mysteriously rising water bill
Hearing running water when no faucet is being used
Mold growing on floors, ceilings, or walls
Cracks appearing in your building's foundation
Impressions in the wall where there were none before
While emergency plumbing situations are always possible, this is not the only time you should seek plumbing services. Nobody wants to end up in a situation where they need to manage a plumbing emergency, and we're here to make sure you can prevent that. Routine maintenance and preventative plumbing services can help you avoid catastrophic commercial plumbing disasters.
Common Commercial Plumbing Issues
Small plumbing problems can spell disaster for your business, especially if they are not taken care of early on. Signs that you are on your way to a major plumbing issue are not always apparent, and usually, they start small or are undetectable. Common plumbing issues that can lead to a larger plumbing problem in the future can include:
Backed-up or clogged toilets
Clogged and slow-draining sinks
Leaking pipes or faucets
Broken bathroom or kitchen fixtures
Low or intense water pressure issues
Frequent flooding
Sewage odors
If you notice a persistent plumbing issue, you are likely on your way to a bigger problem in the future. We serve the Deerfield Beach area and provide commercial services to large retail chains, independent businesses, and many commercial facilities in between.
Regular Maintenance and Cleaning Services
Clogging is a common issue with commercial buildings. Slow draining sinks back up water fixtures, and foul odors may just need a good cleaning to get working again. Scheduling routine snaking and frequent pipe cleaning can keep your plumbing system from backing up and causing unforeseen problems in the future.
Joe Hillman Plumbers offers the following services to help keep your pipes clear and prevent plumbing issues from developing:
Drain snaking
High-pressure water jetting
Video inspection
Testing for Commercial Backflow Issues
Back-flowing water is a huge cause for concern because it means contaminated water can seep into your building's clean water supply. Stay ahead of this issue and keep up with regular inspections of your building's backflow prevention systems. Keeping your system up to date and in top condition can prevent backflow issues and ensure your patrons and staff are safe from contaminated water supplies.
How to Know if You Have a Plumbing Emergency
While you may think that some plumbing issues can be put on the backburner, it is better to address them sooner than later. Waiting until a problem gets too big to manage can cost you and your business more money in the long run. When trying to determine if you have a plumbing emergency, consider the following:
Are you immediately reliant on the plumbing issue in question? For example, can business resume as usual without using that particular sink or water fixture? If not, you may want to consider seeking emergency plumbing services.
Do you have to turn your water off to keep the problem from getting worse? Most businesses are reliant on a steady and clean source of water. If you have to turn off your water source for the day, it's time to call a plumber.
Are you responsible for fixing the problem? Facility owners and apartment renters are typically expected to fix or notify landlords of plumbing issues promptly. Other times, the city may be responsible for fixing things, such as when there's a main sewage line issue. Most other issues will be your responsibility to take care of, and the sooner you call a plumber, the better.
Commercial Water Heater Emergencies
When your building's water heater breaks, getting a new one or a repair is your business' top priority. Water heaters are responsible for not only heating your water supply, but a faulty appliance can cause significant property damage.
Most commercial water heaters can hold an average of 100 gallons of water, which is enough to cause significant water damage to your building's infrastructure in the event of a leak or flood. Signs that you are dealing with a water heater emergency include:
Water pooling around the water tank
Corrosion of the unit
Needing to manually adjust the tank to higher temperatures
Rusty or dirty water coming from hot water taps
Water that is either always too hot or too cold
Rumbling, banging, or popping noises coming from the unit
If your water heating unit is over ten years old or is showing signs of severe wear and corrosion, you may be at risk for a water heater explosion. Any sign of a malfunctioning water heater should be addressed immediately to avoid an explosion from happening.
Do You Need Commercial Plumbing Services Today?
When you need speedy plumbing repairs in Deerfield Beach, Joe Hillman Plumbers is always available, day or night, to take your call. We understand the importance of addressing plumbing problems as soon as they arise, and we want to be the professional service you rely on to keep your business running.
Financing Available with GreenSky
Need a little help with covering the cost of your commercial plumbing job? No problem. Our partnership with GreenSky Financial is here to help our customers achieve affordable and stress-free financing. With financing from GreenSky Financial, you can expect your next commercial plumbing project to be a breeze with:
Fast and easy approval
Up to $65,000 in credit
Multiple payment options
A range of financing plans that work with your financial needs
A reduced interest rate for 96 months
Joe Hillman Plumbers is the Best Choice for Your Commercial Plumbing Needs
Get an accurate estimate for your commercial plumbing needs today with Joe Hillman Plumbers in Deerfield Beach. We are confident in our work, which is why we offer a money-back guarantee. Our plumbers are licensed and insured and are highly trained to handle every plumbing installation and repair need.
Joe Hillman Plumbers has been in the business for over 30 years and has a team of highly knowledgeable plumbers ready to help with your commercial plumbing needs. The Better Business Bureau (BBB) gives us an A+ rating, and our customers on Yelp, Google, and Facebook speak to our commitment to service in the South Florida area.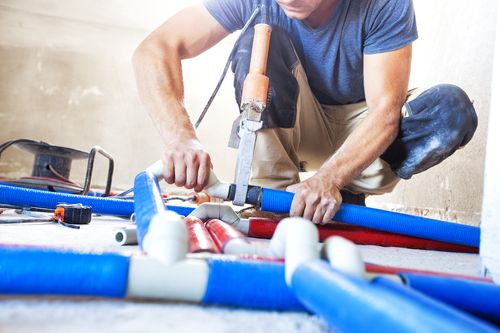 Schedule a Deerfield Beach Commercial Plumbing Service Today
If you need emergency plumbing service or a routine commercial plumbing check-up, call Joe Hillman Plumbers today at (954) 283-5479.
We're available 24/7 to help with all of your commercial plumbing needs, so you can keep business running as usual.