Is your Cooper City property suffering from a leak, backup, or serious blockage? You probably have a plumbing emergency on your hands.
At Joe Hillman Plumbers, we offer 24/7 emergency plumbing services in Cooper City for homes and businesses. For small scale-emergencies, we can fix the issue the day you call us. For large-scale issues, we may give you effective, short-term solutions to prevent further damage until we can fully assess and address the problem.
There's no time to wait. Call Joe Hillman Plumbers at (954) 601-3286, and we can dispatch one of our Cooper City emergency service plumbers right away!
The Best Emergency Plumbing Services in Cooper City, FL
Put Joe Hillman Plumbers on speed dial for emergency plumbing services in Cooper City. We're proud to offer emergency plumbing services 24/7/365. We know how devastating a plumbing emergency can be to a property, and we want to protect your home or business from suffering further damage.
Our plumbing technicians serve customers in and around Cooper City, so we can quickly dispatch one of our team members to your home or business. We keep our vehicles stocked with vital tools, so we're always prepared for every plumbing emergency. We work with haste and skill so that we can resolve your plumbing emergency quickly and effectively.
Emergency Plumbing Services for Homes and Businesses
We are trained and licensed to address plumbing emergencies in homes and various commercial properties.
Whether you own or rent the house you live in, you can call Joe Hillman Plumbers to fix any plumbing emergency in your home. If you're a landlord with a plumbing emergency at a rental property, we can take care of that, too.
We help many businesses local to Cooper City, both big and small. We're equipped to handle plumbing emergencies at many types of commercial properties, including the following.
Restaurants
Hotels and resorts
Local shops
Large retailers
Supermarkets
Condo complexes
Most Common Plumbing Emergencies We Handle in Cooper City, Florida
The plumbing technicians at Joe Hillman Plumbers are ready to handle any plumbing emergency in Cooper City. Here are some of the most common plumbing emergencies we solve.
Clogged Drains
Hair, grime, food, and foreign objects can clog any drain in your house. Clogs can cause an overflow, flooding, burst pipes, and long-term damage to your plumbing system.
We use industry-grade solutions and tools to safely and effectively clear a drain, no matter how deep the clog is. Our technicians can also fix issues with kitchen sink drains, garbage disposals, bathroom or utility sink drains, and more.
Tub and Shower Issues
We can handle plumbing emergencies for tubs and showers in homes and commercial properties, like gyms and hotels. Leaky faucets, clogged drains, and low water pressure are a handful of the plumbing emergencies we see in tubs and showers.
Hair and soap grime are two of the most common culprits in blocked tub and shower drains. These can cause an overflow, burst pipes, or long-term damage to the system. There could be an issue with the waterline, like a kink preventing water from flowing through to the faucet. Alternatively, the faucet itself could be blocked or improperly connected, preventing good water pressure.
Toilet Issues
When you have a toilet that just won't unclog, you have a plumbing emergency on your hands — especially if it's the only toilet on your property. We can investigate the cause of the clogged toilet, which could be waste buildup in your sewer system, a connection issue, or a blockage in the toilet's piping.
We also handle leaky toilets, which can cause water damage in your bathroom. We may repair a broken toilet part, fix a worn or broken pipe, or replace the toilet altogether.
Running toilets are another plumbing emergency, as they can lead to an unusually high Cooper City water bill. This is a sign of a potential plumbing issue.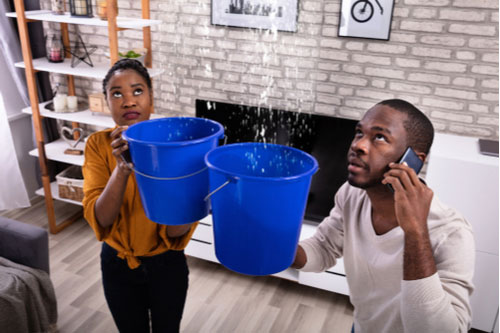 Water Pressure Problems
If your faucets, shower, or toilet have low water pressure, we can investigate your water line, facility connections, and the facilities themselves.
Once we identify the source of the low water pressure, we can repair or replace any parts or facilities to get your water pressure back to normal. It's common to have to repair a water line, reconnect waterlines to toilets and faucets, or clear blockages in the waterline.
Water Heater Problems
We need hot water for so many things, like washing the dishes and taking a shower. Hot water is as important in homes as it is in commercial properties. If your home or commercial property isn't getting hot water, your water heater could be broken. We can repair and replace broken water heaters. We can also fix gas line issues that prevent gas-powered water heaters from working.
We can also address issues where your water is only scalding hot, which can cause serious injuries. We'll make sure the connections for cold and hot water work, check the temperature and other settings on your water heater, and repair any parts affecting the temperature calibration on the heater.
Sewage System Blockage
If you have a sewage backup in your home, commercial property, or outside on your property, that's probably a plumbing emergency. Material and waste can block your sewage system, causing a very unsanitary overflow. Alternatively, there could be roots, plant debris, and other outside materials preventing your sewage from draining properly.
We can investigate inside and outside your home to understand what's causing the blockage and work to clear it out, so your system gets back to normal. If there's a much more serious issue affecting your sewer system, we can make sewer line repairs.
Septic System Overflow
Some homes in South Florida run on a septic system. If your septic system doesn't work or overflows, you need Cooper City emergency plumbing services ASAP. Like sewage system blockages, a blockage in your septic can cause an unsanitary overflow inside or outside your property.
Roots, debris, waste, and other material can get stuck in a septic system, preventing proper flow. Alternatively, a tank can get clogged up and need to be pumped, according to the Environmental Protection Agency (EPA). Other issues that can prevent a septic system from working include mechanical issues with the pump system, which we can regularly inspect.
Our Plumbers Serving Cooper City Also Specialize in Prevention
After we resolve your plumbing emergency, we can help you prevent future emergencies.
The first step in prevention is regular inspections. We can come to your property, check on the work we did to stop the plumbing emergency, and assess your plumbing to identify any other issues. We'd be happy to discuss our rates for regular inspections. Depending on the condition of your plumbing system, we can recommend either annual or biannual inspections.
We may find that your property needs additional work to prevent future plumbing emergencies and improve how your system functions. Here are other services we can provide.
Drain cleaning: We can clean out your drains to prevent clogs, backups, and long-term damage to your plumbing system.
Leak detection: We can inspect your home or business to identify any hidden leaks.
Slab leaks: A slab leak occurs under the foundation of your property. It can mess with the structural integrity of your home or business. We can identify signs of slab leaks and even break up your foundation to fix the issue.
Whole-house re-piping: If your plumbing system is outdated, worn, or poorly installed, we may recommend a whole-house re-pipe to improve your entire system.
Installations: Some plumbing emergencies come from improperly installed toilets, faucets, sinks, tubs, and other plumbing facilities. We can handle the installation, so you know it's done right.
Why You Should Have an On-Call Emergency Plumber
When you already know which local plumbing company you can trust, you spend less time spent finding a reliable plumber and more time stopping the emergency from causing more damage.
Your home is a valuable investment. When a plumbing emergency strikes, it puts this investment, your savings, and your safety at risk. However, having a go-to plumber helps you better protect your investment. You can quickly get someone to your house to prevent further costly damage.
A business is an investment, too. You need every element of your building to work so you can serve your customers and make money. You can save time on researching the best plumbers in Cooper City and trust Joe Hillman Plumbers to protect your commercial property from a plumbing emergency.
Got a Plumbing Emergency in Cooper City? Call Joe Hillman Plumbers Now!
If your property faces a plumbing emergency, you don't have to wait until the morning or the next available appointment to get a Cooper City plumber to your home or business. Joe Hillman Plumbers is here to take your call now. Don't wait. Reach out to us at (954) 601-3286 today!