Nothing slows a business down more than plumbing issues. Your business needs clean and reliable water to keep things running, and efficient water flow starts with good plumbing. If you need Cooper City commercial plumbing services, call us today at (954) 601-3286.
Joe Hillman Plumbing is standing by with a team of professional and experienced plumbers. We're equipped to help you with all of your business's plumbing needs – whether they're big projects or smaller repairs, we're here for you 24 hours a day.
Everyday Emergency Services Provided Anytime You Need Them
Some plumbing issues can wait until the morning – and some can't. Sometimes you need a plumber ASAP, which is why we provide emergency plumbing services for commercial properties, even after hours when other plumbers aren't open. Not sure if you have a plumbing emergency on your hands? Ask yourself the following questions:
Can your business run as usual without fixing the problem? (For example, as an apartment landlord, are your tenants complaining about a lack of heated water? Or for a restaurant owner, is your dishwashing station too backed up to be used?)
Have you turned off the water completely to avoid making the problem worse?
Is there major flooding or water spraying out when you try to use the water?
Is your water running brown, black, or another unsavory color?
Are you immediately responsible for fixing the issue at hand (versus the city or building owner)?
If you answered yes to any of these questions, you probably have a plumbing emergency on your hands that Joe Hillman Plumbers can help you take care of. Call to schedule an appointment to meet with a plumber to discuss your needed Cooper City commercial plumbing services.
Commercial Plumbing for Hotels, Condos, Retail Businesses, and More
Joe Hillman Plumbers have served the South Florida area for over 30 years, helping both big and small businesses with every plumbing need. We provide services for large-scale renovations, small repairs, routine inspections, and everything in between. No matter what your plumbing need is, we're here to help!
We offer a range of plumbing services for commercial businesses including:
Sewer Line Repairs
Water Line Repairs
Gas Line Repairs
Kitchen and Bathroom Fixture Installations
Re-Piping
Video Inspections
Drain and Pipe Cleaning
Routine Maintenance and Cleaning
The best way to ensure you don't have a major plumbing issue is to keep up with periodic maintenance and inspections. Clogged pipes are one of the most common (and most frustrating) issues for business owners. Slow-draining sinks and foul odors can be a sign that your building may need a good cleaning to get unclogged and working again.
Schedule our routine snaking and cleaning services to keep things clear and prevent further plumbing issues from developing. We can tell you if there's a major clog or if you're on your way to one and help clear it up in no time. Our video inspection services help our plumbers analyze your building's pipes to discover the source of any obstructions and clear any problems with our high-pressure water jetting or drain snaking tools.
Leak Detection and Repair
Leaky pipes often go undiscovered in commercial buildings because they can be hard to locate or even detect in the first place. Minor leaks can turn into huge issues. Water and property damage caused by molding or rotting wood can lead to costly renovations and wasted water that can hike up your water bill. Joe Hillman Plumbers can inspect your pipes and determine if you have any surprise leaks.
Signs that you may already have a leak that has gone undetected include:
Hearing running water even when no water is being used
Growing mold, especially along pipe routes or near water fixtures
Cracks in your building's foundation or walls
Gaps appearing between tile grout
Crumbling plaster
Water stains appearing on walls, floors, or ceilings
Impressions, dents, or blistering paint appearing on your walls
Random puddles or pools of water
Low water pressure
If you notice a persistent problem or an odd issue that affects your building's plumbing, it is likely a sign that you are on your way to a larger plumbing issue. Taking care of these issues early on is your best chance at avoiding major renovations and other costly repairs.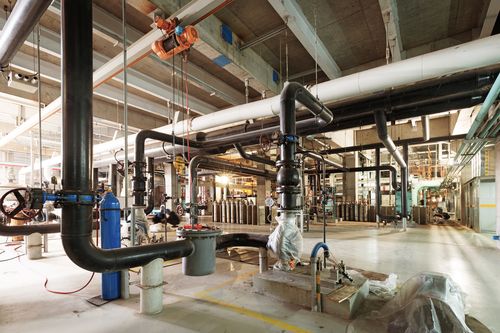 Water Backflow, Clogged, or Broken Fixtures
Back-flowing water is a huge issue for commercial buildings. Back-flowing water caused by clogged pipes, or a faulty backflow prevention system can contaminate your building's water supply and put employees and patrons at risk for serious health issues. Joe Hillman Plumbers can inspect your backflow prevention systems regularly to make sure this doesn't happen, as well as replace any old or outdated parts.
Gas, Water, and Sewer Line Installation and Repair
Need a full-scale revamp on your piping systems? Joe Hillman Plumbers can help get your water, gas, and sewage lines moving again! No job is too big or small. Our experienced plumbers can repair damaged lines and provide proper replacement or installation as needed.
Our professional plumbers can help inspect and diagnose any pipeline issues and determine if you need a repair or replacement. They will work quickly to get your gas, water, and sewer lines fully functioning so you can return to business as usual.
Commercial Water Heater Repairs, Installation, and Inspection
Water heaters usually need to be replaced every ten years, but some can begin experiencing issues earlier than that. Water heaters not only heat your water but can cause significant property damage if left in disrepair. Stay on top of your building's hot water needs by taking care of water heater issues right away.
Commercial water heaters are capable of holding over 100 gallons of water. A broken or damaged water heater can spell major disaster for your property's infrastructure by causing water damage, flooding, and even explosions.
If your water heater is experiencing one of the following signs, you may want to consider having it repaired or replaced:
Pooling water outside of the water tank
Corrosion or discoloration of metal on the unit
Rusty-tasting water from taps
Water discoloration or evidence of sediment
Difficulty getting water temperatures to adjust
Rumbling, banging, and other loud noises coming from the tank
Holes or other signs of deterioration
If you have a particularly old water heater or notice any severe signs of wear, you are more at risk for a water heater tank explosion. Any signs of a faulty water heater should be addressed immediately to make sure an explosion or other tank failure does not happen.
Why Hire a Cooper City Professional Commercial Plumber
You may think that some plumbing jobs are DIY projects. No matter how confident you may be about fixing even the smallest plumbing issue, some issues truly need professional care. Major renovations require you to follow city and state-regulated codes, and any violation of these guides can result in unsafe conditions, hefty fines, and even the closure of your business.
Even minor repairs and fixes can result in serious code violations if you are not careful. Florida requires that pipelines fit in specific ways to prevent water damage and contamination. Some piping materials become corroded over time and can spread harmful deposits. Consuming these deposits can cause severe illness, which can spell disaster for both your business and public safety.
A professional plumber with Joe Hillman Plumbers can bring and keep your building up to code. Working with experienced plumbers is the best thing you can do to ensure your business stays open and in perfect condition.
Joe Hillman Plumbers is Your #1 Choice for Every Cooper City Commercial Plumbing Service
Joe Hillman Plumbers has been serving the needs of Cooper City businesses for over 30 years with our team of licensed, insured, and knowledgeable plumbers. Joe Hillman Plumbers work with a professional and friendly attitude and come equipped to help with quality equipment and appliances for top-tier performance.
We're so confident you'll love our work that we offer a money-back guarantee on all of our commercial plumbing. Every project also comes with a 3-year, 3-month, 3-day clog-free water flow guarantee so you can enjoy clear and quality plumbing without worrying about a re-clog. We also offer quality fixture and appliance functions for up to one year following installation.
Pay Later with Financing from GreenSky Financial
Major projects can be costly, and we know it's important to stay on top of your commercial plumbing needs. We've partnered with GreenSky Financial to help our customers find affordable options for stress-free financing on all of their plumbing projects. Enjoy fast and easy approval and quality customer service from GreenSky Financial as well as:
Up to $65,000 credit
Multiple payment plan options
Zero interest on financing when you pay in full within 12 months
A range of financing plans to fit your budget
A fixed interest rate for the first 96 months
Visit our financing page to see how GreenSky Financial can help you get started on your next commercial plumbing project.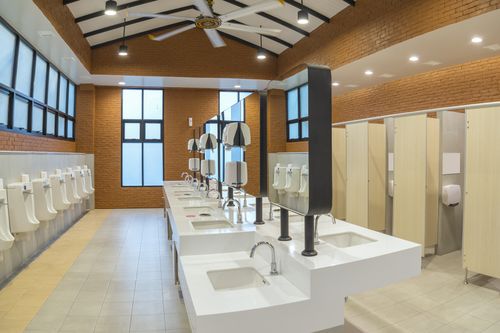 Call Today to Schedule an Appointment with Joe Hillman Plumbers For Your Cooper City Commercial Plumbing Needs
With two locations, we service many areas in the south Florida area and are available whenever you call. For any commercial plumbing needs, you can visit our Davie or Port St. Lucie offices to find out how our plumbers can help today, give Joe Hillman Plumbers a call, or schedule a service online.
We are here for your Cooper City commercial plumbing needs. We're open 24 hours a day, 365 days a year. Call us at (954) 281 – 3339 to get started on your commercial plumbing project today!