Plumbing issues can occur at a moment's notice without warning—and they are almost always inconvenient for homeowners and business owners alike. From clogged drains to leaks, people faced with a plumbing problem suddenly have to find a solution fast to avoid damage to their property and keep all the occupants inside safe.
At Joe Hillman Plumbers, we understand how urgently our clients need to resolve their plumbing issues. Our team of plumbers serves various cities throughout South Florida, including Cooper City.
If you need Cooper City plumbing services, you can speak with one of our sales agents, who will set up an appointment for your property. We always have plumbers on call for emergencies, so we can send someone for repairs on the same day you contact us.
Have a Plumbing Emergency in Cooper City, FL? Our Team Can Help You
Whether you have a major leak in your commercial building or your toilet is overflowing at home, plumbing emergencies can cause panic for both residential and commercial clients. However, you do not have to panic—just call Joe Hillman Plumbers and have one of our plumbers report to your location for quick inspection and repair.
At Joe Hillman Plumbers, we offer emergency repair services in Cooper City and the surrounding areas. As such, we guarantee that we will:
Be able to send someone to fix your plumbing, even if you call outside of regular business hours (such as weekends or evenings), because we provide 24/7 service for worst-case scenarios
Be able to serve you on the same day you call, which can help prevent or reduce further damage from occurring
Bring enough equipment to handle nearly any kind of plumbing issue
If your emergency requires further maintenance or rebuilding your pipe system altogether, we can set up a schedule of appointments based on the amount of work necessary and provide you with cost estimates.
Consider Joining the Joe Hillman Services Membership Program
The Joe Hillman brand provides various home and business services throughout South Florida, from plumbing to HVAC maintenance and repair. We offer a special membership program to residential and commercial clients, which can help them reduce the cost of maintaining proper plumbing in their homes or commercial properties.
Some of the many benefits of joining the Joe Hillman Services Membership Program include:
Guaranteed same-day maintenance as a member (within four hours if you are a Platinum member!)
Save up to 15% on service and repair costs
Any parts needed to maintain your plumbing will be bought directly from the manufacturer to ensure that your system functions properly
An annual inspection of your home at no additional cost
When you join our membership program, you can enjoy discounts and other savings opportunities with any of our three Joe Hillman companies, including Joe Hillman Plumbers.
DIY Plumbing Can Cost You More Money in the Long Run
Many homeowners assume that they can resolve their plumbing issues on their own, especially with so many online tutorials available on YouTube. While online videos and guides can be great resources to fix minor problems, they still do not replace the education and expertise of professional plumbers. In some cases, homeowners may mistakenly make their plumbing issues worse.
Some common mistakes that homeowners make when attempting to fix their plumbing themselves include:
Accidentally breaking fixtures (e.g., toilets and sinks), pipes, and foundational materials
Not spotting signs of mold before applying new tile, new fixtures, or other remodeling materials
Using the wrong parts for their water line, gas line, or other plumbing systems, which could violate standards set by the 2020 Florida Building Code and put all residents of the home at risk
Using toxic combinations of chemicals that might damage pipes, resulting in erosion or rusting (especially if the pipe system is older than 20 years)
Causing leaks or not noticing signs of damage that can cause leaks in the future
Rather than give yourself an even bigger headache, you can hire a plumber from Joe Hillman Plumbers and leave the repairs, maintenance, and installation process to us. We will make sure that everything is fixed at a reasonable cost so you can enjoy your home again in peace.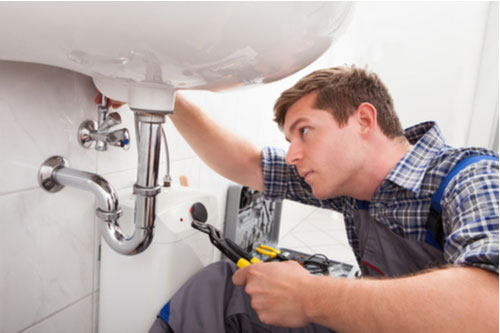 Leaks Can Cost Thousands of Dollars if They Go Unnoticed
About 10% of homes in the United States have leaks that cause 90 or more gallons of water to be wasted every day, according to the U.S. Environmental Protection Agency (EPA). Leaks and other plumbing damage can lead to higher water bills and thousands of dollars in repair costs if they go unnoticed for an extended period.
Our Team Is Licensed and Trained to Repair All Sorts of Plumbing Issues
At Joe Hillman Plumbers, we make sure that our technicians are trained to handle many types of plumbing system failures and errors, including:
Clogged drains
Clogged toilets
Leaks coming from pipes, faucets, or slabs
Water heater malfunctions
Water line and gas line malfunctions
Septic tank emergencies
Water pressure issues in your shower, sinks, and other faucets
Toilet damage
If you are interested in purchasing a new toilet, sink, or other plumbing-related fixture to resolve an emergency or because you want to remodel your home, our technicians also do installation services. We can discuss quotes on the cost of labor and materials, then set up an appointment to fulfill your project.
Call About Our Cooper City Plumbing Services Today!
Cooper City, Florida is one of our service areas at Joe Hillman Plumbers. Whenever you are facing a plumbing emergency or need plumbing maintenance at your property, our team is ready to serve you. We have been providing plumbing services in Cooper City and South Florida for over 35 years, and we have earned our reputation as a reliable plumbing company in Broward County.
Call (954) 601-3286 today to schedule your maintenance or repair appointment with one of our plumbers. Our sales agents can also provide free estimates for installation projects and answer any questions about our services.