Are you dealing with flooded pipes, a backed-up toilet, or other residential plumbing problems in or near Cooper City? Homeowners like you might not have time to deal with these kinds of problems. Joe Hillman Plumbers have been solving residential plumbing problems for over 30 years. With thousands of satisfied clients, we guarantee we can fix your problem the right way the first time.
The experts at Joe Hillman Plumbers are trained, licensed, fully insured—and ready to handle your Cooper City residential plumbing needs. We have the experience and the right tools to find the cause of your issue quickly. We know how to diagnose a problem and fix it before it gets any worse. But don't take our word for it. What our past customers say is more important than anything we can tell you.
Why Hire a Professional Cooper City Plumber?
Nobody enjoys paying for unforeseen home repairs. But trying to handle the problem on your own can be frustrating, time-consuming, or even dangerous. Below are some of the top reasons why you should call Joe Hillman Plumbers when you notice a problem in your home's plumbing.
Safety
Many plumbing problems are bigger than they appear. We have been diagnosing and repairing minor and major plumbing problems since 1987. We know how to fix any plumbing problem safely.
Vast Experience
Our plumbing experts have seen it all. What seems odd to you is something our team probably encountered last month. Rather than fighting a problem you don't know how to handle yourself, contact us to solve the problem quickly.
The Right Equipment and Parts
At Joe Hillman Plumbers, we have access to state-of-the-art tools and the correct parts for any plumbing job. Using our equipment, we can fix your issue the right way much faster than with the typical DIY methods.
Long-Term Savings
As you will see in the section below, repairing what may seem like a minor plumbing issue now can save you hundreds or thousands of dollars by preventing major repairs later.
The 5 Most Common Signs That Your Cooper City Home Needs Plumbing Service
Do-it-yourself television shows have made trying to fix everything yourself very popular. However, in real life, many plumbing issues are not as simple as they may seem. Experienced plumbers have likely seen everything. Even problems that seem unusual to you are things we have likely seen many times.
Not sure if you need a professional plumber? Below are common residential plumbing issues we deal with every day. Many of the household problems listed below may not seem serious, but without repairs, they can lead to severe consequences not only for your bank account but for your health and comfort, too. Ask yourself these questions to see if you need a professional plumber:
Do You Have Dripping Faucets?
You might look at that dripping faucet and think it's annoying but not worth the time or expense of a professional repair job. However, a leaking faucet may be hiding more problems below the surface.
A leaking faucet can add quite a bit to your water bill over time. All that wasted water adds up, and it's bad for the environment. Look at a dripping faucet just like an indicator light on your car's dashboard. It could be warning you of more serious issues. Ignoring these problems could mean bigger repair bills in the future.
Leaking faucets can lead to mold and mildew. When mold grows in your home, it can lead to serious health issues for you and your loved ones. That leaking faucet may not seem like much now, but it can become a serious problem if it's not fixed.
Does Your Toilet Run?
Running toilets waste a lot of water. If your toilet's running doesn't bother you, consider how much water it wastes. According to some experts, a toilet that runs constantly can waste over 3 gallons every minute. If you have a gallon of milk in your refrigerator, think about dumping the entire thing out…every 20 seconds.
That's a lot of waste. Just like a dripping faucet, a running toilet can spell doom for your water bill. Left untreated, it could lead to more serious repair needs in the future.
That loss of pressure can lead to clogged pipes full of water. That's a situation no homeowner wants to deal with. If you notice your toilet is running all the time, call the professionals before it gets worse. Your wallet and your nose will thank you later.
Are Your Drains Slow or Clogged?
If you see water draining from your sinks or bathtub too slowly, you likely have a clog. While it may not seem important now, clogs don't get better on their own. And left unchecked, they can lead to big plumbing problems and major headaches for you and your family.
Clogs can become harder to remove over time, resulting in a bigger repair bill for you. And your nose will notice the problem, too. Clogs can lead to stagnant water and foul smells. But that's not the worst scenario.
When a clog is not removed, it can lead to an increase in pipe pressure. Eventually, the pipe may burst, leaving you with an enormous mess to clean up and a major plumbing repair to deal with. It's far better to pay a professional to take care of a clog early before it turns into something far more serious.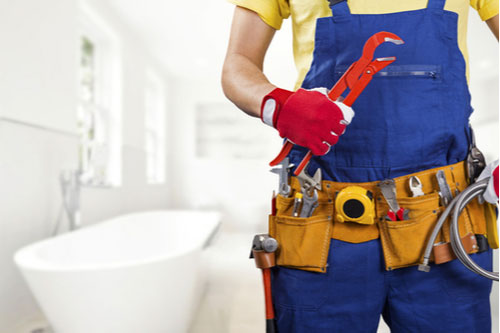 Are Your Pipes Leaking?
If you notice leaking pipes or wet spots on your ceiling or floor, call a professional right away. Leaking pipes, left unattended, can be disastrous to your home. The minor leaks you see may be a sign of more serious damage hidden from view.
Leaking pipes hold standing water. That standing water can seep its way into your foundation. Over time, your foundation can crack—which can lead to even bigger problems in your home.
How Old Is Your Water Heater?
Have you started noticing that your water takes longer to heat up? Do you find you have less hot water? It may be a sign that your water heater needs to be replaced. Many homeowners ignore their water heater until there is a problem. Water heaters normally last about eight to twelve years.
Check to see if your water heater is coming up at the end of its estimated life. By replacing it now, you'll avoid more problems later. Ignoring a water heater that's wearing out can become more serious than just the issue of having less warm water.
If a water heater fails, it could rust out and flood your entire home. Pay attention to your water heater's warning signs. Check to see if your tap water has rust in it. See if your water tastes metallic. And of course, pay attention to your hot water. Call us today to schedule an inspection of your water heater. We can identify any blockages or other signs that your water heater may need to be replaced.
All Cooper City Plumbing Services We Offer
Our team is ready and available to help you with these common residential plumbing needs:
Drain cleaning
Clog removal – hydro jetting and snaking
Leak detection and repairs
Slab leaks
Faucet installation
Gas line repairs
Water line leaks
Sewer line repairs
Whole-home repiping
Toilet installs
Water heater repair and installation
We are available to help you with plumbing emergencies around the clock, 24/7.
What Should I Do if I Need a Plumber?
If you encounter a serious plumbing emergency, don't panic. Keep these steps in mind when you call us for a plumbing repair. While these may seem obvious or overly basic, when confronted with an emergency, it's easy to forget these simple steps.
Share Details of the Problem
We will ask you to tell us more about your plumbing problem. If you do not know, that's fine. Just be ready to provide as much information as you can. Also, let us know when the problem started, whether you did anything yourself to fix it, and anything else you feel may help us get to the bottom of the problem faster.
Letting us know what you have already done can help us give you valuable advice over the phone. If you have not done anything, for example, we may be able to direct you to the proper shut-off valve to prevent or lessen the flooding to keep you and your home safe until our experts arrive.
Schedule a Visit
While you may want help as soon as you contact us, we still need to know when you are available for our visit. When you call, have your calendar ready so we can readily set up your appointment.
Contact Joe Hillman Plumbers for Cooper City Residential Plumbing!
If you notice leaking pipes, water heater issues, or other plumbing problems in your house, Joe Hillman Plumbers can help you. We've been helping homeowners just like you solve their residential plumbing issues for over 30 years. We can handle any plumbing problem, big or small.
Our track record of satisfied clients proves we can fix your problem quickly and easily the first time. When you choose us, we are sure you'll be thrilled with our work. We are passionate about providing superior customer service. We'll diagnose and fix your problem for you as fast as possible. To find out how we can help you, call us right away at (954) 601-3286.