Whether you need to do the laundry, take a shower, wash the dishes, cook dinner, or just stay comfortable in hot or cold weather, you rely on your home's plumbing to function properly at all times. When something goes wrong, it could ruin your entire day and take a big chunk out of your wallet.
Rather than calling some other service and hoping they show up in a reasonable amount of time, call Joe Hillman Plumbers at (954) 601-3286. We can handle all of your Miramar residential plumbing needs, from installation to repair work, and we respond to emergencies 24 hours a day.
We provide the best plumbing services in Miramar.
We Install Plumbing Right the First Time
Owning a house is a dream come true for many, but to keep that house running, you will need to see to the installation, maintenance, repair, and occasional replacement of every water-related appliance. Here are just a few examples of the appliances and systems our Miramar residential plumbing experts can help you with.
Toilets
If your toilet is clogged or leaking, we will find the source of the problem and take care of it for you. This could mean repairing your existing toilet, valves, or pipes, or buying and installing an entirely new toilet.
How can you tell when it's more cost-effective to buy a new toilet than repair an old one? You can rely on our expert technicians to provide an accurate assessment and do whatever needs to be done in the shortest possible time.
Faucets
Faucets in both the bathroom and the kitchen can see heavy day-to-day use. They are therefore quite sturdy, but as they get older, even the toughest faucet can:
Crack or break
Spring a leak
Require replacement after many years of use
Our team of professionals can inspect your faucet, identify the issue, and help you figure out what to do.
Water and Gas Lines
Both water and gas travel through pipes to get from their source and into your house for routine use in cleaning, bathing, and heating your home. When these pipes get old or are not maintained properly, they can leak or even burst.
While we are happy to repair any problems with your water or gas lines, we would prefer to prevent these potentially catastrophic problems. Our residential plumbing technicians in Miramar can inspect and repair your pipes at any time.
We encourage you to call us if you notice:
Strange smells or sounds coming from the line
Unexplained stains or puddles
You feel tired or sluggish
Gas leaks can be especially dangerous. Stanford University reports that, over ten years, gas leaks and explosions caused over 70 deaths, 400 injuries, and $500 million in property damage throughout the United States. We urge you to call us immediately if you suspect there is a gas leak in or near your home.
Water Heaters
Your water heater gives you easy access to hot water for cleaning dishes, laundry, and yourself.
Not taking care of your water heater could lead to a flooded basement, which could be far more expensive to clean up than maintaining your water heater would have been. Even if you are lucky enough to avoid flooding, you would be left without hot water for days or longer, making bathing and other tasks more unpleasant.
Our team can perform regular maintenance on your water heater and can act fast to repair damage if something goes wrong. With us on the job, you will not be without hot water for a moment longer than necessary.
Drain Maintenance
You may be able to fix a minor clog yourself without any assistance. However, if the clog is serious, or if the same drain keeps getting clogged over and over again, it may be time to let a professional from Joe Hillman Plumbing take a look.
No matter what the issue turns out to be, we are prepared to handle it, including:
Using a specialized pipe video camera to find and identify the issue
Clearing out the pipes
Cleaning cast iron pipes
Identifying and removing the source of the blockage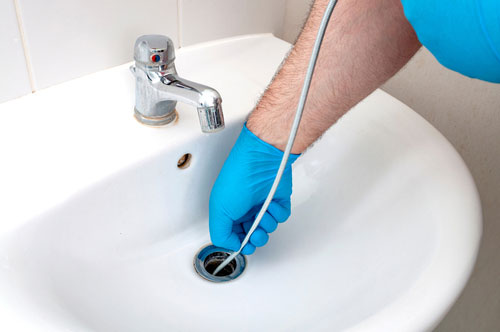 Pipe Maintenance and Repiping
Like any other piece of equipment, your water, sewer, and gas pipes should be cleaned and maintained regularly. This can:
Identify potential problems before they cause serious inconvenience or do irreparable damage
Save you money in the long run
Keep your home and daily life functioning at peak comfort and efficiency
Even the best-maintained plumbing, however, will need to be replaced eventually. Outdated piping systems not only cost extra money but are also less effective and more prone to developing serious issues that could leave you without an essential service for extended periods.
The piping system in your Miramar home may be more or less complex, depending on your home's size and layout. You can schedule an appointment with our team at any time to:
Come to your home
Evaluate your situation
Determine what type of system you need, or whether you even need a total repiping
Estimate how long it will take to repipe your home and the projected cost
Complete the entire job in a reasonable timeframe
Our Full-Service Plumbers Are at Your Disposal in Miramar
No one wants to deal with the hassle of calling a plumber when something goes wrong, especially if you cannot rely on your current plumber to show up on time, quickly identify the problem, offer a fair rate for parts and services, and clean up when they're finished.
At Joe Hillman Plumbing, we are dedicated to taking excellent care of our clients. That means:
Arriving when we say we will, or calling ahead to let you know if there has been an unavoidable delay
Conducting a thorough inspection to correctly identify the problem the first time
Providing the fairest, most accurate cost estimate possible
Leaving your home exactly as we found it, regardless of how big, complex, or messy the job
Displaying courtesy and respect during every interaction, taking the time to address your questions and concerns
Our team has the training and the experience to tackle any kind of plumbing issue professionally, whether it is:
A routine installation
A basic problem with a simple solution
A thorny problem requiring investigation and extensive repair work
A plumbing emergency that requires immediate action
If you do have an emergency, we're on-call 24 hours a day to inspect the problem and figure out how to fix it quickly. No matter how big or how small the issue is, we can find it and repair it for you. We pride ourselves on superb customer service.
About Joe Hillman Plumbing
Founded in 1987, Joe Hillman Plumbing has been taking care of pipes, drains, and appliances in South Florida for decades. Our expertise extends to many different aspects of plumbing, from residential to commercial plumbing and even emergency plumbing services.
Our family-owned and operated business currently employs 75 trained professionals located in two Florida offices. We are passionate not only about providing the best possible plumbing services but also about giving back to our community by sponsoring local charities, including:
Saving Sage Animal Rescue Foundation
Schott Communities
Black Dagger Military Hunt Club
We believe that communities are stronger when everyone supports one another. We are delighted to do our part by giving back and by offering top-notch services to every one of our clients.
Our Residential Plumbing Clients Love Our Work
Joe Hillman Plumbers is dedicated to providing our clients with the best service in Miramar. Here is what some of our clients have to say about our plumbers.
Ilsa Alvarez Henriquez had a problem with the valves in her home's two bathrooms. One of our technicians was able to go out there, assess the problem, and offer advice on how to fix it.
Debra Brearley appreciated how professional we were, especially how we were able to work quickly and clean up after the job was done.
Andrew Lemke also remarked on our professionalism and our ability to leave his home in such a clean condition. He also noted and appreciated that we always returned his phone calls.
Each of these clients would happily recommend us to others. This is our ultimate benchmark of success.
When you hire Joe Hillman Plumbers, you get skilled, experienced professionals who take pride in their work and want to make sure all pipes and appliances in your home function as smoothly as possible. Do not hesitate to reach out if you have a problem. The sooner we can get started, the easier it could be to resolve your plumbing issue.
Call Our Miramar Residential Plumbing Experts Any Time!
At Joe Hillman Plumbers, we're proud to serve the people and families of Miramar, Florida. We thrive on the solid reputation we've built on friendly, efficient, thorough service in the community. We'd love to put our 31 years of experience to work for you. Call us at (954) 601-3286 with any kind of plumbing issue.