Properly functioning piping is one of the most important things a business can have. Even leaks that seem minor can end up causing huge problems. As a business owner or property manager, it is your responsibility to ensure the health and safety of everyone who enters your building. Solving a plumbing problem as soon as it arises is one of the best things you can do to ensure that.
At Joe Hillman Plumbers, we are proud to provide Miramar commercial plumbing services. Our team of trained technicians is committed to doing the job right the first time to save you unnecessary headaches later. We offer emergency services as well as non-urgent and cosmetic services to make sure your business runs as smoothly as possible.
When your business needs plumbing services in Miramar, we can help.
Commercial Plumbing Services We Offer in Miramar
We strive to be your one-stop shop for all your commercial plumbing needs. There is no job too big or too small for us. Whether you need your entire building repiped or you simply need a faucet installed, we're here for you. Below are some of the services we provide our commercial clients.
Leak Detection
No matter what type of commercial property you own, leaks can lead to severe water damage. If you own a larger property, such as a hotel, you may have difficulty recognizing when a leak is occurring and where it is coming from.
Our experienced technicians know where to look for leaks, whether they're in the most obvious of places or completely hidden from the naked eye. If you notice something odd, such as a rising water bill or cracks in the walls or ceilings, then you may have a leak, and you should contact a plumber.
If you notice water spots on the ceiling or mold growing through the walls or floor, call a plumber immediately as you may have an emergency developing.
Repiping
Sometimes the easiest and most cost-efficient thing to do is to repipe part or all of a building. This may seem like a huge project, but we have done many repiping jobs, and we know how to work in a way that will not disrupt your business.
You may need to repipe your property if:
Your pipes are corroding.
Your pipes have suffered severe damage.
Your pipes are old, and newer piping needs to be installed for optimal functionality.
While repiping your entire property may sound like an expensive option, it can prevent emergencies that are far more costly than routine issues.
Installations
Whether you need to install a faucet, toilet, or new water heater, Joe Hillman Plumbers has you covered. Our decades of experience and commitment to excellent customer service make us the best option for your installations. The type of building you operate will dictate what items you need to have installed.
Sometimes it's obvious when an item needs to be replaced, but other times it is better to be proactive. For instance, water heaters should be replaced every 10 years to prevent any issues.
Sewer and Drain Cleaning
When drains and sewers clog, they can cause serious foundational damage to your building, as well as cause a health hazard for those in your building.
People often believe that they can clear a drain themselves. However, easily accessible products generally only fix the problem temporarily. To ensure that your drains are thoroughly cleaned, you should discuss cleaning methods with a professional.
If you find that the toilets, faucets, or other water features in your building are draining slowly or backing up often, seek the guidance of a plumbing technician. They will walk you through all your options and help you make the best decision for your business.
Video Inspection
One of the most efficient ways to diagnose plumbing issues is through a video inspection. Video inspections provide a minimally invasive way for us to take an in-depth look at the cause of your plumbing problem. Our team uses an innovative fiber-optic line that goes through the pipe, while the camera operator scans for obstacles and potential dilemmas.
Video inspections also offer a great way to monitor minor issues. This can give tremendous peace of mind. If we determine that there is a problem that needs to be solved, we are on it and ready to act.
Video inspections are primarily used for:
Inspecting the slab
Inspecting the sewer line
Preparing for remodeling
Checking the health of a septic system
Locating missing items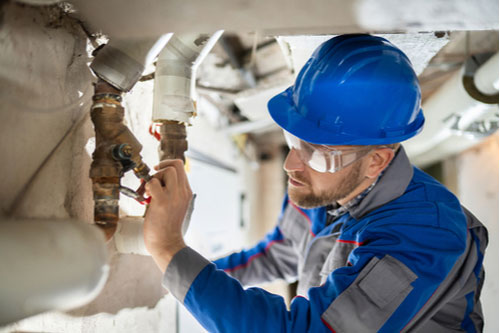 Benefits of Joe Hillman Plumbers
At Joe Hillman Plumbers, we've provided excellent service to hotels, condos, supermarkets, restaurants, large retail corporations, and small stores. Each of these requires different plumbing services, and our team is experienced in handling plumbing problems at every type of location.
As a company that offers both residential and commercial plumbing services, we understand the intricacies of keeping your business's plumbing running smoothly. We have all the equipment needed to complete even the most complex jobs and have nearly 100 friendly, knowledgeable technicians who can ensure that your job is completed discreetly and as quickly as possible.
24-Hour Emergency Plumbing Services
We know that plumbing emergencies do not care what time of day it is, so we offer 24-hour emergency services. Our technicians are on call 365 days a year, so you never have to worry about a plumbing emergency striking at the wrong time. When you have an emergency (whether it's 2 a.m. or Christmas Day), we are open and ready to help.
Over 30 Years of Experience
We love living and working in South Florida, and we know the plumbing issues that plague local businesses. We have been serving the community for over 30 years, and during that time, we have seen and fixed many problems. We're proud of the reputation for excellence and quality workmanship we've built here at Joe Hillman Plumbers.
How to Protect Against Severe Plumbing Issues
The best way to handle commercial plumbing issues is to prevent them from occurring in the first place. However, certain issues are going to evolve. To prevent them from becoming severe, there are steps you can take to monitor for these hiccups.
Monitor Water Pressure
No matter what type of building you own, water pressure is a good indicator of whether or not you have a larger problem occurring. If the water pressure is suddenly very low, then you may have a leak, clog, or another issue. When you notice low water pressure, you should contact a professional even if you do not see another problem taking place.
Monitor Your Water Bill
If your water bill significantly increased from one month to the next for no apparent reason, then you likely have a plumbing issue. There could be a leak somewhere within your piping system that is causing water to be wasted. The leak may be completely invisible to the naked eye, and yet, could be causing foundational damage, mold growth, and corrosion that could become a major problem later.
Invest in Drain Screens
Drain screens can go a long way in preventing clogs in your building. Especially for condos and hotels where people are using showers, it can be very useful to have a drain screen. These screens can protect against clogs, increasing the life of your piping system.
If You Notice Something Unusual, Call a Plumber
At the end of the day, plumbing issues can be either normal or abnormal. Therefore, even if you do not see an obvious reason for something that your business is experiencing, you should still report anything out of the ordinary.
Do not wait on something and let it turn into a bigger problem. Call us right away and let us diagnose whatever might be going on with your building.
Call Our Miramar Commercial Plumbing Technicians Today!
You should not mess around with plumbing issues. Water damage and pipe corrosion can lead to dangerous situations on your property. Not only can these issues lead to expensive problems, but they can also lead to accidents, which can, in turn, lead to financial hardship and, in some cases, even lawsuits.
To ensure that your building's plumbing system is in good order and running properly for your employees and clients, contact Joe Hillman Plumbers today. Our experienced team of plumbing technicians can help you tackle minor fixes before they become emergencies, and we offer detection services to ensure your property is protected.
When you need Miramar commercial plumbing services, call our team at (954) 601-3286.