Our home is our refuge and likely the largest investment we'll ever make. Since the start of the COVID-19 pandemic, many of us spend more time at home than ever before. Whether you're working, relaxing, or enjoying family time at home, you don't want to have to deal with dripping faucets, clogged drains, or unpleasant odors coming from your toilet.
Having a well-functioning plumbing system can help you prevent any potential disasters, avoid wasting water, and keep your utility costs lower – just one leaky faucet or running toilet can waste hundreds or thousands of gallons of water if it goes unnoticed. Some plumbing emergencies, such as burst or frozen pipes, can happen unexpectedly at any time.
At Joe Hillman Plumbers, we specialize in fixing all sorts of Hollywood residential plumbing problems – big or small, easy or complex. When you need a quality plumber in Hollywood, Florida or the surrounding areas, call our team for help.
We Provide Many Types of Residential Plumbing Services in Hollywood
A plumbing system is necessary for a household to function properly. When plumbing problems happen without warning, they can wreak major havoc in your home and your life.
To prevent plumbing problems, homeowners must be proactive about maintaining their systems. Regular maintenance can help you save money and avoid costly repairs.
Here are some of the residential plumbing services we offer in Hollywood.
Drain Cleaning
The usual cause of a clogged kitchen sink is too much oil being poured into the drain. Due to poor flushing mechanisms that do not force enough water down the drain, the oil will eventually block the sink. At some point, the sink may become so clogged that it cannot handle any waste being poured down it. Drain cleaning includes clearing any pipes with clogs or blockages and preventing future leaks.
Toilet Installations
Toilet installation may include pumping water out of a basement or crawlspace to ensure there is enough room and power to accommodate the toilet. Toilet installation also includes connecting all plumbing, installing a drain line, and assembling the toilet.
Leak Detection and Repair
Leaks can be very dangerous to your home, and frequent leaks can cause your entire structure to rot. Leaks often lead to a build-up of moisture and mildew, which may also cause a persistent and unpleasant smell. Leak detection is essential to keep your home safe and healthy for all who live there. Leak detection and repair involve finding the source of the leak and then eliminating it.
Water Heater Installation
Installing a water heater is a relatively straightforward process. However, like many routine maintenance activities, the process can become more complicated when the unit is old or needs repair. Water heater installation can involve putting in a new water heater, removing and replacing an old water heater, or repairing a broken water heater.
Whole Home Repiping
Plumbing an entire home from the ground up is a task that should be left to licensed professionals. It involves the removal of an old piping system and the installation of new piping, venting, and fixtures. Sometimes, whole home repiping is necessary after a water main break or an extreme plumbing backup.
Faucet Installation and Repair
Faucet repairs are maintenance-oriented repairs that include a variety of tasks, such as replacing worn or damaged parts, tightening loose taps, installing a new faucet, and cleaning out the main line.
Sewer Line Repairs
Sewer lines typically use plastic or metal pipes. If the pipes near you become damaged or leak, it can cause flooding in your house, yard, and possibly the street. Sewer line repairs involve fixing broken pipes, which may require digging up the ground to repair them. You can avoid a sewer line backup by fixing any leaks in your sewer line before they create more damage.
Gas Line Repairs
Gas line systems can malfunction if they get exposed to water or if the pipes decay over time. Gas line repairs include tasks such as replacing worn or damaged parts, tightening loose taps, cleaning out the main line, or installing a new gas line.
Video Inspection
Sometimes, the plumbing problems in your home are not obvious with a simple visual inspection. To make sure that the problem isn't caused by an obstruction or blockage, your Joe Hillman plumber can run a camera through the existing pipes to look inside them. Video inspections can check gas lines, sewer lines, clogged pipes, and more.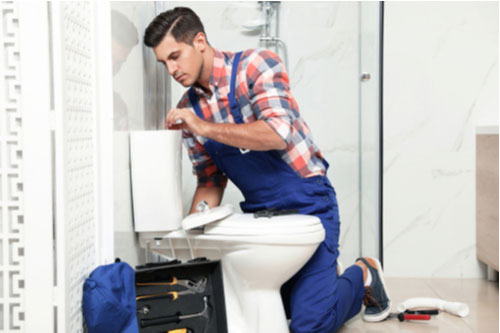 Choosing a Residential Plumbing Company in Hollywood
A plumbing company can and should play an integral role in maintaining your home. They are the ones who will come in and make sure that everything is working correctly with your plumbing system. You want to choose a reliable company to work with – because if you don't make the right call, you may end up wasting a lot of money and time.
Choosing the right plumbing company can be a difficult task. With so many options available, you may wonder how to find the right one for you. Here are some things to keep in mind when looking for a residential plumbing company, so you can make the best choice possible.
Reliability
When choosing a plumbing company, it's important to look for one that has been in business for a long period of time. Longevity is usually a sign that the company is good at what they do. The company should also have positive reviews and testimonials from past customers available online or by request.
Customer Service
A good plumbing company should offer amazing customer service when they come to your home to help with your plumbing needs. They should be flexible enough to work around your schedule, especially for plumbing emergencies. They should also provide you with a phone number and email address in case you have any additional issues.
Joe Hillman Plumbers offers emergency plumbing services 24 hours a day, seven days a week.
Licensed
The plumbing company should be licensed to do business in your state and have their license visible on their website.
Insured
Make sure the company you choose is fully insured so that if anything happens that was caused by the plumber's negligence, you can be compensated.
Experience
Make sure that the company you choose has the experience needed to perform the job properly. If you know the specific work you need, try to find a company that specializes in that particular service or one with skilled plumbers that can handle multiple types of jobs.
Reputation
Similar to reliability, the plumber you choose should have a good reputation with past customers and positive reviews. You can view testimonials for Joe Hillman Plumbers online.
Ask the Right Questions
Examples of questions you can ask include:
What are their reviews like?
How long have they been in business?
What types of plumbing services do they provide?
What if you need them after hours or on weekends?
When to Call a Hollywood Residential Plumber
While it is true that many plumbing accidents happen unannounced, there are potential warning signs that may point toward a plumbing problem. The following are signs that you should call a residential plumber.
A Toilet Is Constantly Running
When a toilet runs continuously without stopping, this could be due to a broken valve, a clog in the pipes, or another problem. Don't attempt to repair the problem on your own – it's always best to hire a professional, especially when running water is involved. Your plumber will need to turn off the main water supply, assess the situation, and fix the issue.
A Toilet Is Not Flushing
When a toilet is not flushing, it's usually because there is a blockage in the system. This can be a result of waste build-up or a foreign object that has been flushed down the toilet. When this happens, call the team at Joe Hillman Plumbers. Your plumber can identify what type of blockage has occurred and take the proper steps to fix it.
You Notice Leaks and Drips
Leaks are a significant problem for many households. They waste water, which can cost a lot of money, and can sometimes lead to dangerous mold or mildew. There are many reasons why a leak might occur, such as worn-out pipes or an old toilet or faucet. Luckily, you can call a plumber to quickly fix any sort of leak and prevent them from happening again.
There's No Hot Water
When you have a water heater, your expectation is to have hot water. If you turn on the faucet in your sink, shower, or bathtub and the water never warms, that's a telltale sign of an issue with your water heater. To diagnose and fix the problem, you should call a plumber. You may end up having to replace the water heater if the issue cannot be fixed by a simple repair.
Contact Our Hollywood Residential Plumbing Experts!
For many homeowners, plumbing issues can be one of the most stressful repairs to deal with. It's always a good idea to be prepared and know who you can call if and when you need help. If you're searching for a residential plumber in Hollywood, it's time to enlist the help of an experienced and reputable company.
After providing services in and near Hollywood for over 30 years, Joe Hillman Plumbers has many happy customers who recommend us to their friends and family. To schedule an appointment, contact us online or call (954) 601-3286.