Commercial plumbing is very different from residential plumbing. For one, the systems are usually much larger and far more complex. Also, because businesses rely on their plumbing systems to function properly for day-to-day operations, any problems or malfunctions can cause serious disruption and even loss of revenue.
It's important to have a skilled and reliable Hollywood commercial plumbing company that you can call on when needed. At Joe Hillman Plumbers, we are one of the leading commercial plumbing companies in South Florida, including Hollywood and the surrounding areas. We have provided quality plumbing services to local businesses for over 30 years, and our experience and expertise are second to none.
Signs of a Damaged Commercial Plumbing System
There are several telltale signs that something may be wrong with your commercial plumbing system. If you notice any of the following issues, it's time to give us a call.
Sudden Drop in Water Pressure
A sudden drop in water pressure can be a sign of a serious issue, such as a broken water line or a blockage impeding the normal flow of water. It could also mean there is a leak in the plumbing system.
Leaks or Drips
Any type of leak should be addressed immediately to avoid further damage. Even a small drip can waste a lot of water over time, so it's best to nip it in the bud before any more damage is done.
Slow or Clogged Drains
If your sinks or toilets are draining slowly, there could be a blockage somewhere in your commercial plumbing system.
Gurgling and Other Strange Noises
If you hear odd popping, banging, or gurgling sounds coming from your pipes, it could be a sign of a blockage or another problem. These sounds are often an indication of trapped air in the pipes, but they could also be a sign of a more serious issue, such as a sewer line blockage.
Unpleasant Odor in the Office
If you notice an unpleasant odor in your workplace, you could have some type of clog or blockage in the plumbing system. The odor could also be caused by a sewer line issue or by excessive mold or mildew, which is dangerous for the health of your employees. It's best to have a professional plumber find the source of the odor, so they can repair it properly.
Unexplained Water Bill Increase
Commercial facilities and businesses use a lot of water. However, if the water bill suddenly increases without explanation, this could be a sign of a leak somewhere in the plumbing system.
Other Toilet and Sink Problems
If your toilets constantly flush on their own or your sinks fill up with water during or after use, it's time to give the commercial team at Joe Hillman Plumbers a call.
Sewer Line Issues
If you notice sewage backup or foul odors coming from your drains, you may have a problem with your sewer line. We can help you repair the issue quickly before it disrupts your business.
These are just some examples of signs that something might be wrong with your commercial plumbing system. If you notice any of these issues or anything else out of the ordinary, call Joe Hillman Plumbers right away. Our experienced plumbers can check your commercial plumbing system, diagnose the problem, and get it fixed quickly.
We Provide Many Commercial Plumbing Services in Hollywood
You don't want to wait until your commercial plumbing problem turns into a disaster. If you have any concerns about your commercial plumbing system, the team at Joe Hillman Plumbers is ready to address them.
Not sure if your plumbing problem is minor or serious? It's always better to err on the side of caution and give us a call, so we can assess the situation and confirm what needs to be done.
Our skilled plumbers can provide the following commercial plumbing services and more.
Video Pipe Inspection
Before offering any commercial plumbing solutions, it's essential to identify the root of the problem. Our video pipe inspection services use tiny cameras to provide a clear view of your pipes, allowing us to see what's causing the issue. We can now use this non-invasive method to diagnose the problem quickly and accurately, so we can get to work on fixing it for you.
Pipe Repair & Replacement
If your pipes are old or damaged, we can repair them using cutting-edge techniques. If they are beyond repair, we will replace them with new pipes that meet or exceed today's industry standards.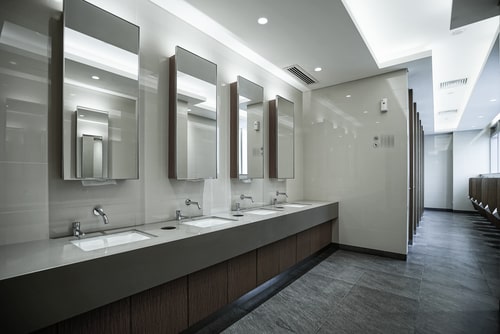 Drain Cleaning
If your drains are clogged, we can clear them out quickly and efficiently. We use high-powered jetters to blast through the clog, leaving your drains clean and clear.
Water Heater Repair & Replacement
If your commercial water heater is on the fritz, we can repair it or replace it with a new one. We'll help you choose the best water heater for your needs and budget.
Leak Detection & Repair
If you have a leak, our plumbers can find it and repair it for you. We use the latest technology to locate leaks in your commercial plumbing system, and we have the experience and expertise to fix them right the first time.
Backflow Prevention
Backflow is when contaminated water reverses flow and enters clean water lines – something you do not want to happen, especially in a commercial setting. Joe Hillman Plumbers can install a backflow prevention device to help keep your water supply safe from contamination. This is especially important for businesses that use water for cooking, cleaning, or other purposes.
Construction Plumbing Remodeling & Retrofit
If you're in the midst of remodeling your commercial space or building a new one, we can handle all your plumbing needs. This includes installing fixtures and piping and ensuring that it all meets local building codes and ordinances.
Sewer Line Repair & Replacement
If your sewer line is damaged, we can repair it or replace it by digging a trench to access the sewer line and assess the situation. If the sewer line is beyond repair, we can replace it with a new one.
Commercial Plumbing Maintenance
We offer commercial plumbing maintenance plans to help keep your plumbing system in top condition. Our maintenance plans include regular inspections, pipe cleaning, drain cleaning, and more. One of the biggest perks of maintenance is that it gives us the ability to fix any minor issues we come across before they turn into major problems.
Heating & Air Conditioning (HVAC)
Joe Hillman Plumbers has expanded to offer heating and air conditioning services to commercial and residential customers as well. If your business requires a new HVAC system, we can help you choose the best one for your needs. We can also repair and maintain your existing system.
As you can see from the list above, no plumbing task is too big or too small for Joe Hillman Plumbers. We have experience with everything from fixing simple leaks to handling major repairs and renovations. Whatever your Hollywood commercial plumbing needs are, we'll be there to help.
Reasons to Call Joe Hillman Plumbers for Your Hollywood Commercial Plumbing Needs
There are several reasons why you should make Joe Hillman Plumbers your go-to resource for commercial plumbing in Hollywood.
We Are Always Available
We know that plumbing problems can happen at any time, day or night. We offer 24/7 emergency plumbing services, so you can count on us to be there when you need us most.
We're Experts You Can Trust
We have provided commercial plumbing services in South Florida for over three decades. Our longevity in the industry attests to the fact that we know what we're doing – and we're good at it. When you work with Joe Hillman Plumbers, you're in excellent hands.
We Offer Affordable Services
We understand that plumbing problems can be costly and often occur unexpectedly. We offer competitive rates on all our plumbing services. We also provide free estimates, so you know exactly how much you'll be paying before we even start the job.
We Are Fully Licensed and Insured
Joe Hillman Plumbers is fully licensed and insured, so you're protected if anything goes wrong during the job. We also ensure that all our plumbers have the necessary qualifications and skills to perform the work.
We Are Reputable and Reliable
As mentioned above, Joe Hillman Plumbers has been in business for over 30 years. During that time, we've built a solid reputation with our customers and within the industry.
We Use Cutting-Edge Technology
We use the latest technology and equipment to perform our work as quickly and efficiently as possible.
These are just the beginning of the reasons why you should call Joe Hillman Plumbers for your Hollywood commercial plumbing needs. We look forward to the opportunity to exceed your commercial plumbing expectations.
Our Commercial Plumbers Are Just a Call Away
Joe Hillman Plumbers is your best choice when it comes to commercial plumbing in Hollywood, Florida and the surrounding areas. We offer quality services at competitive rates, and we're always available to help when you need us – 24 hours a day, seven days a week.
Whether you're facing a small issue or a large repair, we have the experience and expertise to get the job done right. Contact us online or call us today at (954) 601-3286 to schedule an inspection.