If you live or work in Hollywood, Florida, you will likely appreciate having a good plumbing company on speed dial. After all, there are many homes and businesses in the area, and they can all experience plumbing problems at any time.
At Joe Hillman Plumbers, we pride ourselves on offering round-the-clock plumbing services in Hollywood and the surrounding areas. Whatever the emergency, you can count on us to get your plumbing back up and running quickly. No job is too big or small, so don't hesitate to give us a call the next time you need Hollywood plumbing services. We're here to help.
What Type of Plumbing Services Do We Offer in Hollywood?
At Joe Hillman Plumbers, we provide two main types of plumbing services:
Whether you need to fix a leaky faucet at your home or install a new water heater for your business, our plumbing professionals are ready to work for you.
What Are Our Most Popular Plumbing Services?
Some of our most popular plumbing services in Hollywood include:
Drain Cleaning
Drain cleaning is important to keep your drains flowing properly. Over time, hair, soap scum, and other debris can build up in your drains and cause them to clog – leading to water backup, flooding, and other troublesome (and expensive) issues. To avoid clogging and keep your drains in the best possible shape, it's a good idea to have them cleaned on a regular basis.
Gas Line Repair
Gas lines can malfunction or leak over time, especially if they get exposed to water. If you have a gas line leak, it's crucial to have it repaired as soon as possible. Gas leaks can be dangerous and even deadly. If you smell gas, evacuate the area immediately and call our qualified plumbing technicians to repair the leak for you.
Water Heater Repair and Replacement
Water heater repair and replacement is another service that we offer. If your water heater is not working properly, it can be a major inconvenience. Let Joe Hillman Plumbers repair your water heater so you can have hot water again as soon as possible.
If your water heater is more than 10 years old, it's time to start thinking about replacing it. A new water heater will likely be more energy-efficient than your existing one and helps ensure that you have hot water whenever you need it, with no cold shower surprises.
Leak Detection and Repair
Leak detection and repair is another one of our most popular services. Leaks can happen anywhere in your home or business. Not only do leaks waste water, but they can also cause extensive damage to your property. If you have a leak, it's essential to have it repaired as soon as possible.
Whole House Repiping
Whole house repiping is a big job, but we're up for the challenge. If you have an older home, your pipes may be outdated or in need of repair. We can replace all your old pipes with new ones to give you the peace of mind of knowing that your plumbing is up to date.
These are just a few of the many types of plumbing services we offer in Hollywood. If you need assistance with any type of plumbing issue, contact us anytime.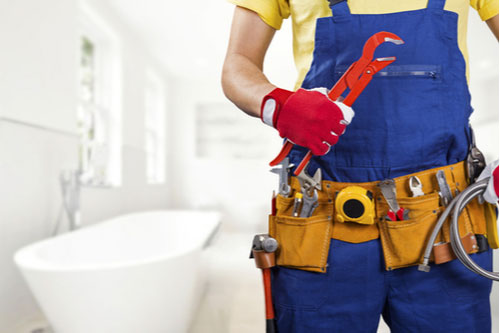 How Do I Know if I Need Plumbing Services?
There are several signs that you may need plumbing services. If you have low water pressure, this could be a sign of a leak somewhere in your pipes. If your drains don't work properly, they could back and up and flood your home or business. If your water takes a long time to heat or does not heat at all, your water heater may need to be repaired or replaced.
If you see any of these signs or suspect you have a plumbing problem, it's a good idea to give us a call. We're happy to come take a look so that we can determine the best course of action and give you a cost estimate.
What Are the Benefits of Using Joe Hillman Plumbers?
There are many benefits of using Joe Hillman Plumbers for your Hollywood plumbing needs. We're a family-owned and operated business, so we understand the importance of customer service. We're licensed and insured for your protection. We also offer a wide range of services, so we can help with any plumbing problem you may have.
When you use Joe Hillman Plumbers, you can rest assured knowing that you're in good hands. We offer 24/7 emergency service, so we can be there whenever you need us. Plumbing emergencies often happen at night or on weekends. We also have a quick turnaround time, so you can get your plumbing problem fixed as soon as possible.
When it comes to finding the right plumbing services in Hollywood, it's important to find a company that you can trust. Joe Hillman Plumbers has served Hollywood and the surrounding areas for over 30 years, so it's safe to say we know a thing or two about plumbing.
How Technology Enhances Our Plumbing Services
Joe Hillman Plumbers fully embraces technology to continuously improve the quality of our plumbing services. Our skilled and experienced plumbers also have access to state-of-the-art technology. For example, before we start any plumbing job, we use video inspection to zero in on the specific issue affecting your home or business. With this detailed information, we can recommend the best course of action.
Contact Joe Hillman Plumbers for 24/7 Hollywood Plumbing Services
At Joe Hillman Plumbers, we understand that plumbing emergencies can happen at any time – that's why we provide 24/7 emergency service. Whether you have a clogged drain or a burst pipe, you can count on us to be there when you need us.
We look forward to helping you with all your plumbing needs. If you're in need of plumbing services, then we're ready to get to work. To learn more or schedule an appointment, reach out to us online or call (954) 601-3286 today.